Giants look bad in loss to Colts as injuries start to pile up
The Giants put forth a poor effort in a 20-12 loss to the Colts, and to make matters worse, Jason La Canfora says, the injuries continue to pile up.
• 6 min read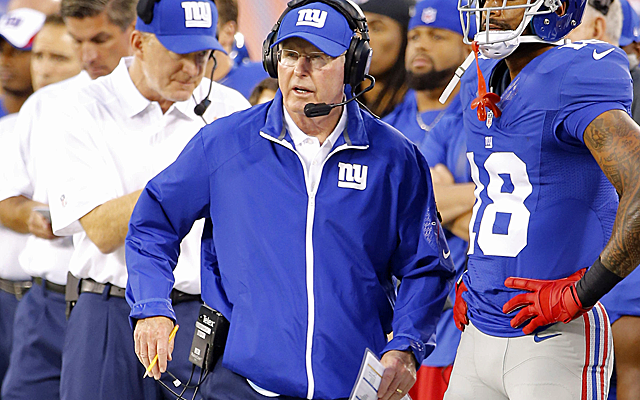 EAST RUTHERFORD, NJ -- The New York Giants had already watched two starters hobble off to the X-Ray machine, and a half-full MetLife Stadium wasn't going to get any more packed, but with halftime looming Eli Manning and New York's first-team offense was still on the field, trying to salvage something from this exhibition contest with the Indianapolis Colts .
At a time when discretion is the norm, and with injuries mounting around the league, Giants coach Tom Coughlin probably went with his starters a little longer than he would've liked, but given the collective struggles on both sides of the ball in this second pre-season game (a 20-12 loss to Indianapolis), it turned into more of an ordeal for his players than what may have been expected. The good news was that star receiver Victor Cruz suffered only a bruised heel, while center Davis Baas had negative X-rays as well though more tests are forthcoming for his sprained knee. Otherwise, the Giants had little to cheer in this dress rehearsal.
"Disappointing tonight," Giants coach Tom Coughlin said after the game, before he had even reached the podium. "We didn't make any plays … Certainly nowhere near enough."
Fans are looking for signs that this is a team poised for another Super Bowl run, not the seasons of mediocrity that have surrounded the late playoff runs. There wasn't much to be had here, in that regard, save for the occasional sudden bursts from running back David Wilson and a creative interception return by corner Jayron Hosley .
Instead, New York seemed like a team still very much searching for things to feel good about (linebacker is one position in particular where Coughlin is clearly still exploring options on his roster). Even on the final drive of the first half, when Manning managed to spread the ball around and the Giants finally converted a short-yardage situation on the ground, they still sputtered in the red zone, continued their third-down issues and settled for another field goal, with the Colts leading 17-9 at the half (both teams emptied their benches in the second half and the starters sat).
Coughlin said the problems deep in the red zone are "a cause for concern' at this point, while Eli Manning said: "That's obviously something where we have to get better."
A smart opening drive ended when running back Andre Brown -- who was getting a shot on third downs with Wilson the new starter and Ahmad Bradshaw now a Colt (he's not healthy yet) -- was hauled down trying to get outside on fourth-and-one. The offensive line was limp -- tackle David Diehl in particular had his issues -- and defensively, Colts quarterback Andrew Luck pretty much had his way with the Giants. Even when Aaron Ross got at least two hands on Luck's awful pass near the end zone (Ross may have bobbled it enough to have each hand on the ball twice as he fell backwards) it ended up popping right to Reggie Wayne for the opening touchdown.
Manning was not crisp, most obviously on an interception on an errant pass to Hakeem Nicks that was easily picked off by Greg Toler . "That was a bad throw on me," Manning said. New York went two-for-eight on third downs in the first half and Manning ended up 8-for-17 for just 91 yards and a 39.1 rating.
None of this should be cause for alarm -- even after a preseason debut against the Pittsburgh Steelers that also wasn't particularly smooth -- especially for a franchise that experienced the pinnacle of success not that long ago. And the Colts are certainly a formidable foe.
But, in what could be Coughlin's final year in coaching, I can guarantee you he will be demanding much more of this squad next week, to say nothing of the fast-approaching regular season opener against Dallas. He's looking for his men to "go prove who we are and what we have," and I suspect he will find no shortage of means for trying to pull that out of them when the pads go back on.
Observations
• Coughlin had few specifics on the injuries to his players, and said that Justin Tuck picked up a minor hamstring issue as well. He is hopeful Cruz won't miss much time but said more tests await. Receiver Hakeem Nicks said he got the impression it was a minor issue for Cruz.
• Andrew Luck can be downright filthy at times. He rolled deep in his own end zone and managed a pass across his body to tight end Coby Fleener early on that should have been caught, and the gem he lofted to TY Hilton in the back of the end zone for his second TD was just about perfectly weighted and angled. His protection was solid -- the Giants were still without Jason Pierre-Paul it should be noted -- and the Colts made a point to try to solidify their offensive line in the offseason, and the only negative from Indianapolis' perspective was a running game that wasn't totally clicking
• Justin Tuck flashed a few times in the first half and managed to bat one pass well back behind the line of scrimmage. With Pierre-Paul's return nebulous and Osi Umenyiora gone, the Giants need a fast start out of Tuck. Coughlin was frustrated with the ongoing injuries, and I would expect they're careful with Tuck between now and the opener
• Nicks is clearly getting his timing back but his presence in what was his preseason debut was big. "I'm just trying to get that timing back with Eli," said Nicks, who was not present for much of this offseason save for mandatory mini camp
• Many believed Colts GM Ryan Grigson overpaid for some of his free-agent talent, but several of the signings showed up big tonight. Erik Walden was signed to set the edge in the run game and he did just that in corralling Andre Brown on fourth-and-one on the Giants' first drive. He also broke free from tackle David Diehl to register a sack. Corner Greg Toler had a nice interception and first-round pick Bjeorn Warner, a bit of a project, was active in the nickel package but clearly struggled against the run. New tackle Gosder Cherilus was part of a line that kept Luck, who was hit over 100 times as a rookie, from getting sacked
• Certainly seemed like the Colts were making every effort to get free-agent receiver Darrius Heyward-Bey involved as well. He was targeted a team-high five times in the first half, and repeatedly on screens. He was in the base package ahead of Hilton -- I'm not sure that will be the case when the games actually count -- and though his speed didn't show up in the vertical game, he did have four catches for 42 yards in a half of work
• Tight end Coby Fleener had a rough night. He had a horrible drop early in the game and wasn't on the same page as backup quarterback Matt Hasselbeck as a pass bounced off him for an interception late in the first half. He was then pulled from the game with what the team called a "minor knee sprain." As much as this team will throw the ball, Fleener should have every opportunity for a big year but his preseason has been underwhelming thus far
• The Giants, a classy organization all the way around, displayed a well-done video tribute to Bradshaw in the stadium before the game
• Giants reserve running back Michael Cox showed up well in the second half getting some regular work. Have to like his chances of being the third running back on this roster at this point. Cox is a rookie out of UMASS. "He's got a lot of fight," Coughlin said.
Mark Lamping wrote a letter to apologize to Jacksonville's director of military affairs ch...

PEN America says the NFL's talks on social activism are a 'constructive' step forward for owners,...

The Steelers quarterback weighs in on the hit that might've ended Rodgers' season
Smith was not pleased with the Steelers safety's hit on him

SportsLine's Mike McClure, a DFS pro with more than $1M in winnings, gives optimal lineup...

Many players and owners met on Tuesday to discuss the national anthem and social issues