Giants offense has more than enough room for Odell Beckham and Victor Cruz
If Cruz comes back healthy, the duo could help Eli Manning to his best season yet.
Odell Beckham Jr. was the 2014 Offensive Rookie of the Year, and deservely so. After a Week 6 injury knocked Victor Cruz out for the season, Beckham emerged as not just the best receiver on the New York Giants, but one of the very best in the league.
By the end of the year, Beckham had tallied 91 catches for 1,305 yards and 12 touchdowns. Those are incredible, Pro Bowl-worthy numbers in a full season. Only two other wideouts -- Antonio Brown and Jordy Nelson -- caught at least 90 passes for at least 1,300 yards while also catching at least 12 touchdowns in 2014. Only 20 other players have ever reached all three benchmarks in the same season. Beckham did it in only 12 games.
In short, Beckham is ridiculous, and he's clearly got to be Eli Manning's No. 1 receiving option going forward. But it's worth noting that Beckham compiled most of those numbers with Cruz out. He had only six catches for 72 yards and one score in the two games he and Cruz were both active. So the question must be asked: are there enough targets to go around for both players to have success?
Let's take a look at the distribution of targets and receptions for the No. 1 and No. 2 wide receiver (as determined by number of targets) in each of Manning's 10 previous full seasons as the starter.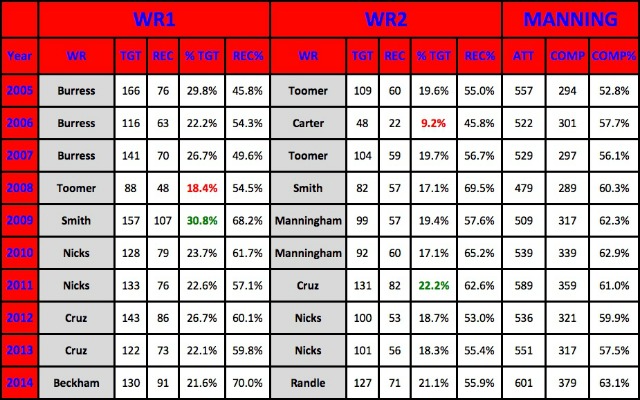 On average, Manning's No. 1 receiver has been targeted on 24.5 percent of Manning's throws while the No. 2 receiver has had passes directed his way 18.3 percent of the time. That's a differential of 6.2 percent.
In the six seasons during which the differential in target rate between Manning's No. 1 and No. 2 receiver has been greater than that 6.2 percent average, Manning has completed 58.6 percent of his passes overall. In the four seasons during which the differential in target rate has been less than the 6.2 percent average, his overall completion percentage was 1.9 percent higher, 60.5 percent.
In short, Manning has typically performed better when he's had a No. 2 receiver that was close enough in quality to the No. 1 option to direct a similar amount of targets his way.
The 2011 season during which Cruz first emerged as a dangerous weapon provides what is likely the best example, and the archetype for how the 2015 season might shake out. In that year, Hakeem Nicks was Manning's No. 1 option, lining up on the wide sides of the formation, while Cruz operated out of the slot. They were both healthy for the entire season (Nicks played 15 of 16 games while Cruz played all 16), and Manning saw fit to give them essentially the same target distribution. Nicks finished the season with a grand total of two more targets than Cruz, who had 11 of those 131 passes directed his way in the one game Nicks missed.
If we limit the target distrubtion to just the 15 games Nicks was healthy, Nicks was the targeted receiver on 24.2 percent of Manning's throws while Cruz checked in at 21.8 percent. If we extrapolate that distribution for next season based on Manning's average number of throws per year, Beckham would get 131 targets in 2015 while Cruz would get 118, which seems like a fairly reasonable distribution.
The presence of Beckham on the outside will also allow Cruz to go back to running more of his routes out of the slot. Cruz's slot percentage dropped in both 2012 and 2013 as Nicks dealt with injury issues (though they didn't necessarily keep him out of many games, they often limited his effectiveness and snap count), but it should tick back up in 2015. And that's a good thing, because when Cruz is right, he's the best slot receiver in the game.
There have been 50 wide receivers who have run at least 200 routes over the last four seasons and seen at least half of those routes originate from the slot. Of those players, Cruz ranks second in slot receptions with 292, behind only Wes Welker's 396. He's third in touchdowns touchdowns with 19, where only Welker's 20 and Randall Cobb's 23 are more. Cruz also paces the field in Yards Per Route Run (YRR) at 2.35, with only Cobb (2.23) and Percy Harvin (2.07) joining him with in averaging at least 2.0 YRR.
Manning had the best completion percentage of his career (63.1 percent) last season while playing his first year in offensive coordinator Ben McAdoo's system that emhpasizes shorter, quicker throws than the one Manning had played in under McAdoo's predecessor, Kevin Gilbride. Manning also compiled his second-highest passing yardage (4,410) and passing touchdown (30) totals of his career, and he did most of it without Cruz in the lineup.
Provided Cruz comes back from his knee injury reasonably healthy (not a given, but with his age and the amount of time he's had to recover, not out of the realm of possibility, even if the Giants aren't putting all of their eggs in that basket), things are set up well for Manning to have one of the best seasons of his career yet again.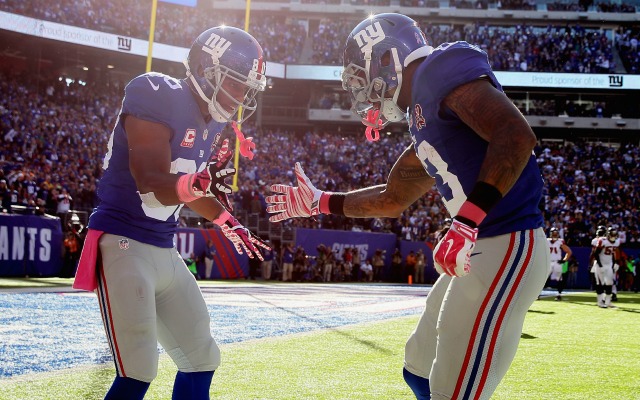 Pick Six Newsletter
Get the day's big stories + fun stuff you love like mock drafts, picks and power rankings.
Please check the opt-in box to acknowledge that you would like to subscribe.
Thanks for signing up!
Keep an eye on your inbox for the latest sports news.
Sorry!
There was an error processing your subscription.
Heath Cummings and Will Brinson get you ready for NFL Preseason Week 2

Offensive lineman Isaiah Wynn is out for the year with a torn Achilles

The NFL season is full of ups and downs and it takes time for us to learn about rookie qua...
Jenkins also wore a shirt with 'You Aren't Listening' across the front underneath his jers...

SportsLine's top NFL experts pick a 3-team parlay that pays 6-1

The Patriots quarterback would never "be a bad sport" about losing a football game