Giants QB Eli Manning reveals all in highly entertaining Reddit AMA
Eli Manning opened about everything on Friday during a Reddit AMA. Manning talked about his favorite boy band, how handsome Tom Brady is and the one time he met Kevin Federline.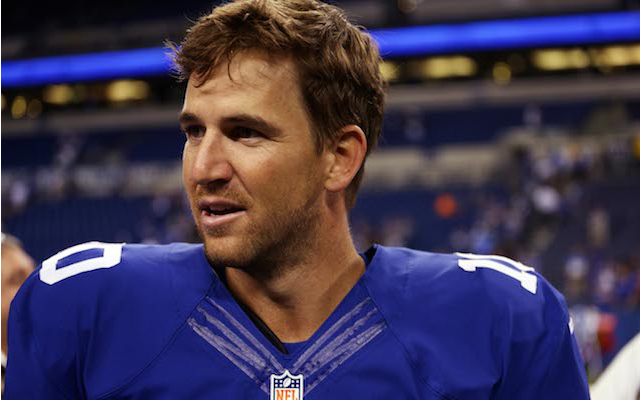 Giants quarterback Eli Manning decided to spend part of his day on Friday doing a Reddit AMA. If you're unfamiliar with Reddit AMA's, here's what happens: Someone, usually a famous person, goes on Reddit where people are allowed to ask them anything they want (AMA is an acronym for Ask Me Anything).
So now that we have the AMA explanation out of the way, we can start talking about more important things, like what we learned about Eli Manning. 
First of all, did you know Eli once met Kevin Federline. If you don't know who Kevin Federline is, that's probably for the best. 
Redditor: Have you ever been starstruck?

Manning: Hmm. I asked K-Fed for a picture one time. That's the only person I've ever asked for a picture, Kevin Federline.
To be fair, who wouldn't get their picture taken with K-Fed if the opportunity came up. Lets move on to more important things like how ridiculously good looking Tom Brady apparently is. 
Redditor: Is Tom Brady really that dreamy? Like seriously?

Manning: He's pretty good lookin'.
Lets keep the subject on football for another question. 
Redditor: Your team is the Giants but there are no logos of Giants on anything, what gives?

Manning: That's a great question. I will have to look into that.
Lets all look in to that together. Maybe the team's logo could be Andre the Giant?
Now, everyone was probably already aware of this next fact, but it's nice that Eli confirmed it. 
Redditor: Over the years you have broken the hearts of many fan bases. Do you have any memorable run-ins with some angry fans?

Manning: Philly fans seem to be the most angry. 
Eli also confirmed that his favorite video game is Zelda, he had a He-Man lunchbox as a kid, he likes N'Sync over Backstreet Boys, his favorite beer is Bud Light and he likes every team in New York except for the Jets. Eli also answered a lot of questions about Peyton. 
Finally, I don't know if Eli's answer to the question below is accurate, but I think it is. 
Redditor: After you throw an interception do you want to punch the guy who caught it or do you mostly just feel sad?

Manning: I don't think I've ever thrown an interception?
If you want to read the entire AMA, be sure to head over to Reddit. 
It wasn't the matchup that we expected, but the Jaguars would argue that's everyone else's...

CBS All Access allows viewers to stream every NFL game on CBS in their local market

This will be Gene Steratore's first Super Bowl as a referee
The Patriots' quarterback and likely MVP appears to be banged up heading into the AFC title...

Kaepernick made the pledge in October 2016 in the middle of his campaign for social equali...

Landry is scheduled to become a free agent this offseason