Giants to work out RBs Jacobs, McGahee, McKnight
After a tough night from Giants running back David Wilson, the team is working out a number of veteran backs Tuesday.
• 1 min read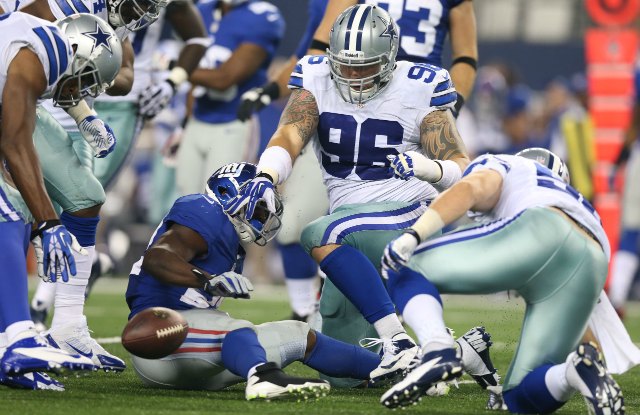 The Giants running backs struggled mightily Sunday night in the team's 36-31 loss to the Cowboys.David Wilson fumbled the ball twice before he was benched, and Da'Rel Scott couldn't hang on to an Eli Manning pass that was intercepted and returned for a touchdown.
Together, the two combined for 42 yards on 12 carries.
Overall, it was a terrible night for them, and as a result, the team will work out on Tuesday free agent running backs like former Giants bruiser Brandon Jacobs, former Broncos back Willis McGahee and former Jets disappointment Joe McKnight, CBS Sports' Jason La Canfora reports.
There was speculation the Giants were interested in Jonathan Dwyer as well -- reportedly, the team worked him out last week -- but he signed with Pittsburgh on Monday instead.
Wilson's performance had to be the most disappointing of all Sunday. He lost a fumble in Week 1 of last year, and he spent much of the next half-season in a backup role as punishment.
But he was supposed to break out this season after the team didn't keep Ahmad Bradshaw, and Wilson responded with a poor effort Sunday. As far as his starting job is concerned, coach Tom Coughlin wouldn't say whether he'd lost it.
"I'm not going to answer that question now," Coughlin said after the game. "Give us a little time to work on this thing. He's still very much in our thoughts. He's got to play. He's a very talented young man … They are not going to play unless they hang onto the ball. It's demoralizing to the whole team."
Said Wilson: "I mean, in that situation you just -- coach makes that decision, I can't blame him for that. That's really all I got, I'm going back to work to put this game behind me. God will bring me through, I gotta work hard and my teammates have my back."
Pretty soon, though, he might have some new teammates trying to take away his starting job.


Follow Josh Katzowitz on Google+
Cardinals' running back says he's feeling more energized

The Vikings' receiver is wearing his heart on his foot

The Ravens need help on the offensive line after dealing with injuries and a surprise reti...
The new Dolphins quarterback offered high praise for his receiver after his first preseason...

LeSean McCoy was probably a pretty popular person in the Bills locker room on Thursday

Kaepernick is unsigned, but he is continuing to make waves off the field