GM Grigson building a bigger, badder, tougher version of the Colts
Colts GM Ryan Grigson's first seasons with the team were about learning his roster. Now he has the beefy, brawny players he and coach Chuck Pagano need to run their system.
• 5 min read
ANDERSON, Ind. -- The past 15 months or so have been nothing but a blur for Ryan Grigson. Going from an anonymous scout with the Eagles to the GM who replaced Bill Polian in Indianapolis, and throwing himself into the job while his wife handled moving five kids from the East Coast to the Midwest allowed little time for contemplation.
Grigson inherited a team that had flirted with a winless season, and had to begin his tenure by parting with Peyton Manning, one of the true legends of the game, and beloved center Jeff Saturday ("That was an experience in and of itself," Grigson said.) He oversaw a mandated salary-cap purge, his head coach, Chuck Pagano, missed most of the season battling cancer, he churned through nearly 250 transactions trying to replenish at a staggering pace, always working out new players, making waiver claims ("We don't have a corner on our roster who was in our camp last year, if that tells you anything," he said, alluding to the constant turnover).
Colts get serious about protecting franchise QB
Still, the Colts made an improbable playoff run, and then he lost offensive coordinator Bruce Arians, Pagano's interim replacement as the Cardinals head coach, requiring a new tutor for rookie sensation Andrew Luck. Grigson parted with the greatest defensive player in Colts history (at least since they moved to Indianapolis) in letting aging pass rusher Dwight Freeney leave. With a budget to spend this season, and free from cap-hell, Grigson made his first significant foray into free agency, and finally exhaled a little during a summer vacation. It had been such a daily task, the focus always on the next waiver claim, the next practice, the next scouting trip, the next game, that when someone mentioned to Grigson that the Colts never lost consecutive games in 2012, he was kind of flabbergasted.
"I didn't even realize it," Grigson said.
It's not as if he didn't savor and relish each accomplishment along the way, but there was so much to do at the micro level that sometimes the macro gains couldn't be truly appreciated until there was time to take a step back. Of course, everyone in this organization, from Grigson on down, is far from satisfied with a season in which the Colts went from worst in the NFL to giving the eventual Super Bowl champ Ravens a good game before succumbing in the wild-card round.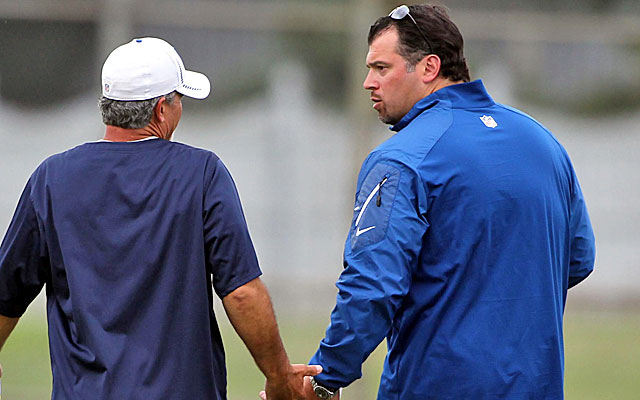 "He's unbelievable," Pagano said. "I don't know if the guy sleeps to be honest with you, because it's everyday. I don't think there's a minute that goes by that he's not thinking about the roster, thinking about the organization, what he can do to give us the best chance to win.
He's a tireless worker, he's got a great eye for talent. It's been awesome. The communication is always there we're always on the same page moving forward. It's a perfect storm for myself and our coaches and players."
Grigson and Pagano speak about their progress in measured tones. But it's impossible to watch this team practice now, versus a year ago, and not be struck with how much bigger they are, how much more feisty and physical and aggressive they are. There is a noticeable transformation from smaller, quicker, more athletic philosophy of Polian to the beef and brawn model extolled by Grigson and Pagano.
They needed to be more powerful running the ball and stopping the run. They had to find a way to protect Luck, who was hit over 100 times as a rookie, and to get essential parts Pagano needs to see his defensive vision fulfilled (think about the Ravens defense Pagano once oversaw, with big, physical corners like Jimmy Smith, an enforcer-type safety like Bernard Pollard, a 3-4 edge-setter in the run game like Jarret Johnson).
These are the components Grigson went after. A year ago it was about volume and churn and just trying to put a roster together. This offseason was more streamlined and calculated. And free agency was new time, as in Philadelphia he was largely on the road scouting colleges, writing monthly reports assessing the Eagles' status but without a voice in pro acquisitions.
You could make the case he overspent in some cases this offseason -- only time will truly tell -- but he spread the resources around to multiple positions. Gosder Cherilus became the highest paid right tackle in the game and they added Donald Thomas as a starting guard, and there will likely be three new starters on the offensive line. "Half of those sacks were me putting myself in a bad situation," Luck said, "but the new guys are jelling great. Now we've got more than five guys that can play really solid football there."
Defensively, LaRon Landry is a natural in that Pollard role and the Colts believe Erik Walden can be every bit as tenacious as Johnson was in Baltimore as a run fit. Last year they traded for corner Vontae Davis and they believe free agent Greg Toler has the cover skills that will allow Pagano to deploy blitzers from all over.
"When you feel good about your matchups on the outside, it gives you the opportunity to be really aggressive," Pagano said, with a wry smile.
"We knew we needed to get more guys that played square and fit the scheme in terms of the 3-4," Grigson said. "We needed guys that were conditioned to play this defense. We had to stop trying to get some square pegs into round holes."
And while Grigson did indeed spend considerably in free agency compared to the majority of the league, he didn't come close to setting some of the individual spending records say the Dolphins or Titans did. None of the guy he landed was a household name in his prime.
"Instead of signing so called 'names,' we tried to find guys with the right attributes," Grigson said. "Because we lost a Dwight Freeney I think the general public wants us to go out and sign someone they're familiar with and they know, but that's not part of the scouting process.
"Scouts in general, we completely oppose that mindset. We are doing the work and watching the film and doing all of our due diligence and digging to find players to help us win, not pacify people. The way we keep our fans happy and our owner happy is by winning football games. That's our mindset."
Those attributes have clearly changed much since the end of the 2011 season, and while there is no guarantee this upstart team can continue upon the major leaps it made a year ago -- even duplicating last season's results would be an accomplishment given the nature of this league -- they will most certainly leave more teams black and blue on Monday after facing them.
Carl Johnson, the NFL's former VP of officiating, is facing domestic violence allegations in...

The Falcons look like a team capable of repeating as NFC champions and returning to the Super...

After two consecutive weeks of ineptitude on offense, Giants fans are already sick of Ben...
Our computer model simulated every Week 3 NFL game 10,000 times with very surprising resul...

Without Nelson, the Packers' offense struggled in a loss to the Falcons

Kizer had to leave last Sunday's game after experiencing a migraine