Goodell: Chicago, L.A. interested in hosting future NFL Drafts
According to NFL Commissioner Roger Goodell, both Chicago and Los Angeles have expressed interest in hosting future NFL Drafts.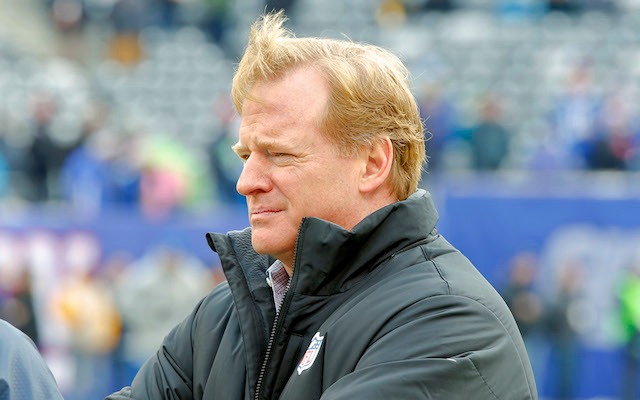 The NFL Draft is a staple of New York City and, more specifically, Radio City Music Hall. But it's not locked into the Big Apple for perpetuity.
Appearing on the Rich Eisen Podcast this week, NFL Commissioner Roger Goodell confirmed the league is at least discussing the possibility of a move, with both Chicago and Los Angeles expressing interest.
"We're looking at the idea of that we move out of Radio City. We're looking at the potential of moving out of New York," Goodell said. "Radio City's been a great place for us but there's a lot of cities that are interested in having us in the future and we're looking at that. The two most aggressive probably are Chicago and Los Angeles but we've heard from a few more mayors also."
Goodell added that the league met about the future of the draft the same day he spoke with Eisen (either Monday or Tuesday of draft week) and they're working on locking down the date, location and format.
"We just met on it this morning," Goodell said. "We're focused on the 2014 draft already. I'd say sometime late this summer, early fall, we'll have to make a decision on the format, location and date."
There's been much hand-wringing and back-aching over the draft's move to May because that's what happens when things change. Which is what made Goodell's next line about the format to Eisen the best.
"What's wrong with seven rounds in seven nights???" Goodell joked. "I think our focus is … when we moved to primetime a couple years ago I think it was a great change for us. I think it's probably a three or four day draft and seven rounds in that time period. You could have Round 2 in the second night and Round 3 in the third night."
Going to four nights -- Thursday Round 1, Friday Round 2, Saturday Round 3 and Sunday Rounds 4-7, presumably -- isn't that bad an idea and it's certainly something Goodell's mentioned before. The second and third rounds have become more important than ever and fans tune into who's picked then more so than in years past. 
As for the location, it won't really matter. There's something cool about the notion of bright lights, big city, etc. But no one would notice if Chicago was the background. And if it makes the NFL more money and drums up more interest, well, consider it done.
Everything you need to know about the Packers-Panthers game on Sunday afternoon

The Lions will be wearing their Color Rush uniforms for the first time on Thursday

The Lions look to maintain playoff positioning while the Bears attempt to play spoiler
The Panthers have hired an outside law firm to conduct the investigation

Here's every official injury designation for each NFL team for Week 15

Bennett was one of the few players who escaped punishment after Sunday's melee in Jacksonv...