Goodell fails brutally with two-game suspension for scary Ray Rice
Roger Goodell had the chance to make a bold statement by hitting Ray Rice with a heavy suspension, but instead the commissioner brutally fails.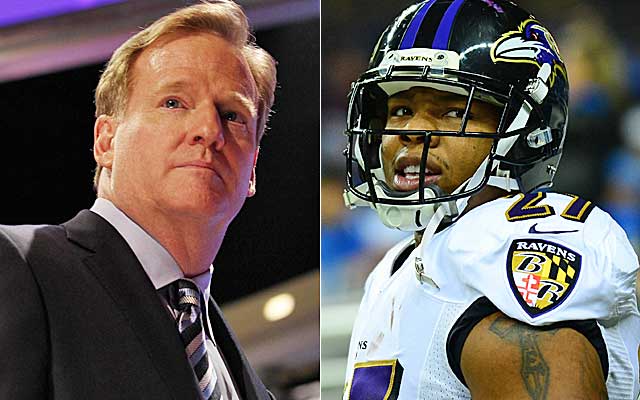 More NFL: Photos |   Videos & GIFs |  Stories | Training Camps | Johnny Manziel watch 
The punch line is coming. That's the only thing that makes sense about the joke NFL commissioner Roger Goodell told Thursday when he told the world that allegedly knocking a woman unconscious -- and definitely being caught on video dragging her lifeless body from the elevator -- is punishable by a two-game suspension.
That's a good one, Commish. Now finish the joke. Pop out of a cake and scream, "Gotcha!" And then tell us how many games -- how many seasons -- Ray Rice is really going to miss.
The cruelty is coming. That's the only other thing that makes sense about the kindness Goodell showed Rice on Thursday when he gave the Ravens running back the same suspension he gave Detroit's Mikel Leshoure in 2012 for a pair of marijuana arrests, and the same suspension he gave New Orleans' Will Smith in 2011 for taking a banned diuretic.
That's cold, Commish. Giving Ray Rice hope that he'll play in September -- that he'll play ever again -- when what Ray Rice did deserves a ban of biblical proportions. And surely (right?) Roger Goodell is about to go all Old Testament on Rice's ass and announce the real suspension in 3, 2, 1 ...
1/2, 1/4, 1/8 ...
Let's go, Commish. This isn't funny anymore. This is strange bordering on stupid bordering on you've got to be kidding me. Two games? For that?
Ben Roethlisberger was suspended six games (later reduced to four) in 2010 and he wasn't even charged with a crime. Granted, he was accused by two different women of something as serious as sexual assault, but police didn't bring charges in either case and Goodell hammered the Steelers quarterback anyway because he didn't like the way those accusations reflected on the NFL.
So I guess my question is this: Who's going to suspend Roger Goodell for six games? Because people around the league are mortified by how this ridiculous punishment of Ray Rice reflects on the NFL.
Goodell didn't make the league look "weak." Suspending a known drug cheat for four games makes the league look weak. Suspending a guy who police say knocked his fiance unconscious, and who a video caught dragging her body off the elevator like a roll of carpet, for just two games? This makes the NFL look horrible.
In the same offseason that an NFL team drafted the league's first openly gay player, Michael Sam, the New York Giants have hired a guy (David Tyree) who once said he'd trade his famous Super Bowl helmet catch if it would stop gay marriage. That looks bad.
Goodell's suspension of Ray Rice? This looks horrible.
In a few months the NFL is going to go pink, using October to raise awareness for breast cancer by adopting that cause's color on players, coaches, sideline markers, coin-flip coins and more. It's a great and noble thing the NFL is doing, and in a few months when I see it happening again it will make me smile. But today the idea of it makes me queasy, because today Roger Goodell had a very real, tangible chance to do something on behalf of women everywhere -- on behalf of battered women everywhere, and sadly, they are everywhere -- by going Old Testament on Ray Rice and smiting him to within an inch of his NFL life.
Had Goodell gone too far the other way, and I'm not even sure what "too far the other way" could possibly look like, there would be little to no outrage. Suspend Ray Rice for half the season, the whole season -- hell, suspend Ray Rice for the rest of his career because an incredibly strong, incredibly muscular NFL player simply cannot use that strength to hurt a woman -- and we would have understood. Maybe we'd think, gee Commish, that was harsh. But we'd have understood, even approved the overall point that a man cannot hurt a woman and get away with it. Not on Roger Goodell's watch.
Better for Goodell to have erred on the side of harshness -- an eye for an eye, Ray Rice; an eye for an eye -- than to have erred on this side of the line. On the side that says what Ray Rice did to his tiny, defenseless fiance was tantamount to what Lions defensive lineman Ndamukong Suh did in 2011 when he was suspended two games for stomping on a 310-pound opponent wearing football pads.
That's what Roger Goodell has said, so now I'm going to sit here and wait for him to say something else. Because what he has said so far isn't good enough. It has to be a joke.
Even if the only person I can imagine laughing is Ray Rice.
The Dolphins also donated $100,000 to the victims' fund after the school shooting that killed...

The Cardinals GM explains his process for finding Carson Palmer's successor

Stefen Wisniewski narrowly missed out on a chance to earn $250K, but the Eagles gave it to...
Shazier heads into the Steelers' facility every day and helps with 'personnel stuff'

Foles's life has completely changed by leading the Eagles to a win over the Patriots in Super...

For all of the attention Patrick Mahomes will receive, fixing the defense has to be Kansas...