Google Maps says 49ers new stadium is also Seahawks new stadium
If you look on Google Maps, it's a little confusing about which NFL team will be playing at Levi's Stadium this fall.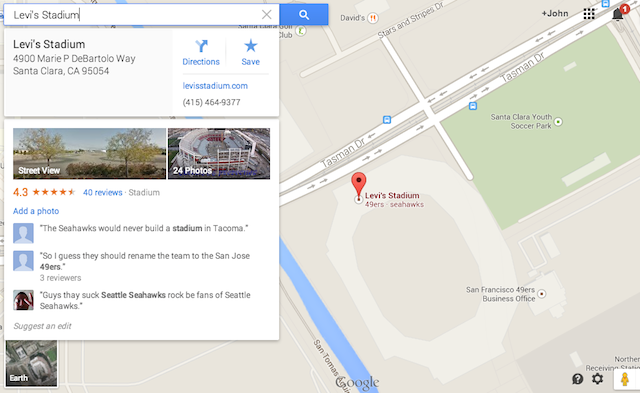 Apparently everything in the Bay Area belongs to the Seahawks. First, the transit system in San Francisco changed its seats to Seattle's colors, now Google Maps is saying that the 49ers new stadium in Santa Clara is the Seahawks new stadium too. 
Google knows everything, so we'll just have to go with their word on this. 
Just in case you're wondering what the 49ers new stadium would look like in Seahawks colors, someone on the internet went ahead and took care of that for you.
Seattle fan trolls @49ers by re-designing Levi's Stadium in Seahawks colors. Note the scoreboard (via @mrtommygman) pic.twitter.com/7SDQJDlOK9

— Mike Rosenberg (@RosenbergMerc) April 22, 2014
(Wink of the CBS Eye to Mike Rosenberg)
Cowboys rookie Jourdan Lewis got some good news on Tuesday.

The Ravens might need some help at running back

The Jaguars are making people rich
It looks like Michael Vick is hoping to make the transition from player to coach

The former undrafted free agent is about to get a huge raise

Both Malik Hooker and Andrew Luck are on the PUP list, so maybe it's time to start worryin...