Grades: Lots of A's and no F's? Much to like in 2014 NFL Draft
Could it be, a whole draft without a team with a failing grade? You're darn right. And the Jaguars, Vikings, Rams and Bears all ace the test. History could prove otherwise, but this looks like a great draft.
Draft coverage: Picks and grades | Prospect Rankings | Sam goes No. 249 | News
Am I going soft when I give out one "A-plus" grade, three "A" grades and no grades of F?
Then call me soft as I grade the 2014 NFL Draft.
I handed out the A-plus to the St. Louis Rams, who owned the draft from their first pick, second overall, to their second-to-last pick when they took defensive end Michael Sam, the first openly gay player to be drafted.
Rams general manager Les Snead, loaded with two first-round picks, landed tackle Greg Robinson and defensive tackle Aaron Donald with those picks. They are two of the top-10 players in the draft.
He followed that up by picking a bunch of quality players up and down the board. The Rams' roster is now impressive and they might be ready to compete in the tough NFC West.
The A grades went to the Chicago Bears, Jacksonville Jaguars and Minnesota Vikings. I loved what they all did.
While there were no Fs, I did give the Carolina Panthers a D because I didn't like their draft much at all.
When the Panthers have two Pro Bowl players from this draft three years from now, I will look stupid for these instant grades. But isn't that the fun of it: Paralysis by instant analysis?
Arizona Cardinals: Safety Deone Bucannon will add toughness to the secondary and Troy Niklas is the blocking tight end Bruce Arians likes. They must love the arm of fifth-round quarterback Logan Thomas, but he needs work. Grade: B
Atlanta Falcons: They addressed a lot of needs with their picks, including getting a top tackle in Jake Matthews. The second- and third round picks will both be rookie contributors. Grade: B-plus
Baltimore Ravens: As they often do, the Ravens picked up a lot of quality players. I liked the second-round pick of defensive tackle Tim Jernigan and third-round tight end Crockett Gilmore. Grade: B
Buffalo Bills: I love Sammy Watkins as a player, but giving up next year's first-round pick to get him is steep. That could be costly if they don't improve in a big way. Cyrus Kouandjio has to transition from the left side to the right, but he can do it. The price to get Watkins drives the grade down. Grade: C
Carolina Panthers: Their draft was puzzling to me. Why not a left tackle? Is Byron Bell the answer? Kelvin Benjamin is a big receiver, but I liked others more. Why draft a defensive end with so many other needs? Grade: D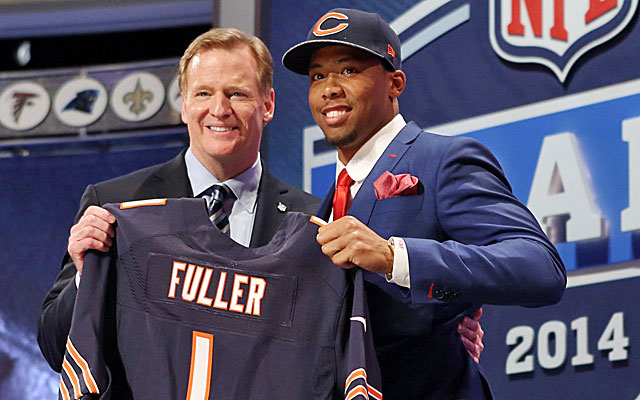 Chicago Bears: The Bears drafted a lot of players that fit their needs on defense. I really liked what they did. First-round corner Kyle Fuller was the best in this class in my mind. Following that up with two defensive tackles was smart. Grade: A
Cincinnati Bengals: I liked Darqueze Dennard in the first round to compete at corner, but didn't like the choice of a big back in Jeremy Hill in the second. Don't think for a minute A.J. McCarron, their fifth-round pick, will take Andy Dalton's job. It's a backup thing. Grade: C-plus
Cleveland Browns: I loved the move to go up and get Johnny Manziel in the first, but why pass on receiver with the Josh Gordon situation? I don't get that at all. They took a corner with their first first-round pick Justin Gilbert instead of a receiver. That drops the grade for me. They did get a 2015 first-round pick from Buffalo. Grade: B-minus
Dallas Cowboys: They wisely passed on Manziel to take guard Zack Martin to solidify their line. I liked the trade up to get defensive end Demarcus Lawrence in the second as well. That was must-get in this draft. Grade: B
Denver Broncos: John Elway had another nice haul. First-round corner Bradley Roby was my second-ranked corner and the addition of receiver Cody Latimer in the second was a nice move. Grade: B-plus
Detroit Lions: I like Eric Ebron as a player, but that was a luxury pick for a team that has so many other needs. Why not a corner? I do like a lot of their other picks, but that first one drops the grade down. Grade: B-
Green Bay Packers: Getting safety Ha Ha Clinton-Dix was a must to upgrade the speed and range on the back end. They followed that up with some solid choices, including second-round receiver Davonte Adams. Grade: B
Houston Texans: Taking Jadeveon Clowney was a no-brainer with the top pick, but why wait to take a quarterback until the fourth? They did a nice job picking players for the defensive line. Grade: B-plus
Indianapolis Colts: They didn't have a first-round pick because of the trade for running back Trent Richardson, which drops the grade down. I really love third-round pick Donte Moncrief, a receiver from Mississippi. Grade: C
Jacksonville Jaguars: I am in the minority, but I love the pick of Blake Bortles at No. 3. They had to get a quarterback. They followed that up with a lot of help for an offense that needed it. Impressive. Grade: A
Kansas City Chiefs: The pick of outside linebacker Dee Ford in the first was strange for me with other needs, unless they are dumping Tamba Hali next year, which is possible. I liked the pick of corner Philip Gaines (third) and loved the pick of Aaron Murray in the fifth. Grade: C-plus
Miami Dolphins: They needed offensive line help, and they got it with two picks in the first three rounds on lineman. Question is: Did they get the right one in the first round with tackle Ja'Wuan James. I didn't like the pick of Jarvis Landry in the second. Grade: C
Minnesota Vikings: For the second consecutive year, the Vikings did a nice job with the draft. They landed pass rusher Anthony Barr with their first-round pick, then traded back into the round to get quarterback Teddy Bridgewater. Keep an eye on sixth-round corner Antone Exum. Grade: A
New England Patriots: I know first-round pick Dominique Easley is a risk with double knee surgery, but he is worth it. I didn't like the pick of quarterback Jimmy Garoppolo in the second. With the window closing on Tom Brady, get him some more players. Try to win now. Grade: B-minus
New Orleans Saints: The Saints needed to get speed and first-round receiver Brandin Cooks will add it. I like second-round corner Stanley Jean-Baptiste, a bigger corner. They went heavy on defense. Grade: B
New York Giants: Taking a receiver in the first in Odell Beckham might surprise, but they need help to free up Victor Cruz in the offense. Second-round center Weston Richburg was a good pick. Grade: C-plus
New York Jets: I like big-hitting safety Calvin Pryor to fill a major need, but I didn't like tight end Jace Amaro in the second. Fourth-round slot receiver Jalen Saunders could be a steal. Grade: C
Oakland Raiders: If they hit on second-round quarterback Derek Carr, this could be a huge draft for them. That's a big if. First-round pick Khalil Mack will be a pass-rush star. Reggie McKenzie did a nice job with his first four picks. Grade: B
Philadelphia Eagles: They took pass rusher Marcus Smith in the first round because they saw a shrinking market there. I really like third-round receiver Josh Huff and fourth-round corner Jaylen Watkins. Grade: B-plus
Pittsburgh Steelers: I loved the pick of linebacker Ryan Shazier in the first for the speed he will bring. Fourth-round receiver Martavis Bryant is bigger receiver, which the Steelers need. Grade: B
St. Louis Rams: General manager Les Snead killed the draft. He was loaded with extra picks the past two years, but hit on a bunch. I mentioned his first two as picks I liked, but I also liked second-round corner Lamarcus Joyner. Grade: A-plus
San Diego Chargers: They needed a corner and a pass rusher and used their first two picks to get them in Jason Verrett and Jeremiah Attaochu. They also added a nice back late in Marlon Grice. Grade: B-minus
San Francisco 49ers: I like Jimmie Ward in the first round, but they took some chance picks as well that could be boom-or-bust. I didn't like the pick of the back in the second round. This is a front office that knows what it's doing. Grade: B
Seattle Seahawks: The Seahawks traded out of the first round to add picks and added a lot of good players. Second-round receiver Paul Richardson can fly and I love fourth-round picks Cassius Marsh and Kevin Norwood. Grade: B-plus
Tampa Bay Buccaneers: They needed to get weapons on offense and they did with their first three picks, including first-round receiver Mike Evans. I really like second-round tight end Austin Seferian-Jenkins. Grade: B+
Tennessee Titans: Taking tackle Taylor Lewan with two solid tackles was sticking to the board. I didn't like it, and then they followed it up by taking a back (Bishop Sankey) in the second round, which was too high. Grade: C-minus
Washington Redskins: They have edge rushers, so second-round pick Trent Murphy is a nice backup who can also be part of a package with all three of them on the field. I like third-round tackle Morgan Moses and fourth-round corner Bashaud Breeland. Not having a first-round pick, lost in the trade for Robert Griffin III, hurt. Grade: B-minus
Everything you need to know about the Packers-Steelers game on Sunday night

The Patriots dynamic duo will be playing on Sunday against the Dolphins

Here's every official injury designation for each NFL team for Week 12
Larry Hartstein is on an 8-2 NFL run and gives his best three-team NFL parlay for Week 12

Plus baby names, kicker issues and other things of interest from NFL on Thanksgiving

It was foretold, and King delivered