My inbox is a mess right now. It's full of emails from guys in my fantasy football league trying to land a draft date and time.
I can't do it in Atlantic City (sorry). Why? I have two kids (sorry, again) and financial constraints (I said I'm SORRY).
Anyway, the emails have me thinking about the draft and specifically where I'm going to be picking. I won't know that until our actual draft day, but last year I had pick 9 out of 10 in this particular league, and I hated it. I hated getting two of the top 20 players instead of three of the top 20 like the top overall pick gets in our snake draft format.
I thought maybe that draft slot (deflecting blame, naturally) had something to do with my subpar team.
Anyway, I looked into this a bit here at CBSSports.com HQ. Using our patented single Apple IIGS computer that powers all of our products, I found out that in our paid single leagues, it (ahem) paid to pick earlier in a draft.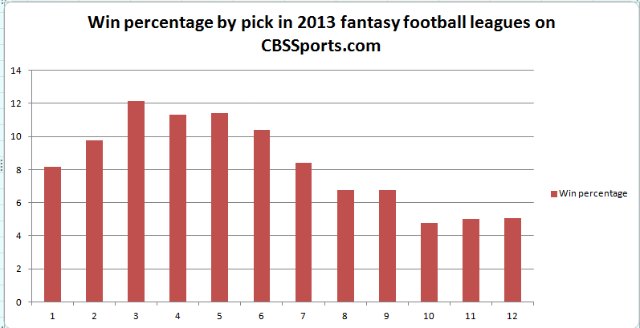 Pick No. 3 tops the chart with chances falling below 5 percent with pick No. 10 only to rebound a bit as you bend the snake curve.
Pick No. 3 in 2013 tended to be somebody like Jamaal Charles. But what really interests me is that back part of the graph where it seems draft position may inherently put you behind the eight ball if you pick, well, No. 8 or later in a 12-team draft. That's where those decisions come in regarding taking a tier-2 running back, a stud wide receiver, a quarterback and so on.
With what seems like three clear stud options in Charles, LeSean McCoy and Matt Forte lurking atop the draft this season, I'm guessing bringing up the rear will deliver similar fates, which means I'm almost assured the fantasy gods will place me there.
Time for a motion to change our draft format to auction.