Graphic video of Ray Rice knocking out fiancee in elevator emerges
TMZ released a video on Monday showing what actually happened in an Atlantic City hotel elevator this summer.
• 2 min read
A video showing Ravens running back Ray Rice punching his fiancee in an Atlantic City hotel elevator surfaced early Monday. TMZ released the video, which is NSFW because of its graphic nature.
Before Monday's clip, a video released earlier this year showed Rice dragging an apparently unconscious Janay Palmer out of the elevator. Rice was not sentenced to jail and received a two-game NFL suspension, which drew criticism.
The latest video shows Rice and Janay Palmer entering the elevator, and even before the doors close, Rice tries to punch her. Palmer, who has since married Rice, rushes Rice before he lands a knockout punch, leaving her in a heap on the floor.
It's unclear how long the two were in the elevator, but Rice looks down at her on the elevator floor. When the doors open, he drags her out.
Eventually, Palmer wakes up and appears to be comforted by onlookers.
Rice was indicted on a third-degree assault charge, but entered a pretrial diversionary program and avoided jail time. According to ESPN New York's Jane McManus, the NFL had access to the full elevator video. 
Re Ray Rice knockout punch: I was told NFL had access to same evidence the police did when evaluating a 2-game suspension.

— Jane McManus (@janesports) September 8, 2014
ESPN's Chris Mortensen, however, says the league had not watched the video.
NFL: Ray Rice video was not made available to them,despite requests to law enforcement. Nothing on whether NFL had account of what happened

— Chris Mortensen (@mortreport) September 8, 2014
NFL spokesman Greg Aiello said in a statement on Monday that the league had not been given the video before TMZ released it.
"We requested from law enforcement and all information about the incident, including the video from inside the elevator," Aiello said. "That video was not made available to us and no one in our office has seen it until today."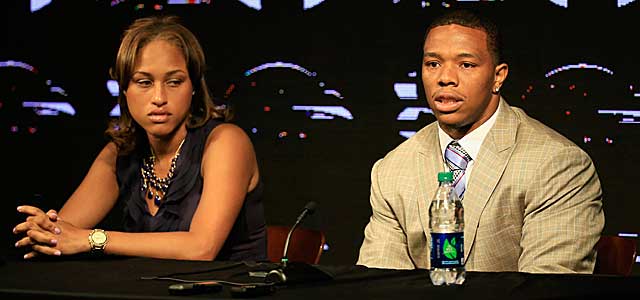 But Deadspin points out theMMQB.com's Peter King reported in late July that NFL and some Ravens officials had seen the video from inside the elevator.
According to CBSSports NFL Insider Jason La Canfora, the Ravens hadn't seen the video but were aware of its contents. 
Ravens officials had not seen this Rice video prior to today but he had described actions in detail. Didn't "sugarcoat" it source said...

— Jason La Canfora (@JasonLaCanfora) September 8, 2014
At a news conference in May, Rice apologized but did not address his wife during the apology, and Palmer said that she bore some of the blame as well.
"There are consequences when you make a mistake like that," Ravens coach John Harbaugh said at the time. "I stand behind Ray. He's a heck of a guy. He's done everything right since. He made a mistake. He's gonna have to pay a consequence. It's good for kids to understand it works that way. That's how it works. That's how it should be."
Commissioner Roger Goodell, who was heavily criticized for what was seen as a lenient punishment of Rice, recently sent a letter to owners in which he said "I didn't get it right. Simply put, we have to do better."
Since then, the NFL has announced that a domestic violence offense will bring a six-game suspension while a second incident results in a lifetime ban.
>> Want more on Rice situation? Current, ex-players critical of Rice
The Green Bay Packers quarterback seems to be a go for the Carolina Panthers game

Shazier's season might be over, but he still wants to help his team

The young head coach took the blame after a heartbreaking loss to the Eagles
Our computer model simulated every Week 15 NFL game 10,000 times with very surprising resu...

Britt is going from the worst team in football to a Super Bowl contender

With three weeks to go in the regular season, the MVP race is wide open