Greg Hardy smacks coach's clipboard, Jerry Jones says he's a leader
Hardy became incensed after the Cowboys gave up a 100-yard kickoff return for a touchdown.
During the Dallas Cowboys' 27-20 loss to the division rival New York Giants, defensive end Greg Hardy and injured wide receiver Dez Bryant got into a heated argument on the sideline. Much of the initial reaction was of the, "Of course Dez Bryant is yelling on the sideline" variety, but of course, there was more to the incident than initially met the eye (as there often seems to be when Bryant is caught yelling by TV cameras).
See, Dez was just trying to calm Hardy down. Hardy was apparently enraged after the Cowboys gave up a 100-yard kick return to former Cowboy Dwayne Harris, which put the Giants back into the lead. So what did the combustible star do?
He flipped out on special teams unit and shoved special teams coordinator Rich Bisaccia's clipboard back into the coach's face.
Do sideline arguments happen a lot? Sure, we see them all the time. But shoving a coach crosses the line, and it's not OK. Especially not for Hardy, who has a history of violence and pretty much seems totally unrepentant at this point between his guns and stripper video, his "guns blazing" remark, and his repeated "no comment" answers to questions that hadn't even finished being asked after the game on Sunday. It's all a bad look for him and it's all a bad look for the team.
Asked after the game for his thoughts, this was Cowboys owner Jerry Jones' response:
Jerry Jones on Hardy's sideline actions: "He's one of the real leaders on this team & he earns it. That's the kind of thing that inspires."

— Jon Machota (@jonmachota) October 26, 2015
Sorry, Jerry, but that's nonsense. Hardy might be a wonderful football player, but if he's the leader of anything, I'm not sure why anybody would want to follow.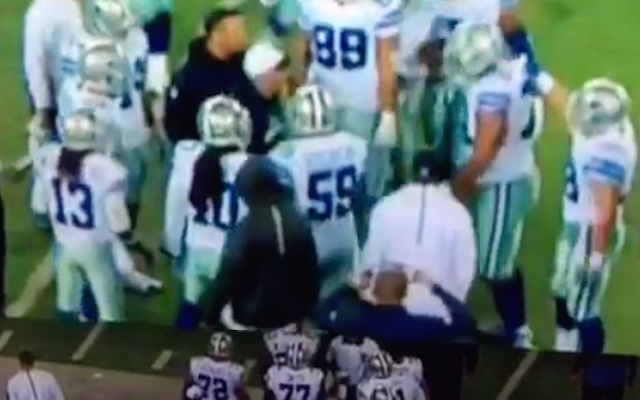 The Raiders are reportedly planning on partnering Beast Mode with Muscle Hamster

The Buccaneers bolster their defensive line by adding a proven talent in Curry

Keep up with the latest moves in free agency as teams try to build a Super Bowl contender
After only one season, Johnathan Hankins is on his way out of Indianapolis

The Seahawks quarterback has his eyes on a certain wide receiver

An avalanche of free-agent signings around the league has altered draft plans for most tea...