Gregg Williams reinstated by NFL, hired by Titans
Gregg Williams was reinstated by the NFL on Thursday and hired by the Titans as Senior Assistant on Defense.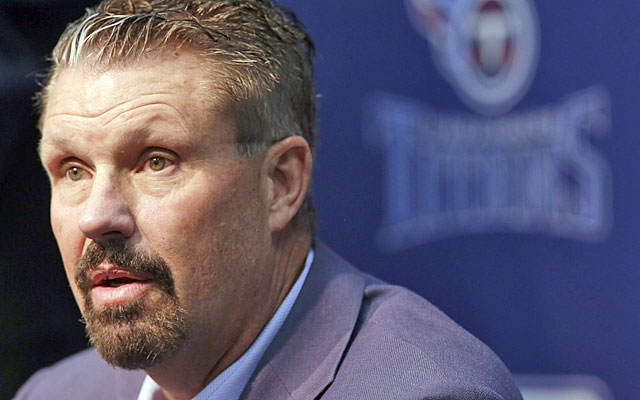 Gregg Williams returns to the NFL with a new job and new look. (AP)
Earlier this week, CBS Sports' Jason La Canfora reported that former Saints defensive coordinator Gregg Williams would be reinstated by the NFL; La Canfora also reported previously that Williams had already agreed to become the Titans' assistant head coach on defense.
Both moves are now official, with NFL commissioner Roger Goodell and Titans coach Mike Munchak announcing the respective moves on Thursday.
"Commissioner Roger Goodell today notified Gregg Williams and the Tennessee Titans that Williams' contract with the Titans has been approved and that he has been reinstated," the NFL said in a statement. "The commissioner cited several reasons for the reinstatement, including Williams' forthcoming acknowledgement of and acceptance of responsibility for his role in the bounty program at the Saints, his commitment to never again be involved in a pay-for-performance or bounty system, and his pledge to teach safe play and respect for the rules at all levels of the game.
"The commissioner emphasized that Williams must fully conform to league rules and will be subject to periodic monitoring to confirm his compliance."
The Titans' defense should face some scrutiny, but Williams is simply taking the position of "Senior Assistant/Defense," so it's not as if he'll be directly in charge of that unit. Tennessee's press conference on Thursday afternoon should be spicy at the very least though, with Munchak getting plenty of questions about the decision to move forward with Williams on his staff.
"I have known Gregg for over two decades and have seen him work his way up from a quality control coach to a head coach," Munchak said in a statement. "He will bring a great deal of defensive knowledge and energy to our staff. The decision to bring him here only came after going through a thoughtful and thorough process."
Williams is going to keep drawing plenty of attention. And whether the Titans players respond to having him on staff will be interesting as well; he didn't exactly come across during the bounty scandal as someone who wouldn't throw a player under the bus.
Regardless, he has clearly had success on defense. If he can help turn around a below-average Titans defense in 2012, it'll certainly be a decent start on restoring his reputation.
The former No. 2 overall pick drew interest this offseason but did not play in 2017

This matchup isn't quite as glamorous as it looked when the schedule was released in the s...

Patriots-Steelers highlights a week filled with playoff-caliber games
Cleveland's quarterback has recently improved, but his turnovers have been a big part of the...

Warren Sapp was one of several players named in a lawsuit against NFL Network

Check out the uniforms that Denver and Indianapolis will be wearing on Thursday