Gronkowski begins selling 'Look who's baaaaaack!' T-shirt
Not only is Patriots tight end Rob Gronkowski one of the best tight ends in the league. He's also a salesman.
• 1 min read
With Patriots tight end Rob Gronkowski reportedly (and finally) being cleared to play by doctors, the  image below almost immediately began to make its way across Twitter. And it felt sorta weird.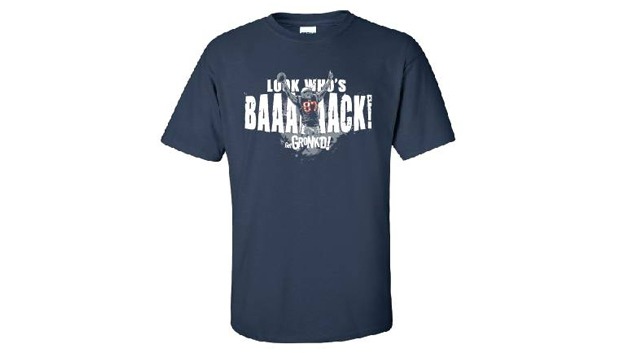 After Gronkowski was cleared, the Gronk Nation Twitter feed (the official feed of the Gronkowski brothers) posted the image and a link to where you could buy the T-shirt for a limited time for $24.99.
The feed also linked to a video that detailed Gronkowski's recovery from his offseason forearm injury and that also happens to be sponsored by an energy drink (if you want to see the video/commercial, click here).
There was speculation when Gronkowski didn't play last week that his teammates were getting annoyed, because he had practiced so well and so extensively while preparing for the Saints. As ESPN wrote, "There's curiosity and resentment, and he's creating it by going out and kicking ass during the week and then he doesn't show up on game day and help the team win."
Gronkowski said this week: "Obviously, I want to be out there. I love the game of football. I love playing. I love playing the game. It's great being out there with my teammates, practicing out there, getting on the same page, getting the chemistry down. We'll see."
Even though the team listed him as questionable Friday, it seems likely that he'll be ready to go, because you'd think the Gronkowski team wouldn't make this T-shirt available until it was sure he'd play. Which is either pretty smart or kinda sneaky.
For someone who's portrayed as a goofy, overgrown kid, Rob Gronkowski is certainly showing he can be quite the capitalist.

— Albert Breer (@AlbertBreer) October 18, 2013
As Gronkowski says in that video, "Football is a contact sport every single play. I'm just looking at my future now."
If that includes making some extra money off the marketing of his rehab, so be it, I suppose.
The Green Bay Packers quarterback seems to be a go for the Carolina Panthers game

Shazier's season might be over, but he still wants to help his team

The young head coach took the blame after a heartbreaking loss to the Eagles
Our computer model simulated every Week 15 NFL game 10,000 times with very surprising resu...

Britt is going from the worst team in football to a Super Bowl contender

With three weeks to go in the regular season, the MVP race is wide open