Hall of Famer Dan Marino files concussion lawsuit against NFL
Former Dolphins quarterback Dan Marino is one of 15 players who filed a concussion lawsuit against the NFL in federal court last week.
More NFL offseason: League minicamp dates | Latest news, notes
More than 4,800 former NFL players have been named a plaintiff in at least one concussion-related lawsuit against the league, but none of those players have been more notable than the latest one to file a lawsuit: former Dolphins quarterback Dan Marino.
The Hall of Famer was one of 15 players to file a concussion-related lawsuit in Philadelphia's U.S District last week, according to the Los Angeles Times. The suit alleges that the NFL "concealed information about football-related brain injuries."
According to the lawsuit, the league has known about concussion-related injuries since the early 1970s.
Among the other 15 players who filed the suit with Marino are former Bears and Chargers quarterback Moses Moreno, along with nine-year veteran (1978-84, 87-88) Dwight Wheeler.
Marino, who spent his entire 17-year career with the Dolphins, said in a short-form complaint that he "sustained repetitive, traumatic sub-concussive and/or concussive head impacts during NFL games and/or practices."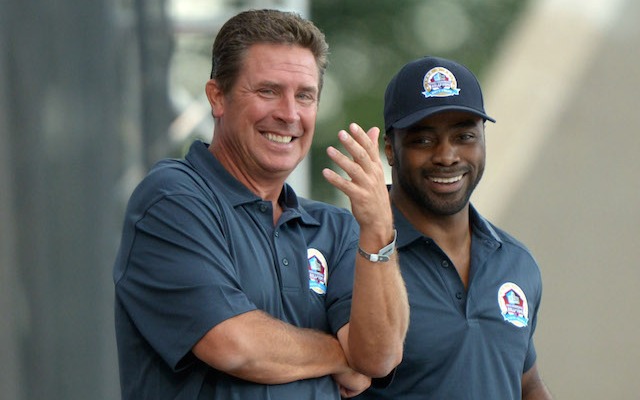 The lawsuit filed by Marino seeks an "unspecified amount of financial recovery." Marino spent 12 seasons as an analyst for CBS (2002-2013) following his NFL retirement in 1999.
It's not clear if Marino's lawsuit is apart of the suit originally filed against the NFL that led to a $765 million settlement -- or if he eventually plans to join that lawsuit. Marino's attorney, Sol Weiss, is one of the lawyers involved in that larger lawsuit, which consolidated several concussion-related lawsuits that were filed against the league. 
The $765 million settlement still hasn't been approved by the court. The settlement was originally agreed to back in August, but U.S. District Judge Anita Brody rejected it in January. 
"We continue to work at the direction of the Court and Special Master as they review the settlement agreement and rightfully ensure that all members of the class are protected," Weiss and Chris Seeger, the other co-lead counsel, said in a statement to the Times. "We look forward to finalizing this agreement so that former players can soon begin taking advantage of its benefits."
The NFL has insisted all along that it hasn't concealed any information related to head or brain injuries that might occur while playing in the league. 
It was foretold, and King delivered

Kareem Hunt has fallen off after a hot start, but he can get back on track against Buffalo

A Dallas Cowboys Salute to Service thermal pullover makes for the best early Black Friday...
It's time to hook up that jersey shirt of your favorite NFL player with some Black Friday...

It's time to hook up that jersey of your favorite NBA player with some Black Friday deals

The Chargers were not confident in their kicking situation past Nick Novak