Hall of Famer Warren Moon getting into the combine-training game
Warren Moon, who has worked with Andrew Luck and Cam Newton in the past, will become the director of football development for Athletes* Performance -- a company with five full-service training facilities around the country, providing facilities, coaching, nutrition and physical therapy.
• 4 min read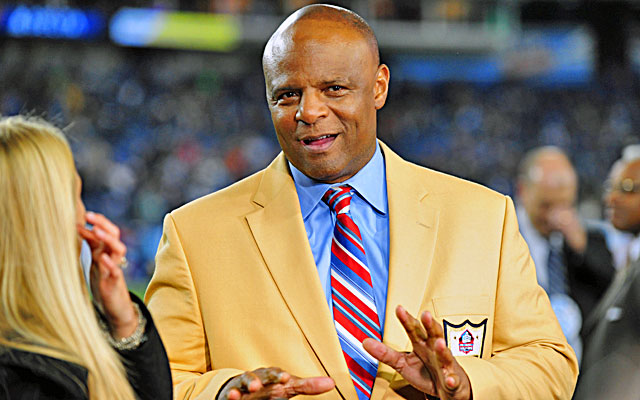 For as underwhelming as the 2013 rookie class of quarterbacks may well be, there is already a buzz about the 2014 NFL Draft, and we should see no shortage of them selected high in the spring. To that end the competition to land them as clients is also heavy, and not just from agents.

With the rise of combine training and the cottage industries surrounding the draft, there is an ongoing arms race between the premier training facilities around the country to try to lure the handlers of the best prospects to spend big bucks with them. To that end, Hall of Fame quarterback Warren Moon, who had worked more informally with top picks like Andrew Luck and Cam Newton in the past, finalized an agreement this week to become the director of football development for Athletes' Performance – a company with five full-service training facilities around the country, providing facilities, coaching, nutrition and physical therapy.

Moon will be working individually with the quarterbacks and also overseeing their development through the combine and draft process, and remaining a sounding board for them once they become professionals. He will also study and review film of the practices he does not personally attend and his presence, one would expect, would be attractive to many of the college passers readying for the transition to the NFL game.

"I've done some of this over the years based on my availability and time with everything else I had going on, and it's something I really enjoy doing," Moon said. "This just seemed like the right fit for me to get involved moving ahead. These are five, world-class facilities and when they approached me about possibly being involved with them on the quarterback- training side of things, it made a lot of sense."

Moon's unique career and experiences make him well-equipped to deal with what these prospects will go through. He played at a time when racism still forced many African-American quarterbacks to play other positions, and Moon had a dominant career in Canada before embarking on a Hall of Fame career in the NFL. He is one of the most prolific passers of all-time and played the game until a late age.

He wants to cull upon that to help mentor this next era of elite quarterbacks, at a time when NFL teams are more willing than ever to incorporate elements of option football and the college game into their schemes.

"I don't just want to limit it to the field training," Moon said. "I want to be involved in these guys' lives and careers as a mentor, talking to them about what's going on with them and how I can help. Those relationships start with the younger players at API, but they don't end there."

The stakes are high in the combine-training game. The more first-round picks a program works with, the easier it is to continue to lure the top youngsters back the following winter. Things have changed dramatically since Moon's days, when at most players might hang around their college campus and workout there.

"It really has grown," Moon said, "and it's something now that if you're an agent or a player, you have to do it just to keep up with the Joneses. And I always felt like if you were successful enough to be good enough to be considered for the draft, you must be doing something right at your university, so why not continue the process there?

"But things have evolved so much not and you can focus on any weakness and you get quickness, speed, strength, nutrition, conditioning, whatever you need. You've been doing something one way for three or four years at college and now you have to learn someone else's coaching and techniques in a short turnaround, but people are getting it done and making big strides by doing it and it's going to be paid for by your agent, so you might as well take advantage of it."

It's hard to imagine anything close to a repeat of the 2013 draft – with just one quarterback going in the first round – and none in the first half of the round. Scouts I've talked to seem pretty sure that Louisville's Teddy Bridgewater will end up first-overall in 2014, and will have plenty of company in that round. And there's a good chance that Moon will be working with several of them (since it's inception in 1994, Athletes' Performance has training six first-overall picks and 94 first-rounders).

"It should be a really good class, a better class than last year for sure," Moon said. "I think there's some guys we should be able to pluck out of that group, and the biggest thing for me is just to lend my expertise, of all the little things that go into it, and be able to give them assistance in any way I can."
And this is why Tyrod Taylor is now the Bills' starting quarterback again

Here are the picks and props you need to be a winner while watching all the football you can...

Freeney, 37, was impressive in Seattle before getting surprisingly released
The 49ers have a realistic shot at home against a Seahawks club dealing with a myriad of i...

R.J. White has his finger on the pulse of the Packers and made a strong play for 'Sunday Night...