At the tail-end of the Rams' 16-13 loss to the Ravens on Sunday, quarterback Case Keenum was concussed. With just over a minute remaining in a tied game, Keenum was thrown to the turf by a Ravens' defender.
In what was completely clear to anyone with a TV and a set of eyes, Keenum's head bounced violently off the turf.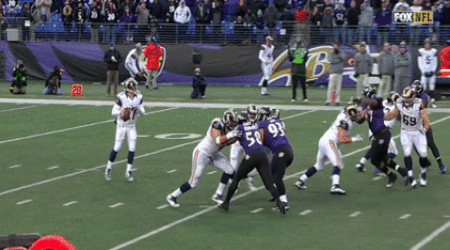 Keenum's pain was also clear. He immediately grabbed his head. He squirmed on the ground. Eventually, he got up with the help of his teammates.
But the game didn't stop. While the officials sorted out a flag, Keenum spoke to a member of the Rams' staff on the field. Thirty seconds later, he was back in the huddle and dropping back to pass. Two plays after the sack, Keenum fumbled and the Ravens won the game on a last-second field goal.
After the game, reporters discovered that Keenum was diagnosed with a concussion, which raises questions: Why wasn't the game stopped? Why didn't Keenum come out of the game? Even if the Rams official spoke with Keenum and thought that he was fine, why didn't an NFL concussion spotter stop the game so Keenum could be examined off the field? Could a concussion test really be administered in 30 seconds? Did the Rams even give Keenum a concussion test?
Earlier this month, Eagles defensive back Malcolm Jenkins revealed that he played during a game with a concussion and hid it from the medical staff. Because the hit that caused Jenkins' concussion was inconspicuous, nobody knew that Jenkins was concussed. The onus was on Jenkins to tell a trainer, but he didn't. Like Keenum's concussion, it's scary to consider that Jenkins played football with a brain injury.
But in this case, Keenum's head injury wasn't hidden, it was clear as day. As Keenum writhed around in pain, someone -- a Rams' trainer, an official, a concussion spotter, a teammate -- had to have spotted that something could be wrong with player who just had his helmet slammed off the turf. 
Nobody stopped the game. The game continued. And just moments later, Keenum took a snap and fired an incomplete pass toward Wes Welker.