Harbaugh taking a hard line with Ravens after regrettable offseason
Four offseason arrests of Ravens makes for an upset John Harbaugh, who isn't kidding when he says that repeat offenders won't get a second chance.
• 8 min read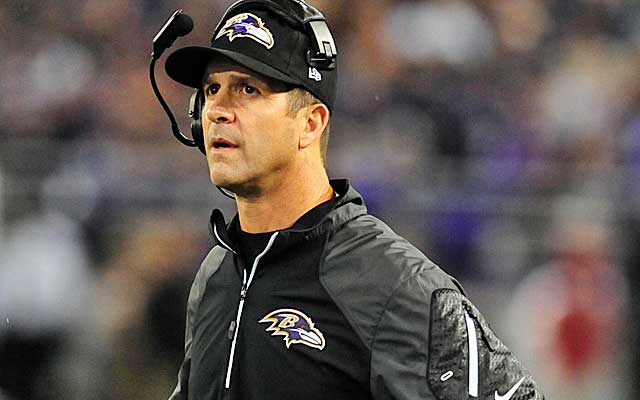 More NFL offseason: League minicamp dates | Latest news, notes
OWINGS MILLS, Md. -- John Harbaugh knew the questions were coming. The ones about the four offseason arrests for his Baltimore Ravens. Especially following the events of the past few days.
Just before the Memorial Day weekend kicked off, Ray Rice, who was facing felony assault charges for allegedly striking his fiancée, held an awkward press conference to address his transgressions. Then on Saturday morning, fourth-round pick Lorenzo Taliaferro, who some think might replace Rice during the former Pro Bowler's impending NFL suspension, was arrested in Virginia. Taliaferro faces two misdemeanor counts after being charged with smashing a cab window. His arrest only further tarnishes the image of a franchise only 16 months removed from winning its second Lombardi Trophy.
Coupled with the alcohol-and/or- drug-related arrests of reserve offensive lineman Jah Reid and reserve receiver Deonte Thompson earlier this offseason, the local airwaves have been filled with calls and commentary about the Ravens' offseason conduct.
So, with a sizeable media contingent present on the first day of Organized Team Activities that were open to reporters, the veteran coach was thoroughly primed for what was coming. And, as opposed to some of his peers -- and even his brother, Jim Harbaugh, who can be particularly prickly and elusive in response to inquires into the off-field missteps of his football team -- this Harbaugh addressed everything head on. There was no coach-speak and no talking in circles. Harbaugh was direct in detailing where his players have let the Ravens down, how the organization can continue working with them to improve, and what he expects moving forward, including an edict that repeat offenders will not be tolerated.
"At some point in time your mistakes begin to impact us in a negative way," Harbaugh said. "And when the negativity overbalances your ability to help our football team, then you're not going to be here anymore. Or if we can't trust your character anymore, then you can't be a part of what were doing anymore. And that goes for everybody; that goes for coaches, scouts, everybody who works in our league. It should be that way."
Harbaugh did not shy away from the role that alcohol and drugs have played in the arrests, either, and said he will continue to emphasize making positive decisions in regard to what his players put in their bodies in his message to them throughout this offseason. Merely getting in a cab when drunk -- while obviously a far superior outcome to driving -- "isn't good enough" Harbaugh said, a nod to Taliaferro's exploits, given that he'd much prefer his players to never end up in such an inebriated state.
"How about we start off with the idea that we're not going to go out and drink," Harbaugh said, "because the other side of the coin is we're supposed to be world-class athletes and that's not what I would call an effective training method right there -- going out and drinking too much. So it starts with that and we expect those guys to chase a high standard, and we're going to hold them accountable."
It was clear that the coach wanted to get his thoughts off his chest, and was thoroughly prepared for the line of questioning coming his way. Undoubtedly he will be repeating this mantra to his team in the weeks and months to come.
The son of a coach, in a family where coaching is such a critical part of his DNA, Harbaugh views his role as a teacher and resource for his players as a primary function. If anything, one of the original tenets of his tenure in Baltimore was cleaning up the locker room, weeding out malcontents and bad influences and trying to ratchet up accountability. He was willing to do so then even as a relatively unknown former special teams coach. His mandate has only increased after two contract extensions and a championship title, so I'd take the man at his word that his disappointment will have repercussions for those who do not abide.
The dynamics of this team have changed some, too, since the Super Bowl. Gone are elder statesmen like Ray Lewis, Ed Reed and Anquan Boldin, and, with many of their replacements coming via the draft, the overall complexion of the team in terms of experience and maturity has skewed younger. The veterans the Ravens have brought in, like Daryl Smith and Chris Canty a year ago and Steve Smith and Owen Daniels this year, do not lack for leadership qualities, but as Smith noted today, you can't exactly just get to town and begin lecturing new teammates on what they should and should not be doing. With youth, will come folly.
"Yeah, I think we've had to address it more [this offseason]," Harbaugh said. "There have been a lot more phone calls this year than other years in the offseason to find what the heck guys are thinking at times. What I'm most concerned with is, younger guys will make mistakes ... but you sure as heck better not be a repeat offender."
Quarterback Joe Flacco, an admitted homebody who confesses he knows little about nightlife in Baltimore or elsewhere, said it's hard for him to lecture younger guys about some of this stuff, since he can't relate, but others do so willingly in his locker room. He doesn't see a pattern or trend developing.
"Hopefully, it will stop," Flacco said. "We haven't really had a problem with that since I've been here, at least with it re-occurring or continuing to happen with a guy. So, hopefully, we don't see that and we can put an end to all of that stuff."
There isn't a leadership void here by any stretch. And in reality, four of the 90 players on an NFL roster now, or even the 53 men that will make a team -- is not a particularly high figure. In my opinion, the ratio of NFL players who get into trouble, vs. the overall sample size of thousands of players in the league at a time in the offseason like this -- is vastly blown out of proportion.
Nevertheless, there is a higher standard for these players -- many of them in their early 20s -- than it would be for someone anonymous whose job does not include the kind of money and perks that come with playing in the NFL.
Harbaugh has talked to his team about today's society, where virtually any mistake will end up on the Internet and most will end up on a camera phone somewhere as well. "I told the guys it's a different world than when we grew up," he said. "We could make mistakes or something and not everybody would know about it. It's not like that anymore."
Harbaugh used the recent experience of defensive end DeAngelo Tyson's daughter as a teaching moment as well. Harbaugh talked to the team about how in 12 or 15 years his daughter would Google her daddy and that the good and the bad -- "it's all going to be there, and it's not going away."
No one may be more of a teaching tool than Rice, however, whose decline on the field a year ago was far less shocking than his arrest off of it. Rice has been a pillar of this community, and willing and eager advocate for charities and schools, running event after event and being a prominent opponent of bullying. The reality is, that we don't know what anyone is truly like at home, behind closed doors, and while Rice is on a path to avoid jail time for his assault charges, his reputation both locally and nationally, has taken a massive hit. Justifiably so.
The video from inside the casino of him and his wife Janay is troubling enough, and there is always the specter that at some point the video evidence of the physical altercation that took place within that elevator is more public as well. Rice compounded his problems, in the eyes of some, during an unusual press conference he and his wife held at the Ravens facility last Friday, during which Rice never apologized directly to his wife, though he did issue several mea culpas and seemed remorseful, and in which his wife made a point of expressing his regret for her actions that night.
Harbaugh said he did not watch the press conference but did read the transcripts. He's had numerous conversations with his former star player since the incident and said he was "very disappointed" in what Rice did, but that Rice was just as disappointed in himself. "I respect that he stoop up and said what he said," Harbaugh said. "And when he used the term 'failed miserably' that hit home with me. And like all of those guys, it's what you do going forward that everybody is going to look at."
Between now and the start of training camp Harbaugh will continue to closely monitor the behavior of his players, and said he will consider perhaps keeping the team in dorm-type housing longer than normal during training camp or any other measures that might better enforce the degree of discipline on and off field that he will demand of them. "It comes down to trust," he said.
Some players will have to begin rebuilding, or establishing, that trust sooner rather than later, a rookie barely two weeks into the league, most notably. Taliaferro's arrest punctuated an already tumultuous period for the club, and Harbaugh quickly found some creative measures to reinforce what he expects of the draft pick, and all the Ravens for that matter. "Lorenzo and I, we've had some conversations since what happened, happened," Harbaugh said. "But we also ran 18 full gassers out there together on Tuesday when we got back, and it was pretty hot. Was that a punishment? Well, I was going do the workout anyway, but I needed some company, you know, and he needed to keep up with me and he did a good job and was very respectful, and he worked hard at it. You just try to get through to them in a lot of different ways."
Plus the Saints are rolling in the NFC South, the Falcons are in trouble, the Bears are weird...

Here are the Week 7 grades for every team that played on Sunday

It was the Falcons' first score against the Patriots in over 90 minutes of game time
Hooker, the 15th pick in the draft, was in the middle of a stellar rookie year

Plus Jordy Nelson's lonely pre-game, Jamal Adams' Milly Rock, Le'Veon Bell's stiff arm and...

Justin Timberlake is headed back to perform at the Super Bowl for the first time in 14 yea...