Harsh supply-demand realities biting veteran running backs
Former headliners like Willis McGahee, Michael Turner and Cedric Benson are unemployed -- and they may be done. Pat Kirwan explains the tough new order for running backs.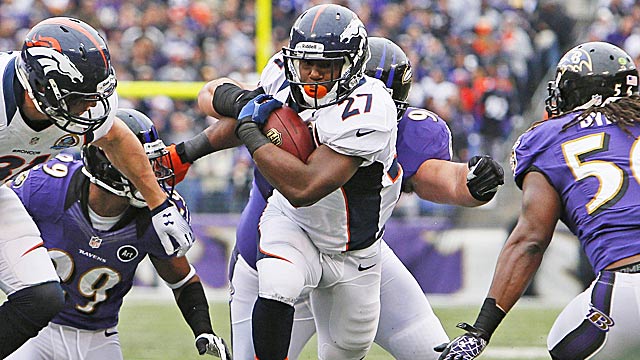 July 2013 is here and we are officially in the month NFL camps open up, and as usual there are a number of running backs still looking for work. All I can say to the veteran ball carriers on the street is good luck! The best thing unemployed runners can hope for at this point is a rash of injuries in camp, which probably means they aren't getting a phone call until early August -- if at all.
    When the final rosters are assembled, there are basically 96 NFL running back jobs (three per team) in the NFL. Include a few guys on injured reserve and PUP, and that brings the number to around 100. There are 180 running backs under contract as camps start, which means about half of the camp candidates will not make the team. Twenty-three of the 180 backs were drafted this spring and another 25 are undrafted rookies. Keep in mind, everyone is looking for the next Arian Foster, who was undrafted in 2009, and there's bound to be one in the 25 undrafted guys.
    Running back is a young man's game, and with 48 rookies in their early 20s competing for jobs, the chances of veteran free agents getting work get even slimmer. Consider the fact that 66 percent of the veteran running backs signed in the offseason to date signed one-year deals for close to the veteran minimum, which basically establishes the market for the remaining veterans like my top eight guys on the street: Willis McGahee, Michael Turner, Cedric Benson, Beanie Wells, Brandon Jacobs, Tim Hightower, Ryan Grant and Kevin Smith. The reality is that at least half of my top eight have played in their last game as a pro.
     The next mountain veteran free agents face is with teams that may have a potential surplus of running backs late in August. Barring injury, teams will usually keep three running backs on their active roster and stash another back or two on the practice squad. Pro personnel people have already evaluated every roster and will be scouting teams very closely that could have a good RB to trade or release when the preseason starts to wind down. Keep in mind, these players are in football shape, have played in preseason games and, more often than not, are younger than the guys on the street.
The group we have listed here are currently on rosters who may be on the bubble and could be available via trade or waiver wire later this summer. I'm not saying they are definitely out of the plans of the team they work for right now, but I do think personnel people have them on their radar screen. Preseason pro personnel scouting isn't about evaluating guys like Adrian Peterson and Arian Foster but being prepared to react to opportunity that may come along.
These are players who one pro personnel friend agreed should be scouted this summer just in case they become available, and they should knock out even more veterans looking for work.
They aren't all going to make the final roster. Some have real value to a team short a back. I wouldn't be surprised to see one or two traded during the summer for low compensation and a few more released. Guys like Roy Helu, who only played in three games last year, could be added to the list once they demonstrate they are healthy.
After looking at all the rosters, three teams are headed to camp with just four running backs (Buffalo, Chicago, Seattle), and as good as their rosters look at running back, they are just an injury away from getting another back. Teams like Dallas, Oakland, Minnesota and Tampa Bay may be looking for a third back to complete their regular-season rosters. If they felt they needed a back right now, they would have signed a street free agent from my top eight list or another player down the line.
There's no doubt that the clubs and not the players are in the driver's seat when it comes to running backs this year. One club executive said to me, "There are enough guys on the street and bubble players in the league right now at the running back position that it will not be difficult to get help at our price if we have to."
The NFC is going to be a blast to watch down the stretch, but don't sleep on the Patriots'...

The Dolphins just created a serious shock in the AFC and MVP races by beating the Patriots

With their 2017 season basically over, it's time for Texans fans to turn their attention to...
Now 10 different players have intercepted Tom Brady multiple times in one game

Brady lofted it between two defenders and Lewis snatched it with one hand