Harvin ready to prove worth in Seahawks' quest for Super Bowl title
Percy Harvin has been invisible in Seattle, but the Seahawks' biggest offseason acquisition can be a difference maker in the biggest game of the season.
• 10 min read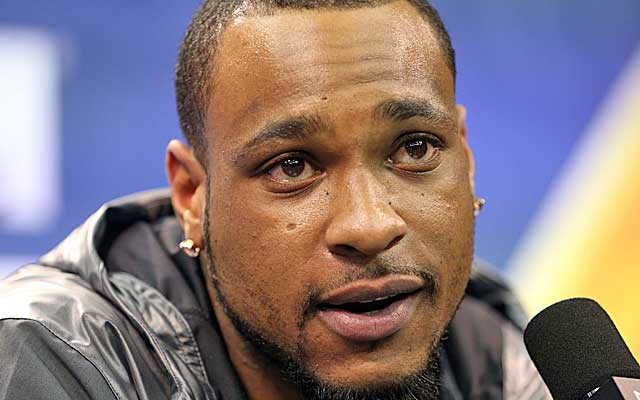 More SB coverage: XLVIII odds | Expert Picks | Weather updates | Latest news
NEW YORK -- Percy Harvin had almost no on-field impact on the Seattle Seahawks' ascent to this Super Bowl. He has only played about 30 snaps all season after his blockbuster trade from Minnesota and subsequent massive contract extension. After making it into just one regular-season game due to health reasons, his true coming out party in a Seahawks uniform will come Sunday, with the world watching.
But by his presence alone, Harvin may have shifted the balance of power in the NFC West, if not the entire conference.
You see, Seattle was one of four teams seriously perusing Harvin -- perhaps the most multidimensional offensive weapon in football -- once the Vikings decided they were going to trade him rather than make him among the highest-paid receivers in football. The Seahawks' chief rivals, the San Francisco 49ers, may have landed him had Seattle not, according to league sources. The 49ers' intent was very real -- they, too, were willing to give Harvin a big salary. Even though preseason hip surgery wiped out the first half of Harvin's season, and an aggravation of that problem kept him out of most of the rest of the season, had Harvin been able to play even a few games for the 49ers, the balance of power in the NFC West may have shifted as well, with the Seahawks and 49ers battling in a very tight NFC Championship Game less than two weeks ago.
Instead, Harvin will appear in just his third game this season for the Seahawks on Sunday -- a concussion suffered in the playoffs prevented Harvin from taking part in the NFC title game -- and there is a strong probability he could still be one of the most impactful players in this Super Bowl despite all the missed time. Harvin is a shape-shifter, a Swiss Army knife, five players in one. He can drastically alter a game lined up at tailback, in the slot, outside the hashmarks, in the screen game, in the deep passing game and as a return specialist. Just get the ball in his hands, anywhere on the field, at any time, and there is a propensity for magic to happen. With so little game film available of him in the Seattle offense, he is uniquely positioned as the ultimate x-factor in the game that will decide the 2013 NFL season.
So trust me when I tell you Seahawks general manager John Schneider has not a bit of buyer's remorse for dealing a 2013 first-round pick and seventh-round pick, as well as a 2014 third-round pick, to Minnesota before making Harvin's salary third-highest among NFL receivers at nearly $13 million a season. If Schneider had the opportunity to do it all over again for the dynamic playmaker -- who is still just 25 and is viewed as a prime long-term asset by the Seahawks -- he says he gladly would, injury concerns and all (Harvin has played just 11 games, including playoffs, in the past two seasons). Even though Schneider says he was unaware of precisely which other teams were pursing Harvin back in March, if nothing else Harvin's status on Seattle's roster prevented him from being an impediment to winning the NFC West.   
"We try to be involved in everything we possibly can," Schneider said, explaining his philosophy on trades and potential player acquisitions, "and we've walked away from more than we've finished. But this was something that, because Percy is such a unique talent and a difference-maker kind of guy, we had to at least explore it, and we did, and once we did this was one of those deals that just kind of kept coming back to us."
It all went down over the course of four days in March. There was the Thursday when Seattle became the team the Vikings believed presented the best offer to the Sunday evening when Harvin and the Seahawks agreed to terms on his six-year, $67 million contract and the transaction was complete. The deal made perfect sense for Schneider. The Seahawks needed a creative element at receiver, did not address the need in free agency, and, picking late in each round, was far from certain to land the solution in the draft.
In fact, internal preparations for the trade began months before, with Harvin among the names on Seattle's list of players the team believed might become available; it was becoming clear that the Vikings were not inclined to pay steeply to keep him. The budgeting for what Harvin might cost and his projected impact on their payroll began then. Schneider is among the most aggressive GMs in the game -- and, in my opinion, has been the NFL's best executive since taking over the Seahawks four years ago -- and, at the midpoint of last season, Harvin was on the shortlist of MVP candidates for good reason.
In Schneider's mind, Harvin was in essence a restricted free agent (he still had a year left on his deal with the Vikings, which was going to be altered, but in terms of age he equated to an RFA). So, to sign a top restricted free agent, you have to part with first- and third-round picks and be willing to sign the player to an offer sheet. That's essentially what happened here, with Schneider working out the trade with Vikings GM Rick Spielman and Harvin's agent, Joe Segal. Seahawks coach Pete Carroll again played the role of masterful recruiter, getting Harvin even more amped to join the team through a series of texts and conversations, sources said.
"The way our draft board was looking, and where we were picking in the draft, I just thought we had a unique opportunity to be able to acquire a special player, and that's why we had to stay involved," Schneider said. "I did not know exactly how many teams we were competing with, I just thought with this sort of thing, I didn't want to make it a leverage thing and if we were going to do this deal, this is what it was going to be, and it looked, to me, like a high-caliber restricted free agent -- so that's a first and a third -- and we had like five [seventh-round picks] in that draft, so it was a deal we were very comfortable with."
With that sort of investment, the Seahawks took every precaution when Harvin's hip condition arose early in training camp. Knowing Harvin had some trust issues from his time in Minnesota with trainers and coaches over various health ailments, Seattle did everything possible to make this a cooperative process. Ultimately, the only thing that made sense was surgery, though the procedure put his 2013 season in jeopardy. Harvin was able to return to practice in October, well ahead of schedule, and he made his Seahawks debut in Week 11 on Nov. 17, catching one ball for 17 yards in a limited role before suffering a setback that put him out until the playoffs.
For a time it seemed there was little hope that Harvin would even be back for the postseason. He was able to work through the issues with his hip and contributed to the Seahawks' playoff victory over New Orleans before suffering a concussion that knocked him from that game and the one the following week against the 49ers.
For Harvin to be with his teammates now, feeling as good as he has in quite some time and cleared to fully participate in the Super Bowl, is about as good as it gets. In his words, it is the ultimate "blessing," a word he has used repeatedly this week in telling the story of his 2013 season.
"I'm going to be really blunt and straightforward -- if it wasn't for my teammates being there for me the way they were," Harvin said, "I might've just shut it down. Just being discouraged, there came a point in time where the training staff didn't know whether it was a smart idea to try to come back in the same season. Like anyone has ever had hip surgery and came back in the same season. A lot of frustration came with it. I probably would've been done with the season if it wasn't for my teammates. ...
"I don't know about redemption because I'm not looking at it in that way. I'm just looking at it as an opportunity. It's a blessing to be able to play in the Super Bowl, a game that I've dreamed of playing in since I was a little kid. After all I've been through, to be able to know I've reached that goal, right here, right now, it's amazing."
Harvin's surgery was not routine, and he spent considerable time in New York working with a specialist on his rehab before rejoining the Seahawks in Seattle. He was away from his teammates for a considerable time and had to work carefully to relearn things he once took for granted.
"I had a bone that was blocking me from fully extending for 15 years," Harvin said. "To not have that blocking, I had to learn to control myself again and break down and not overcompensate. It was tough, so I had just basically had to run again."
The Seahawks managed well without him, taking the top seed in the NFC, but their offense bogged down at times. There is no doubt they would have had a very different look with Harvin fully integrated in the game plan. His presence opens things up for others. He is a dervish in the backfield, as a tailback, on reverses or on end-arounds. He can turn a screen pass into a 50-yard gain. He can run the entire route tree as a receiver with precision and, with such amazing quick-twitch capabilities in a shorter frame (he is listed at 5-feet-11), he is a nightmare for defensive backs to cover.
"He's quick -- every time he has that ball in his hand he could be a threat," Broncos linebacker Danny Trevathan said. "You want to minimize every opportunity he has. You want to be prepared for every time he is on that field and act like he is going to get that ball. They have plays designed around him. He has a big impact. I look forward to them putting him on the field and making some plays."
Harvin stressed repeatedly that there are no limitations on him and he has no doubt that he can help sway the course of Sunday's game. Confidence is not an issue.
"Anytime I'm on the field, I feel like I can make a play," he said. "To that degree, I'm not worried at all. As long as I'm on the field, I am going to make a play."
His absence this season should not obscure what Harvin is capable of on the field.
He has averaged 6.4 yards per carry in his career, pretty remarkable on its own. Harvin, a 2009 first-round pick, has five return touchdowns in his career. His average of 74 scrimmage yards per game is in line with No. 1 receivers like Vincent Jackson and DeSean Jackson, but Harvin is unique, on a very short list of players with at least 100 rushes and 250 receptions between 2009-12. Harvin's average of 10.3 scrimmage yards per touch is by far the best in the NFL for all players with at least 50 carries and 100 catches since he came into the league.
There simply are not many people on the planet who can do what he does, almost as if Darren Sproles was fully integrated into an offense as a wide receiver, but even then Harvin is still a different breed.
"He's got to be one of the most dangerous players in the league," Seahawks linebacker Bobby Wagner said. "With his speed, and the way he moves, he is always capable of making a play. This year he's been injured a lot, but we saw some of his greatness at practice and at training camp, and I think that could scare a defense. You have to know where he's at all the time and you add him to [running back] Marshawn Lynch and [quarterback] Russell [Wilson] , that's pretty scary."
For Harvin, however, nothing he has done in the past matters right now. Nothing he accomplished in a Vikings uniform matters now. He is intent on creating his own legacy with the Seahawks, and he is positioned to make an indelible mark on this franchise this weekend, as it seeks its first Lombardi Trophy. You will see plenty of Percy Harvin then, and, with him confident his hip issues are no longer a concern, likely for a long time to come.
"As far as this season, and me being back and forth," Harvin said, "I'm not really looking it at it that way. I'm looking at we got to the Super Bowl and I'm glad to be part of this team and gearing up to play a game. I'm not really worrying about the past games that I missed and the time I missed. I'm here now, I'm healthy and I'm ready to go."
This player probably won't be too popular in New England if the Patriots lose on Sunday

The connections between the Eagles and Vikings quarterbacks are endless

Josh Nagel went 4-1 on Super Bowl prop bets and shares his favorite props for Patriots-Jag...
The winner of Sunday's game will he headed for Super Bowl LII

It wasn't the matchup that we expected, but the Jaguars would argue that's everyone else's...

Here's a look at the NFL's entire postseason schedule for 2018