Healthy and ever-upbeat, Pagano still finding ways to tackle cancer
Chuck Pagano is chasing a Lombardi trophy with the Colts but his sights are also set on a bigger goal: eradicating the disease that sidelined him in 2012.
• 7 min read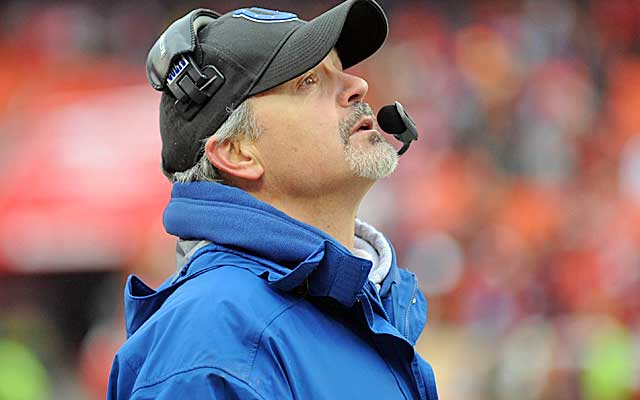 More NFL offseason: League minicamp dates | Latest news, notes
Chuck Pagano is a beacon of positivity.
The Colts head coach almost never seems down, at least not outwardly, emanating optimism and spirit throughout his short and event-filled time in Indianapolis. He refused to ever concede the team was rebuilding, even when taking over the last-place club in the wake of Peyton Manning's 2012 exodus, and then, when suddenly diagnosed with cancer in the first week of the regular season, he vowed to be back sooner than anyone would expect.
Chuckstrong became a rallying cry throughout the NFL. Pagano was back on the sideline when the young Colts reached the playoffs in 2012, and last season, cancer-free, the coach was again back in the postseason.
Not everyone could maintain his level of buoyancy and refusal to relent in the face of difficult circumstances, but Pagano hopes his story will continue to inspire others. He's as committed to the cause of fighting cancer through research and science as he was to overcoming the disease himself.
Pagano, and lifelong friend Bruce Tollner -- a prominent sports agent -- collaborated on Sidelined, the story of Pagano's challenging 2012 season in what they hope will be an undertaking to raise money to fight cancer and share Pagano's message of strength with those still battling the disease.
"Life is about vision, not circumstance," Pagano said. "We're all going to face stuff, we're all going to have adversity and we're going to have to deal with disease, whether we're battling it ourselves or someone in our family is battling it or we're going to battle it or have battled it. The whole key is you've got to have faith and you've got to believe, but instead of focusing on your condition, you need to focus on your position. And my condition is I was diagnosed with leukemia; but my position was I am here to serve, I am going to beat this and I am going to be around for a long time for my family. The key is: don't focus on your condition; focus on your position. And with family and faith, hopefully we can bring some hope to others and inspire them, and let people know that when a family comes together and we have the will to fight and battle and never give up, we can overcome anything.
Look at what our team did. Go back and look at what my condition was there. According to the so-called experts I was inheriting the worst team in the in NFL. We had a rookie head coach, a rookie GM and had lost a ton of great players, and gone was the future first-ballot Hall of Fame quarterback. That room was empty when we had our first team meeting. That was our condition; that's what all the pundits said. But our position was: we're going to win, and win now."
The book, which is in stores and available on-line this week, was a labor of love, literally, for Pagano. He and his wife were chatting recently and neither one could recall the exact moment when they decided they were going to write it. The effort wasn't just to share their story but primarily as a way to add to the $1.7 million Chuckstrong has already raised in the fight against cancer. Tollner, who was born in a football family and has been around the game his entire life, was a natural collaborator on the project. Pagano and Tollner met around 30 years ago on the USC campus when Bruce was a student, and Pagano was a graduate assistant under head coach Ted Tollner, Bruce's father.
"This is Coach Pagano's story, but it's not just about him," Tollner told me. "We are sharing his experience and reaction to his struggles and challenges and how he conquered them. We hope his fight inspires other people in how they fight their own adversity in life. A community gathered around him to support him. We all need each other's support, help each other, be good to each other. This story shows how amazing the human spirit is."
The manner in which the city of Indianapolis, the NFL and the entire football world galvanized around Pagano's struggle was impossible to miss. Pagano, long beloved by his players throughout his long coaching career in college and as a position coach and coordinator in the NFL, was embraced by all corners.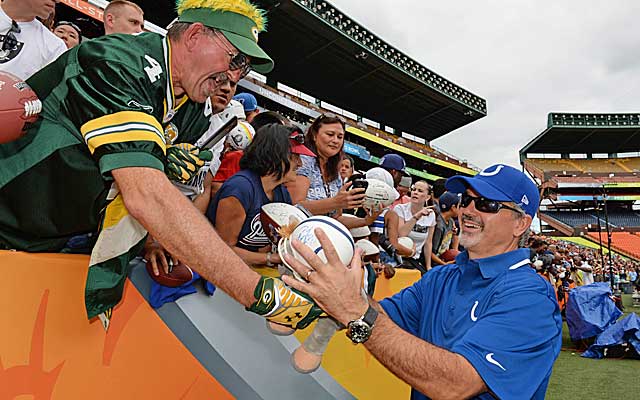 Cheerleaders shaved their heads in-game as a show of solidarity. Pagano, who has been in a full recovery and feeling great these days, was in the thoughts and prayers of so many. When he was strong enough to return to the Colts' locker room for the first time, in-season, to celebrate a win, looking emaciated from the chemo treatment and with a bald head, he vowed to beat cancer and get out of the hospital and back to his family and team. The video went viral. I remember when the feed first showed up at CBS, before it made the air on our postgame show that Sunday, and everyone who saw it started choking up.
Pagano is an easy guy to get behind, and his ability to lead and inspire has been apparent in his two seasons with the Colts. Of course, many more suffer through cancer in more anonymous circumstances, and Pagano remains forever indebted to those who embraced his mission and supported him near and far.
"It was overwhelming, and very humbling to say the least," Pagano said. "I was only here, in this community in Indianapolis, like seven or eight months or whatever it was before I was diagnosed, and for them to embrace me and my family the way they did and support us was unbelievable. And, like you said, the entire NFL community was overwhelming. My family was my main inspiration and when I signed up for that I signed up for life. So when you are first diagnosed you take two seconds to absorb it, and why me, and then you refocus and you know he's got a plan for all of us and it was, 'OK, doc, what are my chances. Give me the game plan. Because I've got to be around a long time to take care of my wife and my children and grandchildren and to get back to my job and my team. That was my focus."
"And to have so much support along the way, it was unbelievable. You hear about Hoosier Hospitality, but until you really live it you have no idea. It is off the charts … what this organization did for me and my family and how they rallied behind us. Jim Irsay, what he did for me and my family during that time, the way he had my back, I can never repay the man. The only way I can come close is by bringing home a Lombardi Trophy, but I can never truly repay him. I've said it once and I'll say it again -- I'd take a bullet for him."
In telling his story, and doing press interviews to promote the book, Pagano's mind has raced back to some days he'd just as soon forget. A few months short of two years since his diagnosis, and ever-upbeat, the coach had a way of repressing or forgetting some of the hardship he endured.
"The way I feel right now, Jason, it's like it never happened," Pagano said. "It's surreal in that way. But once you dive back in and start answering questions about it you're kind of right back at being in the hospital and some of those dark days going through chemo. You want to get out of there quick. You want to move on and put all of that behind you, but we just felt like doing this project was one of the way we could give back."
The next stage of the battle for Pagano is doing whatever he can to deliver the same kind of support, be it financial or otherwise, to those still fighting the disease. His fight with cancer is part of his being now, it's interwoven in his existence and it has provided a new platform for him to channel his considerable competitive energy, now not just as a means to win the next football game but to help eradicate a disease that has taken so many people over so many years. Pagano feels incredibly fortunate to have come this far, and realizes that if not for the sacrifices and work of so many before him, it might not be possible that he's here coaching the Indianapolis Colts today. "If we can save one life, then it's worth every second," Pagano said. "Because I know if someone wasn't generous and didn't give a long time ago to come up with that mix of drugs in that cocktail they gave me that cured me I wouldn't be here. And 30, 40, 50 years ago, whatever it was, researchers and scientists got together and stumbled into that combination of drugs, and we've come to find out the survival rate went from 50 percent to the low 90s. That's what we're chasing. Let's stamp it out in our lifetime. Let's live to see a cure for all cancers so nobody has to say goodbye to a loved one too soon."
Here's an up-to-date look at the 2018 Pro Bowl roster

Bettors are favoring the Eagles to keep Super Bowl LII close, but the Patriots remain clear...

Here's everything you need to know about Super Bowl LII
Here's a look at the NFL's entire postseason schedule for 2018

Here's all the details you need to know on watching Super Bowl LII between the Patriots and...

All of the information you need to know about the 2018 Super Bowl