Here's how Johnny Manziel did $32K in damage to a $4.5 million house
How do you rack up $32,000 in damage and fees in 48 hours? Johnny Manziel has the answer.
Johnny Manziel is hoping to play football in 2016, but before he starts looking for a team with which to sign, he wants to "take care of the issues" in his life.
One of the many issues that Manziel's going to have to get straightened out over the next several months is the $32,000 damage fee that he's been asked to pay by real estate broker Nicholas Goodwin.
If you missed the story last week, Manziel and some friends rented a $4.5 million house in Los Angeles for two nights, and in a period of just 48 hours, managed to damage the property to the tune of $20,000.
So how do you damage a house that quickly?
A legal document sent from Goodwin's attorney to Manziel specifies just how it happened. The document was obtained by the Huffington Post.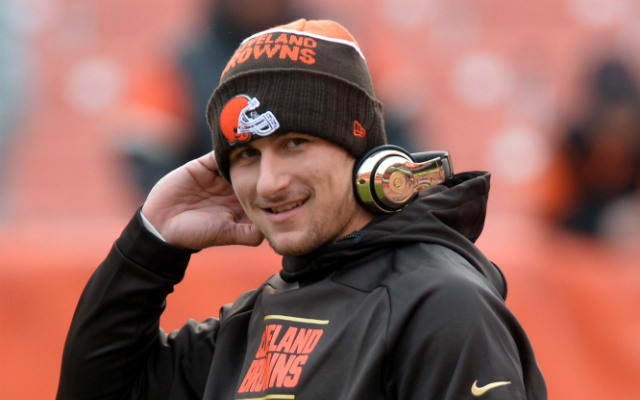 Anyway, here's how you rack up $20,000 in damages and $12,000 in fees in less than 48 hours:
Manziel's crew was charged $8,000 for a carpet replacement after "extensive burn marks from cigarettes and marijuana" were found in the living room.
The group was charged another $8,500 carpet replacement fee for wine stains that were found in the master bedroom.
Manziel and his buddies were also asked to pay $2,400 for a broken glass table and $650 for a broken bathroom door. There were also some broken drinking glasses in the house, which added another $30 in replacement fees. Apparently, they broke a lot of things.
That's $19,580 in damages.
Goodwin also wants Manziel to pay $5,000 per night for throwing parties during his 48-hour stay. There was a clause in the rental agreement that called for a higher nightly price if more than three people were going to be staying in the house. Manziel had told Goodwin that only two or three people would be staying there per night, which turned out not to be true: As many as 70 people showed up each night to party with Manziel.
Things got so crazy that Kathy Griffin called the cops on Manziel and his buddies during their second night of partying. 
The $5,000 per night fee for two nights added another $10,000 to Manziel's total. 
Goodwin also had to hire a lawyer to write up the legal document, and lawyers aren't cheap, so the real estate broker is asking for another $2,000 to cover any and all legal costs.
Overall, that comes out to a total of $31,580. 
Manziel doesn't have a job (the Browns cut him in March) or an agent (Drew Rosenhaus dropped him) or a huge sponsor (Nike dumped him), so he might want to start watching how he spends his money.
Reckless partying probably isn't the way to go, but don't tell that to Manziel, who was out clubbing in Hollywood on Tuesday night, just hours after he released a statement saying he needed to fix his issues.
You can see the legal document below (via Huffington Post)
Pick Six Newsletter
Get the day's big stories + fun stuff you love like mock drafts, picks and power rankings.
Please check the opt-in box to acknowledge that you would like to subscribe.
Thanks for signing up!
Keep an eye on your inbox for the latest sports news.
Sorry!
There was an error processing your subscription.

Join our Free $1,000,000 Parlay Challenge
Officiating was at the center of Green Bay's close victory over Detroit to close out Week 6

Here are the Week 6 grades for every team that played on Sunday and Monday

More bad news for Cincinnati
The Panthers are 4-0 since Newton was relieved in favor of backup Kyle Allen

Allen has yet to lose a start as Carolina's quarterback in relief of the injured Newton

Philly released the linebacker after his controversial comments about Kirk Cousins and a poor...
The Packers got off to an awful start, but had the final say in Green Bay

Hodges didn't need to do much as his teammates gave him plenty of help