Here's how Peyton Manning reacted to Al Jazeera America shutting down
Peyton Manning had a nine-word reaction when he found out Al Jazeera was shutting down.
In somewhat of a surprising move, Al Jazeera America announced on Wednesday that it would be shutting down by the end of April. The cable news channel is closing its doors because its "business model is simply not sustainable," according to CEO Al Anstey.
One person who won't be shedding any tears for the soon-to-be closed down network is Broncos quarterback Peyton Manning. When Manning was asked about the cable channel's closure on Wednesday, he gave a vintage Manning answer.
"I'm sure that's just devastating to all their viewers," Manning said sarcastically, via USA Today.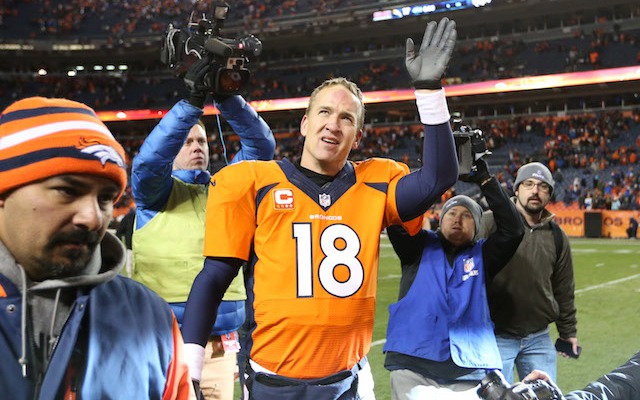 Less than three weeks ago Al Jazeera America released a documentary that alleged that Manning's wife was having human growth hormone sent to her at an address in Florida while Manning was recovering from neck surgery in 2011.
The day after the report came out, Manning called it "garbage."
"It's completely fabricated. Complete trash, complete garbage," Manning said. "There's some more adjectives I'd like to be able to use. It makes me sick."
Although there was some confusion about whether or not Al Jazeera or Al Jazeera America made the documentary, it was done by neither. The Manning documentary was done by a separate investigative unit. According to the Washington Post, that unit will not be closed down.
Even if it's not being shuttered, NFL fans still seem to consider all the news a victory for Manning and the moral of the story for most NFL fans seems to be: Don't mess Peyton Manning.
Peyton Manning is now 1-0 when facing Al-Jazeera.

— neontaster (@neontaster) January 13, 2016
Peyton Manning after hearing Al Jazeera America is shutting down: pic.twitter.com/bCbOhgic3T

— Jim Weber (@JimMWeber) January 13, 2016
ESPN calls out Tom Brady and rides a Deflategate bonanza for months. Al Jazeera calls out Peyton Manning and shuts down in two weeks.

— John Turner (@TohnJurner) January 13, 2016
Warren Sapp was one of several players named in a lawsuit against NFL Network

Check out the uniforms that Denver and Indianapolis will be wearing on Thursday

The Cowboys are going to need a few things to go their way to get into the postseason
Rudolph will be put under the microscope in Mobile by clubs looking for a quarterback early...

This fan is taking the Saints to court for using 'football games as a platform for protest...

Can Aaron Rodgers get the Packers to the postseason? Even if they win out, they'll need he...