Hold your horses: Running QBs might want to reconsider
Running quarterbacks have been seen as a dynamic trend, but injuries and the numbers show they're better off honing their passing skills.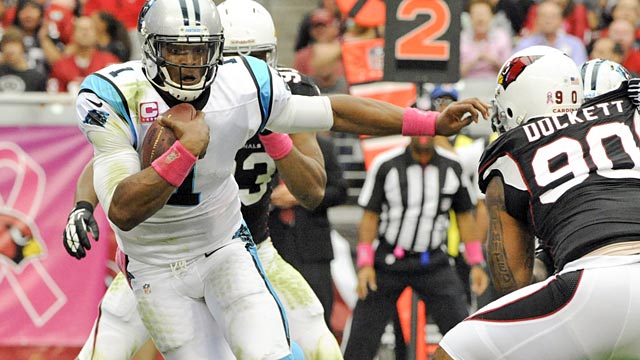 The Carolina Panthers drafted Cam Newton two years ago, and with the lockout a factor in his development, Ron Rivera did the smart thing and took a number of concepts from Auburn so he could get Newton on the field early.
Two seasons later Newton has 1,570 rushing yards. A number of young quarterbacks are following in his footsteps as he follows Michael Vick.
This is the real question on Newton: Is his development as an NFL quarterback almost hindered by his running skills? He can run away from most NFL players and is big enough to break tackles but is struggling more now than he did in his first two seasons to win with the forward pass and keep defenders off him. Cam was sacked seven times, threw three interceptions, lost a fumble and was hit another 10 times in the Week 5 loss to Arizona. He was sacked six times two weeks ago in the loss to Buffalo.
Go back and look at the first four games of 2011 and 2012 as compared to his first four games of 2013. Newton had 33 rushing attempts in the first four games of both seasons and had four rushing touchdowns in 2011 and three in 2012.
In the same period of time this year, he has 20 carries and just one touchdown. Running has had its rewards for Newton in the past, but he is trying to grow and get to another place. In his career, Newton has an 8-5 record when he runs eight or more times a game and a 6-17 record when he doesn't. Tom Brady has only rushed more than eight times twice in his 206-game career and Peyton Manning has never rushed eight times in his 249-game career.
How does Cam Newton control the desire to take off and run when he feels the slightest pressure in the pocket? This week he travels to Minnesota to face Jared Allen and the Viking rush; the temptation will be great to take off or at least try to take off and run. Newton is on the job one year more than RG3, Russell Wilson, and Colin Kaepernick, and those young quarterbacks should be trying to rein in the running or are they perfectly happy to let it go and risk not only injury but development issues that might arise?
The talk of the offseason heading into 2013 from defensive coaches was to stop the pistol, the spread, the read option. During my camp tour it was clear the No. 1 mission was to get after quarterbacks who wanted to run. The defenses were locked and loaded to blow up running quarterbacks.
As one head coach said to me "we were challenged to defend the option principles and liked the plan we developed, but we are also a team that likes to use it on offense. We pulled back on exposing our quarterback to the defensive concepts waiting for him in 2013."
Apparently, the coach wasn't alone and after five weeks it is clear some offensive coordinators are reducing the amount of running their quarterbacks are doing this season. One OC told me, "Maybe down the stretch of the season with the playoffs on the table would we give the green light to our QB to run more, but it's a long season and we aren't prepared to get our guy beat up we're just trying to get him on the field every week."
He is not alone and the numbers are starting to bear out the reality that option offenses are being reduced around the league with few exceptions.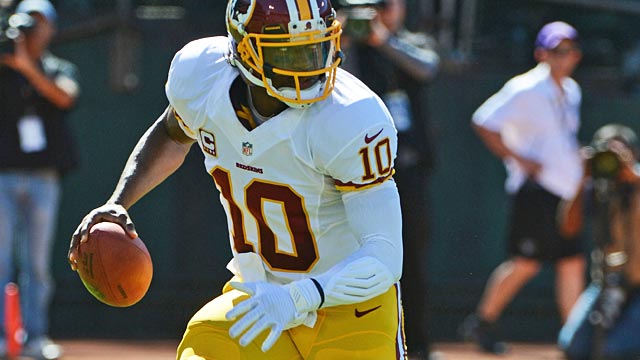 Robert Griffin III is being eased back into the offense and there is a conservative approach to the offense the Skins are willing to use so far. RG3 led all quarterbacks in rushing last year with 815 yards at 6.79 a carry. Right now he's 13th. At this pace he won't crack 300 yards rushing in 2013.
Griffin is not alone in the pullback on running. Kaepernick only ran once this week in the win over Houston and only four times in the past two games. When the 49ers lost to Seattle and Indianapolis this year, Kaepernick ran 16 times. Keep in mind, the young 49ers QB ran 25 times in three playoff games last year. There appears to be a real effort to develop Kaepernick as a passer and use his tremendous run skills sparingly.
The Seahawks have a different kind of QB in Russell Wilson. Coach Pete Carroll feels his signal-caller wants to be a pocket passer and runs intelligently with an eye on being smart.
Wilson cracked the 100-yard rushing mark for the first time in his 23 NFL starts including playoffs. Even though he hasn't rushed for a touchdown this season, in 40 carries he does have 13 first downs with his feet and is often seen stepping out of bounds when he gets past the chains. His 40 carries put him on pace for 128 rushing attempts, which is a significant spike from last year's 94 rushing attempts. Don't be surprised to see a pullback in the number of carries Russell has in the next few weeks after 23 carries the past two weeks.
Take a look at the chart below and see what is changing in the NFL when it comes to quarterbacks as running threats. Five of this year's top 10 running quarterbacks after five weeks have already been injured; Michael Vick, Terrelle Pryor, Jake Locker, EJ Manuel and Christian Ponder are all missing time to some degree over injury. None of the top passers by touchdown passes/yards (Peyton, Brees, Rivers, Stafford, Romo, Eli, Rodgers, Bradford, Cutler, Ryan, Brady) have missed a play.
Vick is upping his run attempts in the new Chip Kelly offense and he pulled up with a hamstring in the win over the Giants. History says Vick can't play all 16 games at the pace he's on right now for 106 carries after only 62 last year in a season that left him sidelined for six games due to injury. He hasn't run this much since 2006 when he had 123 carries. Note how RG3, Newton and Kaepernick were the top three rushing quarterbacks by yards last year and are ranked significantly lower this year.
The question for all five of these quarterbacks as well as guys like Pryor, Locker, Manuel, Geno Smith and even Alex Smith, who is on pace for over 100 carries, is two-fold:
Will you make 16 games and can you go far in the playoffs with this style of play?
As Ron Erhardt, the former head coach/offensive coordinator, used to say to me all the time walking off the practice field: "Pat the ball travels a lot faster than the feet. Why don't guys understand that simple rule?"
Plus Jordy Nelson's lonely pre-game, Jamal Adams' Milly Rock, Le'Veon Bell's stiff arm and...

Justin Timberlake is headed back to perform at the Super Bowl for the first time in 14 yea...
Burfict could be facing his second suspension of the 2017 season

J.T. is reportedly set to bring sexy back to the Super Bowl stage

Eight months after 28-3 happened in Super Bowl LI, the Falcons and Patriots meet again in Week...