How did Seahawks get here? Look no further than GM Schneider
Russell Wilson. Marshawn Lynch. The Legion of Boom secondary. GM Jon Schneider has quietly led Seattle to the Super Bowl with one shrewd move after another.
• 14 min read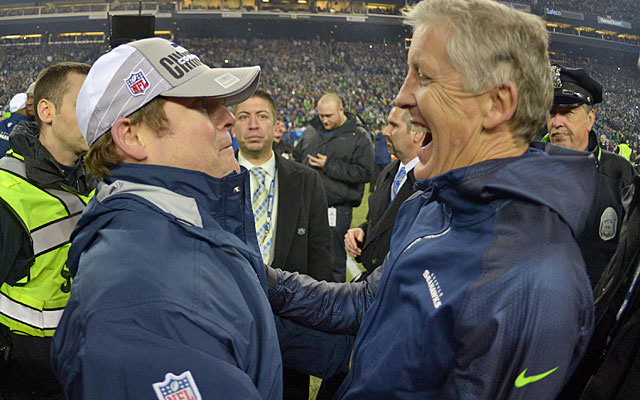 More SB coverage: XLVIII odds | Expert picks | Weather updates | Latest news
John Schneider considers the question with what amounts to a pregnant pause from the executive of perpetual motion, but he cannot answer it. Asking the Seahawks general manager -- a man who has presided over nearly 850 transactions over four years at the helm, completely overhauling the roster he inherited -- to single out a trade or signing he is most proud of, is like making him try to choose a favorite child.
The concept seems foreign to him, as so many of these maneuvers are intertwined, one move portending another in a massive human tapestry that has quickly taken the Seahawks from an afterthought to a model franchise. Schneider is mulling over the inquiry while on his way back to Seattle from the Senior Bowl practices in Mobile, Ala., having just completed the other half of the trip about 48 hours before, and you can tell his thoughts are already spilling forward to the upcoming draft and how he can continue to keep his roster mastery going. There is no sense of accomplishment, not a whiff of an attitude like he has arrived -- though I believe no NFL executive has had a better run these past four seasons, and his peers hold him in near universal high regard. For Schneider the job of presiding over a football club is never complete.
He is always focused on improving, and the process of thinking back, even with his team about to make its second Super Bowl appearance in franchise history, leaves him a bit uncomfortable. Schneider isn't about revisiting his greatest hits; not now, probably not ever, as personal attention and recognition do little for him, even with the entire football season coming down to his Seahawks facing the Broncos at MetLife Stadium on Sunday. And the more he considers his time on the job in Seattle, the more Schneider speaks about the interpersonal relationship that trumps any trade, waiver claim or contract negotiation.
For Schneider, what best captures the Seahawks' rise to perennial contender is his ever-evolving relationship with head coach Pete Carroll, a man who was a relative stranger at the time the duo was first thrust together and someone the young general manager now considers a friend, advocate and equal. It wasn't long ago that owner Paul Allen rebranded the Seahawks, first through the hiring of Carroll, plucking him away from his collegiate dynasty and rock-star status at Southern California with an NCAA inquiry intensifying, and then, after a lengthy GM search, indentifying Schneider, a relatively unknown exec with the Packers, as the perfect complement.
Turns out the two balance each other out. Though both are buoyant, Carroll's optimism is effusive while Schneider seems to bear a little more weight of the real world as he battles the daily drudgery of roster maintenance. There is enough of a yin-and-yang thing going on to consistently better the organization, and after a dizzying litany of transactions -- with only three players (center Max Unger and defensive tackles Brandon Mebane and Red Bryant) remaining from the roster they inherited -- the Seahawks are positioned for sustained success, thanks in large part to a general manager who always seems to want to share the accolades with others.
"I know it may sound boring, but just the overall thing I am most proud of is the relationship Pete and I have developed," Schneider said. "Not having known each other previously and totally making it a collaborative effort with the whole thing and putting egos aside and, to his credit -- he's Pete Carroll and I'm John Schneider and he really put a lot of effort into trying to build a relationship, which he really didn't have to do.
"Mr. Allen and [then-CEO] Tod Leiweke hired us and wanted to make sure they were going to hire someone who matched personalities and who Pete was comfortable working with, and that was so important to have that easy interaction with him. And we don't agree on everything but we're mature enough, at the end of the day, to be able to work through things and try to do what's always best for the team."
They have reached several understandings in their time together. The year is split almost equally between when the coaching staff is making the greatest direct impact on the team and when Schneider and his confidants and scouts are most impactful. Schneider, 42, serves to buttress the 62-year-old Carroll and his coaches from August through December. The rest of the year, the roles are reversed somewhat.
The men began to become friends, to bond and understand one another, in their first four months on the job, when both of their families had yet to move to Seattle and the new job literally encompassed their being. There were all the trips to scout draft picks, the road bringing them closer and they shared their revelations from their past failures as well.
"It was about sharing each other's experiences and stories," Schneider said. "[Pete] had been fired by New England, and I had been fired by Washington, and learning a lot from those situations and how we wanted to build a culture and define a culture and the kind of people we wanted on our staff and who we wanted to work with. And Mr. Allen allowed us to do it the way we wanted to do it."
They both shared an iconoclast spirit, willing to be uber-aggressive if need be, but also maintaining limits. They wanted to explore any and every trade or free-agent possibility, but also prevent each other from going all in, all the time. Finding boundaries and knowing when to walk away -- whether it be, for example, not giving up a ransom for then-troubled receiver Brandon Marshall, or rejecting offers for invaluable receiver Doug Baldwin -- were every bit as important as their renegade spirit. Both Carroll and Schneider blanch a bit at the perception they are wild riverboat gamblers, with their approach in fact much more refined and nuanced.
"We just always wanted to be in on everything," Schneider said, "and then be able to walk away [when] it doesn't make sense."
That, as much as anything else, has been their mantra, and it has served the Seahawks remarkably well. That approach has always come naturally to Schneider.
"No. 1, he's a football guy, he's a football junkie," said Raiders general manager Reggie McKenzie, who worked for years with Schneider in Green Bay. "And he's a go-getter. He is not a sit-back-and-wait-for-things-to-happen guy. He's going to make things happen. He's always been like that. If he believes something then he goes with it, and that's a good trait to have.
"But he'll listen, too. It's not like, 'I want to do this!' He's not like that. He's inclusive, and he'll listen to others. And I always loved [that] about him. He's a great communicator. His people skills were always really good and that's going to always help him along the way, whether it's getting along with coaches or getting along with players or fellow scouts. That's going to carry him a long way."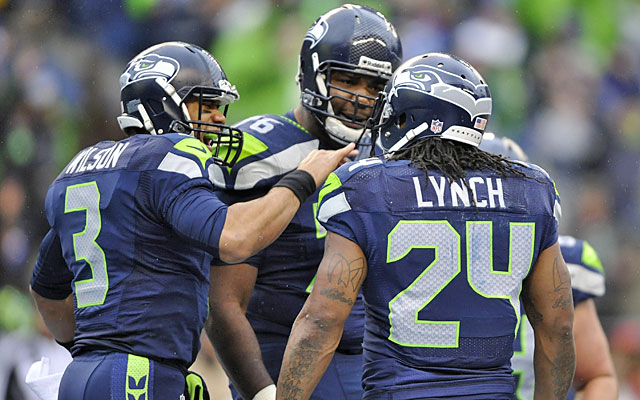 It's what led Schneider to an airfield in Colorado two years ago, waiting and hoping and seeing if the Seahawks might get an audience with Peyton Manning, when the quarterback was just beginning to peruse his free-agent options for the first time in his Hall of Fame career. And it was that same free spirit that would have led them to still draft Russell Wilson that very same offseason had they managed to land Manning, who, as it stands, happens to now present the greatest impediment to Seattle hoisting its first Lombardi Trophy.
But back in February 2012, two years into Schneider's tenure in Seattle, the team lacked for a quarterback, with Charlie Whitehurst and Tarvaris Jackson and Josh Portis manning the most important position on the roster (and Whitehurst there courtesy of a fairly ambitious trade in its own right). Sure, Schneider's interest had been thoroughly piqued by this undersized Fran Tarkenton-like quarterback from Wisconsin (via North Carolina State and minor-league baseball), but with executives around the NFL assessing their odds of luring Manning to their team, Schneider and Carroll were not to be outdone.
Schneider was one of a handful of executives in regular contact with Manning's agent, Tom Condon, according to sources, including a meeting at the combine in Indianapolis -- at the height of the passive-aggressive media battle being waged between the quarterback and Colts owner Jim Irsay -- while Carroll was one of the coaches texting Manning directly and trying to woo him to Seattle as a free agent. So when the Seahawks discovered that Manning was on his way to Denver for a meeting with the Broncos, Schneider and Carroll jumped on Allen's plane and headed to Colorado.
"We were just thinking, 'How do we get his attention?'" Schneider said of the ill-fated recruiting trip. "And we wanted to take a shot. We felt like there was a little bit of a window, and we went for it."
Without a scheduled meeting, they never did get to talk to Manning, sitting in Denver on the plane for two hours before heading back to Seattle.
"They made it pretty clear they weren't going to meet with us," Schneider said.
Everything happens for a reason, of course, and Schneider spent the ensuing weeks following his scout's eye, focused by this point on Wilson. By now, there is a mythology that Schneider had been watching Wilson intently since his freshman or sophomore year, watching all his games. In reality, he saw a game or two on television when Wilson was at NC State, and honed his attention more in October 2011, making a campus visit to Wisconsin, when he began to hear nothing but sterling endorsements of the diminutive passer.
"It was just the fact that he reminded me so much of Drew Brees," Schneider said. "The way he moved, the way he played with anticipation and moved in the pocket and could find the passing lanes."
Brees was something of a flashpoint for Schneider, a project from his past, when he first came through Seattle as a director of pro personnel back in 2000. At the time the team was sorting through Brees in the draft while mulling options to trade for Matt Hasselbeck (then a backup in Green Bay who ended up thriving with the Seahawks) or Mark Brunell. Now, here was a chance to draft, perhaps, another Brees, in Schneider's second stint with the Seahawks, and he would not be deterred.
Contrary to the lure, there was no dispute between Schneider and Carroll about snatching Wilson in the second round. The Seahawks had done their homework and believed they could "follow their board" and get their guy in the third. Schneider concedes he was getting a little nervous as the draft progressed, and while some in their war room thought maybe they could wait until the fourth round, Schneider would have none of that. It was Wilson in the third round, a stroke of genius, and the Seahawks have made two deep trips into the playoffs since, with the young man setting records for wins in the process.
"We had our board set, and thankfully it went that way," Schneider said. "If Peyton Manning had signed with us we still would have drafted Russell in the third round."
Schneider was just as calculated addressing other key deficiencies.
He and Carroll prized a physical approach on offense, a bruising and powerful identity. They longed for a running back to epitomize that charge and ended up finding him on the Buffalo Bills' roster. Schneider was a strong proponent of drafting Marshawn Lynch back when he was with the Packers. With Lynch having off-field issues in Buffalo and the Bills' backfield becoming crowded with Fred Jackson emerging and C.J. Spiller drafted in the first round in 2009, Schneider set out to become persistent but not annoying in his contact with Bills general manager Buddy Nix.
On his roster Schneider already had running back Justin Forsett, who was very close with Lynch, and he believed he could provide a stable environment for a player who had been somewhat troubled in Buffalo. Schneider was very comfortable with Lynch from his time researching and scouting him in Green Bay, taking him to dinner with McKenzie and some other Packers scouts. He figured he called Nix at least four times from before the 2010 draft until just before the 2010 trade deadline in October, but felt like no matter what he offered the Bills weren't interested in moving Lynch.
"We just kept working at it," Schneider said.
The bruising runner even took part in Buffalo's last game before that deadline -- players about to be dealt are often sat down to avoid injury -- and Schneider never really felt like he might get his guy until the Bills finally agreed to take a fourth-round pick and a conditional pick for Lynch, himself a former first-round selection. Lynch helped Seattle to a division title (despite a 7-9 record) in his first season there, became a cult hero for his Herculean run to help defeat New Orleans in the postseason, and has come to define the team's bludgeoning ethos since.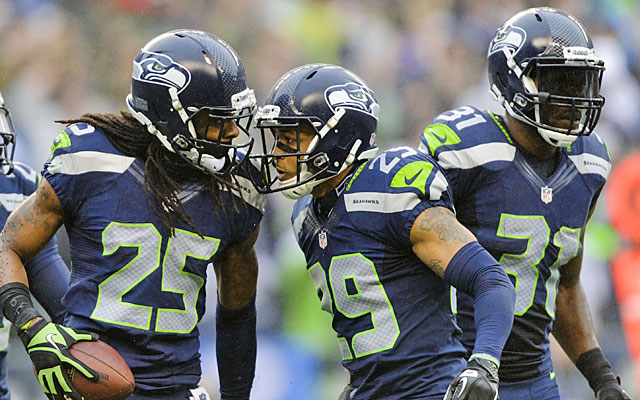 Schneider, among the most well-liked execs in the game, always self deprecating and low key, took just as calculated an eye to the Seahawks' defense as well, never more than in rebuilding what has become the NFL's premier secondary. He knew that Carroll's system would require size and strength from his defensive backs, with corners able to battle in single coverage. What he saw, at the time of his arrival, was a weak group, too small, not nearly intimidating enough. What he built was a group of maulers, all-around players with ball skills, complementary parts who have become so much a part of the team's overall identity.
"We had played them my last year in Green Bay and they were a smaller team on the perimeter and I knew that wouldn't fit how Pete likes to play," Schneider said.
That would change soon enough. Schneider stole Brandon Browner -- a regular starter until his recent suspension -- from the Canadian Football League, and nabbed Richard Sherman, the top corner in the game today, in the fifth round in 2011.
"We knew he'd be a good fit for our system," Schneider said of Sherman. "To say we knew he'd be as good as he is, I'd be lying to you, but we had high hopes for him."
Schneider found thumping safety Kam Chancellor in the fifth round in 2010 and used his first-round pick that year on Earl Thomas, who has become the best ball-hawking safety in the game. Thomas' past as a receiver (and ability to catch the ball) was part of what made Schneider so high on him, as well as his versatility.
Those are just a few of the sage moves spun over the past four years. There was the drafting of left tackle Russell Okung, the patience to wait out the market and scoop up pass rushers Cliff Avril and Michael Bennett in free agency last offseason, and the steal of edge rusher Chris Clemons from Philadelphia in a trade. Not everything has been perfect (signing Sidney Rice and trading for Percy Harvin, both injury-prone receivers, has not paid dividends), but nothing is in a league this competitive. The evaluating acumen and depth the Seahawks have amassed might be best summed up by the fact that 14 players who couldn't crack Seattle's roster this past offseason wound up playing elsewhere in 2013.
Now the chore will be keeping this team together. Thomas and Sherman are making a case to be the highest-paid players at their positions in short order, Okung is in line for an extension this offseason and Wilson is due to get his contract boosted following the 2014 season -- to name just part of what is on Schneider's agenda post-Super Bowl. Retaining all of this talent will be quite difficult, but he has Carroll's charm and his own pluck and the considerable wallet of Allen all working in his favor, and few teams, if any, have as deep a pool of young talent to call upon.
These decisions will not all be easy, and will come at a great cost, but that's all part of building, and sustaining, a winner.
"You want to have those kinds of problems," Schneider said. "If you don't have those things, then you're not winning, you aren't drafting well, you aren't signing well, [and] you aren't developing players. Those are good problems to have and we know we have some tough decisions ahead, but we've got a great owner and Mr. Allen is so committed and so supportive and he lets us do our thing."
At this point, what reason could he possibly have not to do that?
The Titans are getting ready to unveil a uniform that won't be 'anything close' to any other...

The NFL announced on Friday that 32 compensatory draft picks have been awarded to 15 teams
Jonathan Martin's old high school was forced to close on Friday after he appeared to threaten...

It doesn't look like the Jaguars will be making any front office changes anytime soon

The Buccaneers quarterback received a citation after causing a car wreck February 13