How serious is Barkevious Mingo's bruised lung?
Two doctors told the Cleveland newspaper that the bruised lung suffered by Barkevious Mingo could keep him out for months.
• 2 min read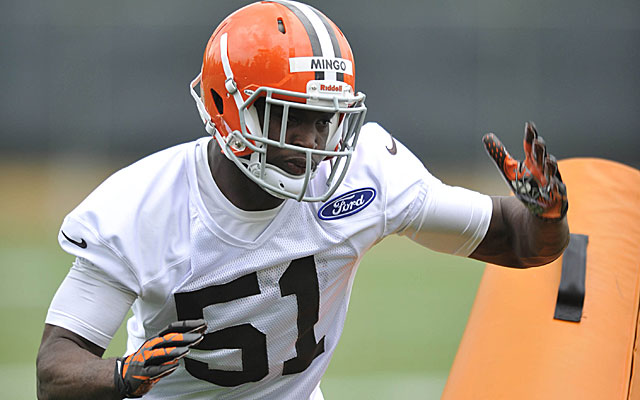 If you thought the bruised lung suffered by Browns rookie linebacker Barkevious Mingo last week wasn't a big deal and that he'd be back to the field relatively soon, the Cleveland Plain Dealer potentially has some bad news for you.
The newspaper talked to two doctors -- who, mind you, haven't treated the No. 6 overall draft pick -- and both seemed to be in agreement. Mingo's injury could take "months to resolve."
"The fact that he's spitting up blood means it's not a minor contusion," said Dr. Philip A. Linden, the chief of thoracic surgery at University Hospitals Case Medical Center. "There's something significant going on there."
Normally, Linden said, a bruised lung can take from two weeks to two months to be healed fully. But from his perspective, Mingo's injury doesn't seem minor.
"Two weeks might not apply in this case because of the coughing up blood," he said. "The most common situation we see with lung contusions is after a motor vehicle accident, where there are broken ribs. Even then, coughing up blood is unusual."
Another doctor -- Clark Fuller, the director of thoracic surgery at Saint John's Health Center in Santa Monica, Calif. -- told the paper that it was concerning that Mingo (and his coach) doesn't remember a bad blow to his chest during the team's preseason game.
"The [season] opener is in jeopardy -- and it should be," said Fuller. "You've got to make sure this isn't a warning flag for something more serious. Spitting up blood and being short of breath shows you how severe it was, and there's no apparent reason for it."
Said Linden: "A pulmonary contusion would be very unusual without significant force, such as the force that you would have with a bad motor vehicle accident on the chest wall."
More from the Plain Dealer:
Mingo experienced shortness of breath after covering the opening kickoff of Thursday's 24-6 victory over the Lions, but re-iterated Wednesday that he did not take a helmet to the chest. As the first quarter wore on, he found it increasingly difficult to breathe, and had blood in his mouth. He alerted the training staff, who quickly took him to the Cleveland Clinic Hospital, where they diagnosed the injury.

On Tuesday, coach Rob Chudzinski said of Mingo's estimated date of return, "basically, the bottom line with KeKe is nobody really knows.''

On Wednesday in the locker room, Mingo insisted he felt fine in camp until that first play against the Lions, suggesting the cause of his injury didn't happen in the preseason opener against the Rams or in practice.

"It happened in the [Lions] game," he said.
For the record, Mingo, who looked impressive early in camp, said on Wednesday he felt much better and that his breathing wasn't a problem. For now, though, he isn't cleared to practice.


Follow Josh Katzowitz on Google+
Check here for the latest news, rumors and updates for NFL coaching changes and searches

The Titans have tapped Texans defensive coordinator Mike Vrabel to take over as head coach

The government shutdown has come at a horrible time for NFL fans in the U.S. military
Bengals owner Mike Brown seems to be a huge fan of continuity

Our computer model simulated the AFC and NFC title games 10,000 times with surprising resu...

The people of Philadelphia now have two reasons to root for the Eagles this week