How the Dallas Cowboys became America's Team
This is how the Cowboys became America's Team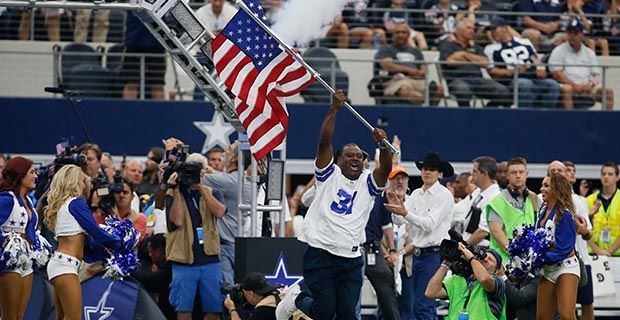 The Dallas Cowboys being America's Team is completely ingrained into the consciousness of football fans. At this point it is just part of the sport's lexicon. The Cowboys have the widest reach of any team in the league. Their fans populate stadiums around the league whenever the Cowboys come to town. Most of their games are on national television. They are the most popular team in perhaps all of professional sports.
But most young fans don't know the story of how the Cowboys earned that nickname. It was not a Cowboys player or executive who came up with it, but rather, NFL Films. The full story was explained on 5 Points Blue, but as NFL Films editor-in-chief was writing copy for a video on the Cowboys, he noticed that many of their fans found their way to road games. He coined the term "America's Team" in the voiceover for that video.
"Cowboy goals are lofty: win the National Football Conference title, then the Super Bowl. This is usually attainable. For as their fans well know, the sum total of their stars make-up a galaxy. Their record is envied. And their innovations are copied down to the last glamorous detail. They appear on television so often that their faces are as familiar to the public as presidents and movie stars. They are the Dallas Cowboys, America's Team."
The nickname itself became an iconic part of Cowboys lore. It is as much a part of the team's history as the star on their helmet and the hole in Texas Stadium's roof. And ironically, not everyone was on board with it when it first became a popular phrase.
"I don't think as players we were crazy about it," recalled quarterback Roger Staubach. "Wherever we went, like Philadelphia, there would be a columnist say, 'Hey, America's Team is in town'. We were playing the Eagles right after (the video) came out and I was scrambling around. (Eagles linebacker) Bill Bergey grabbed me and somebody else grabbed me. I kind of got the wind knocked out of me. I'm laying there. Bergey comes over and grabs my hand to pull me up and he says, 'Take that, America's quarterback!'. I said, 'Oh my gosh, they're not too happy with us being called America's Team'.
The notion of a bullseye being on the Cowboys' back because of their fame as an organization is something that has held true even into modern times. Players want to play for the Cowboys, and when they can't, they want to beat them. But the notion of the Cowboys as America's Team has never been a superiority complex. It is a welcoming idea. Cowboys fans can come from anywhere. They have such widespread appeal that fans from all over the country go out of their way to root for the team. Nothing could be more American than that.
Pick Six Newsletter
Get the day's big stories + fun stuff you love like mock drafts, picks and power rankings.
Please check the opt-in box to acknowledge that you would like to subscribe.
Thanks for signing up!
Keep an eye on your inbox for the latest sports news.
Sorry!
There was an error processing your subscription.
The Saints quarterback sent a bold message to the president on Friday night

'We, the National Football League, believe Black Lives Matter,' Goodell said in a video released...

The running back added that he's 'without a doubt' going to kneel to protest injustice this...
SoFi Stadium will be the home of both the Rams and Chargers

TB12 is apparently the 'Pied Piper' on Tampa Bay's rebuilt roster

It doesn't appear like Kyle Long is heading to New York
Here's the perfect way to keep track of all your schedule leaks and updates in one place

CBS Sports is bringing you live updates and analysis as the 2020 NFL Draft wraps up on Saturday

Live scores, highlights and updates from the Jaguars vs. Colts football game