How will the NFL Network's final 10 of 'Top 100 Players' shake out?
The NFL Network revealed its top 10 players remaining on the 'Top 100 Players' list -- how will that list end up shaking out?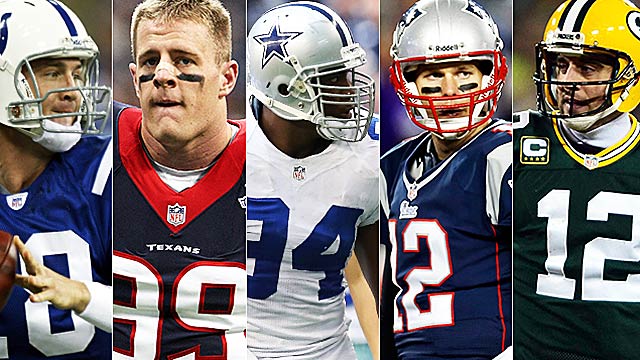 The NFL Network's yearly Top 100 Players list has, per usual, generated plenty of buzz. Players vote on their peers, run their mouths when they don't like their ranking and, because it's football and a list of people, folks get all worked up about it. And now they're down to the final 10, announcing the names of the players on the list, though not the order they're in yet.
Alphabetically, the top 10 NFL players from 2012 (as voted on by their peers) are: Tom Brady, Arian Foster, Calvin Johnson, Peyton Manning, Von Miller, Adrian Peterson, Aaron Rodgers, Aldon Smith, J.J. Watt and Patrick Willis.
It's quite a stout list, and predicting the exact order won't be easy, but I'll try anyway. Here's a shot at predicting how I think they'll play out (not how I would rank them; if I was ranking them, my top 10 would look a lot closer to Pete Prisco's than what's below) when the network airs the top 10 on Thursday night.
10. Patrick Willis, LB, 49ers -- Is there anyone more consistently dominant than Willis? The Niners backer posted another All-Pro season with a pair of interceptions, half a sack, nine pass deflections and 88 solo tackles. It was reminiscent of when he finished 10th overall a year ago. Willis, despite being one of the best linebackers in the game, doesn't necessarily accumulate a bunch of "sexy stats" like sacks. So I'm not sold on him being that high on this list, even though just being on it is impressive enough. Seeing a repeat of his placement from last year wouldn't be surprising at all. 
9. Arian Foster, RB, Texans -- Foster had another huge season rushing for 1,424 yards and 15 touchdowns. He paced the Texans offense, particularly with Matt Schaub struggling some and Ben Tate being hurt. He's a studly runner, and even if there's concern about his wear and tear heading into 2013 with his 351-carry total from last season lingering, he'll still be rewarded on the list. But he's still a running back, and he wasn't even one the best ones from last season, so No. 9 is as high as he goes. Not too shabby after finishing 25th last year, though.
8. Aldon Smith, OLB, 49ers -- In his second year, Smith posted 19.5 sacks, made a decent run at Michael Strahan's record and generally dominated. But Smith's play fell off a bit after Justin Smith suffered a triceps injury, he didn't close out strong and wasn't on this list last season. I also have to assume that offensive players will always score better on this list. (DeMarcus Ware and Ed Reed were the only two defensive players from No. 11 to No. 20.) Smith's going to No. 8 because he piles up sacks.
7. Von Miller, LB, Broncos -- If I'm making this list, Miller's top five. But I'm not, so whatever. He had 18.5 sacks, a pick, six forced fumbles and 55 solo tackles? That's freaking sick. He's one of the two best defensive players in the game, and No. 7 almost seems unfair given his talents.
6. Aaron Rodgers, QB, Packers -- Speaking of unfair, this just feels ... weird. Rodgers isn't the sixth-best player in the NFL. Obviously. But I think he'll dip a bit on this list after finishing No. 1 last year as a result of the Packers falling off a little bit. They "only" won 11 games last year (versus 15 in 2011). Rodgers, while he completed 67.2 percent of his passes, "only" threw for 4,295 yards and "only" 39 touchdowns. I think his peers will dock him a bit for the dip.
5. J.J. Watt, DE, Texans -- For the third straight year, a defensive player makes the top five on this list, and there's little doubt that Watt's deserving. (You could actually make the case he should be higher.) A year after being not ranked on this list, Watt put up MVP numbers from a 3-4 defensive end position (which is, frankly, unfathomable), collecting 20.5 sacks, 16 pass deflections, four forced fumbles and 69 solo tackles. Only a bias towards offensive players and the importance on quarterbacks keeps him from being higher.
4. Tom Brady, QB, Patriots -- Brady's counting stats separate him from Rodgers in my placement here -- I don't think Brady will get dinged for hitting on 63 percent of his passes, and his 4,827 passing yards, 34 touchdowns (to eight interceptions) show as much. Dealing with injuries to Rob Gronkowski and Aaron Hernandez only gives more credit to Brady putting up monster stats year in and year out, even if his numbers took a dip after Gronk went down against the Colts.
3. Calvin Johnson, WR, Lions -- If you're going to beat a quarterback in the top 10, you'd better have a damn good season. Megatron did that -- and more -- in 2012, when he shattered Jerry Rice's single-season record for receiving yards and even managed to flirt with 2,000 yards, an unheard of number for a wideout. His five touchdowns are disappointing, sure, but 122 catches and 1,964 yards? Ridiculous. This is, by the way, the same spot that Megatron landed in last year. Only superhuman efforts by two guys overcoming medical odds trumps his season.
2. Adrian Peterson, RB, Vikings -- Very, very, very tempted to put AP at the top spot here, but I know what people think about quarterbacks (and I agree). Instead, he gets the No. 2 spot after a season quite similar to Johnson's -- AP rushed for 2,097 yards, 12 touchdowns and a straight-up bananas 131.1 yards per game. Down the stretch, no one was better than AP, who almost literally put the Vikes onto his back and drug them into the playoffs. Oh, yeah: and he did this despite having reconstructive knee surgery less than a year before. NBD, you guys.
1. Peyton Manning, QB, Broncos --  Another year, another quarterback up top. Manning was No. 2 on this list in 2011 before falling to No. 52 when he missed all of 2011 with neck injuries. He left the Colts and landed with Denver where, at the age of 36, he might've had the most prolific season of an incredibly prolific career. Manning completed 68.6 percent of his passes (the second-highest rate in his career), threw for 4,659 yards (also second-highest) and threw 37 touchdowns (again, second-highest). Manning's recovery wasn't completely perfect, but it was pretty darn close. And that's why his peers will plop him above everyone else when all is said and done.
Plus the Eagles' formula for winning late, the AFC playoff mish mash and a budding young Vikings...

Here are the Week 11 grades for every team that played Sunday

The Eagles move to 9-1 after beating the Cowboys by four touchdowns
Peterman threw five interceptions in the first half before getting yanked

The Vikings' coach addresses the team's cloudy quarterback situation after their eighth win...

Green Bay could have brought in a veteran quarterback but decided to stick with Hundley