Hue Jackson says he has 142 texts from coaches who want to join Browns
Answer your phone, Hue Jackson.
New Cleveland Browns head coach Hue Jackson said a lot of things in his first press conference. He checked all the usual boxes. You probably don't need me to tell you what those boxes are: The Browns will be aggressive on offense and multiple on defense, they'll have a coherent plan, they'll be physical and imposing and blah blah blah. It was good and it definitely got Browns fans excited. These press conference always do.
But that's not the important news that came out of the presser. This was:
'I have 142 text messages on my phone,' - Hue Jackson, on coaches asking to join the @Browns

— Marc Sessler (@MarcSesslerNFL) January 13, 2016
One. Hundred. And. Forty. Two. Text. Messages.
I have so many questions.
First, and most important: Did 142 different people text message Hue Jackson about joining the Browns as a coach, or are there just 142 total text messages from coaches that want to join the Browns? Like, does Hue Jackson have 30 text messages from Terry Robiskie asking to join the staff, another 12 from Pat Shurmur, and then like 10 each from every position coach that worked under Jackson during his one year with the Raiders?
Second: Why doesn't Hue Jackson just open some of those text messages? Why let your text message counter run all the way up to 142? If he had time to check, he had time to open some of them.
Third: Do these coaches text messaging Hue Jackson wanting to join the Browns know they can probably get far more job security elsewhere? Jimmy Haslam fires a coach every other day. Why don't they hit up Marvin Lewis instead? All his coordinators turn into head coaches these days (like Hue Jackson this year, and both Jay Gruden and Mike Zimmer last year).
I'd go into more questions, but I'm too busy waiting for an answer from Hue Jackson on the text message I sent him about being a quality control assistant (gotta start at the bottom of the food chain) for the Browns.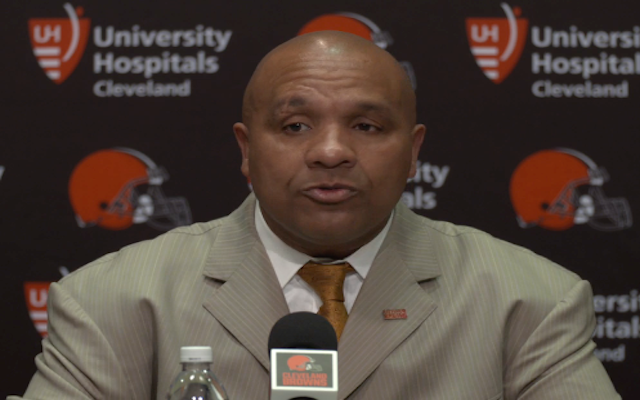 The bulletin board material is piling up for Sunday's AFC Championship game

The right tackle was behind the underdog masks and is now selling 'Home Dogs' shirts

Everything you need to know about the AFC and NFC title games
The Jaguars are poised for the biggest upset in recent playoff history

The Broncos might have tipped their hand as to which player they're targeting at No. 5

The Jags were laughingstocks as recently as this summer; now they're 60 minutes from an AFC...