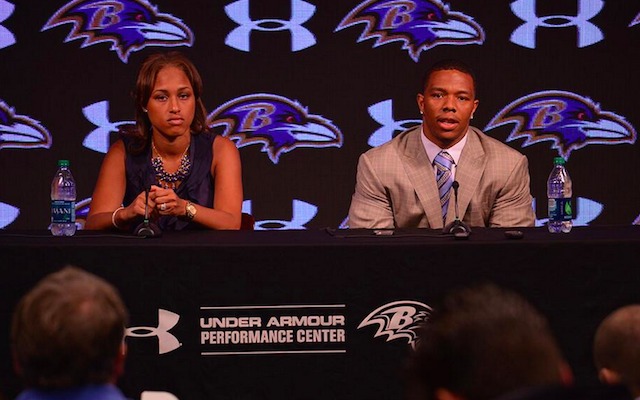 It hasn't exactly been a banner weekend for Ray Rice's public relations team. On Friday, the Ravens running back held a news conference with his wife Janay where he apologized to everyone except Janay for a February incident that ended with Rice knocking her unconscious. 
During the news conference, Janay said, "I deeply regret the role that I played in the incident."
Rice was indicted on a third-degree aggravated assault charge in March, but the Ravens running back will likely avoid any jail time after being accepted into a pretrial intervention program on May 20.
If Rice successfully completes the intervention program -- a process that will take at least a year -- the third-degree aggravated assault charge would be dismissed. The arrest would remain on his record, but there would be no conviction.
So what exactly happened on the night of incident?
Michael Diamondstein, one of Rice's lawyers, explained what happened. It's all in "hypotheticals" though.   
Via the Baltimore Sun: 
"This is just a complete hypothetical," Diamondstein told Matthew Hammond on 97.3 WENJ-FM in New Jersey. "Let's assume for the sake of argument, rather than enter into the pretrial diversionary program that he entered into, we hypothetically move forward on the case. And hypothetically we litigate 100 motions and the video comes out and the video shows -- hypothetically speaking now, hypothetically speaking -- shows that Ray wasn't the first person that hit and Ray was getting repeatedly hit but just Ray hit harder, fired one back and hit harder. Hypothetically speaking, and he gets found not guilty. Is that result somehow better? Is it better for the public? Is it better for the Ravens? Is it better for Ray? Is it better for Janay?"
Diamondstein probably would have been better off not saying anything at all, but he seems to allude to the fact that Rice might have actually won his case, but then get handed a big-time loss in the court of public opinion. 
Rice's lawyer also mentioned that the pretrial diversionary program made sense for Rice because a trial would have turned Rice and his wife into possible adversaries, something Rice didn't want. 
"One thing that I think people need to remember is this wasn't an incident between Ray and some random person that he just met," Diamondstein said. "This was an incident between him and his wife, a woman he's loved for years and years, a woman he has a child with and a woman he's going to spend the rest of his life with. So it's not like a man of Ray's character is going to then bash his wife in the media and say: 'Well, she did this, so I did this, so I did this and she did this.'"
Rice can't put the incident behind him just yet either.
The Ravens running back is expected to meet with NFL commissioner Roger Goodell sometime in the near future. That conversation will likely lead to a punishment for Rice, a punishment that's expected to be at least a three-game suspension.