I picked 9th in my fantasy football league and that's why I'm losing
Could where you pick in fantasy football define your season as much as who you pick? I picked 9th, which so far in 2013 has the worst win-loss record of any pick.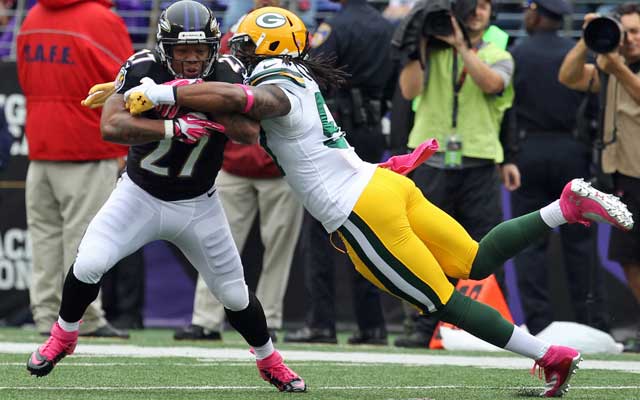 Having a rough fantasy football season? Well, there's a good chance it's not your fault. Almost a 50 percent chance it's not your fault. 
First, a quick back story. 
In my big-money favorite league, I picked ninth. I was stuck with names like Ray Rice, Alfred Morris, a quarterback not named Peyton Manning and a few other options who didn't feel like first-round worthy picks. I talked myself into Ray Rice and I picked up Dez Bryant on the way back.
I obviously like one of those selections a lot better than the other. And that Ray Rice fella? Not a big fan of this here fantasy football.
Why am I telling you this? Because my bad season isn't necessarily the fault of me taking Ray Rice at No. 9, it's because I was picking ninth. My sub-.500 record is the predetermined fate that came when my name was picked out of that hat one late August night. 
If you picked ninth, according to the single CBSSports.com Apple IIGS mainframe (with dual floppy drives) that powers the fantasy gaming community, you're part of a collective that has a win-loss record of 15,565-17,038, for a winning percentage of 47 percent. Keep in mind the data used here represents just a sampling of 12-team leagues on CBSSports.com. 
Compare that to say, the first pick, which is a combined 17,576-15,042 for a winning percentage of 54 percent. Below is a graph, in which I had to first learn what that Excel program does on my computer to make, that illustrates pick-by-pick win-loss totals. Notice how around the sixth pick the win-loss ratio shifts? That's that whole "50 percent change thing" I mentioned in the first paragraph. 
So the graph doesn't provide more than just a aerial view of things, but it's a launchpad for a dialog about draft spot and success. 
Maybe you're thinking, "Hey this is pretty obvious stuff."
Maybe so. The first pick in a 12-team draft gets the best player (or opportunity to take the best player) and then a shot at the 24th and 25th best players. Whereas the person picking ninth gets a shot at the ninth best player, the 16th best player and 33rd best player in a traditional snake draft.
According to fantasypros.com, the consensus first pick was Adrian Peterson. The 24th- and 25th-best players were MJD and Larry Fitzgerald respectively. The ninth-best player was, yep, Ray Rice, the 16th-best player was Brandon Marshall and the 33rd-best player Randall Cobb. 
That doesn't really clear things up much. 
I'll seek out some year-over-year data to help frame this storyline, because, after all, this could simply be a one-year thing but maybe it could be the typical breakdown for a snake draft, where location, location, location is what defines success. As opposed to an auction draft, or keeper leagues with unique draft rules.
Or maybe there's something else at play. What that is, I don't know, but maybe you have some ideas. In the meantime, I'm going to keep blaming my poor season on forces other than my own doing. Because that's about as much fun as I can have thanks to the fantasy gods right about now. 
Eric Kay is an assistant managing editor at CBSSports.com. He left his heart in Bethesda.
The winner of Sunday's game will he headed for Super Bowl LII

SportsLine's Mike McClure, a DFS pro with more than $1M in winnings, gives optimal lineup...

Super Bowl tattoos are never a good idea until your team has actually won the Super Bowl
A couple of dogs emerge victorious in the Conference Championship round

Our computer model simulated the AFC and NFC title games 10,000 times with surprising resu...

If the past 18 weeks are any indication, Tom Brady could be in trouble Sunday