If St. Louis builds a new riverfront stadium, will the Rams stay?
St. Louis isn't throwing in the towel on keeping the Rams or luring another NFL franchise despite Rams owner Stan Kroenke's intent to build a stadium on land he owns in LA.
• 8 min read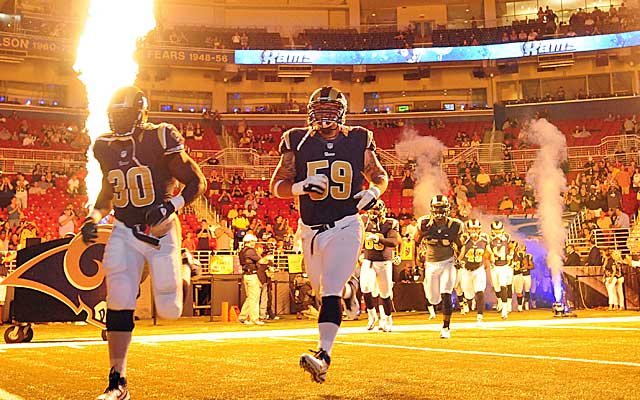 The city of St. Louis, though fighting a valiant battle, could end up losing the Rams to Los Angeles. Rams owner Stan Kroenke's intentions to move the team cannot be discounted at this point. He has doubled down on his ownership of land in Inglewood and announced his intent to build a stadium there.
But that doesn't necessarily mean the city of St. Louis will be without professional football at all, or for long, and the recently-revealed plans for a co-funded riverfront downtown stadium have the look of being every bit NFL-worthy. The project is being spearheaded by very driven and capable individuals, with Dave Peacock, a former president of Anheuser-Busch, chief among them.
The downtown stadium project, with or without Kroenke's support, seems quite capable of further shifting the fortunes of a downtrodden part of the city, and Peacock's diligence, resourcefulness, and unwavering civic sense of duty cannot be understated. No one associated with the St. Louis stadium task force -- formed by Missouri Gov. Jay Nixon with Peacock and Robert Blitz at the helm -- is willing to concede a future without the Rams staying in their city, but it would be naïve not to plan for such contingencies as well, with the relocation of another franchise at some point perhaps a possibility as well.
That is the tricky terrain that Peacock and his task force must navigate, extending every olive branch to Kroenke and working closely with the league as well, all the while knowing the future is murky and in the end, the Rams fate may be out of their hands. So, they focus on the task at hand, and continuing to galvanize St. Louis and align interests to secure necessary funding for development. And they move forward on a state-of-the-art facility they believe will be ready to go by 2020, and that will ensure the NFL as a fixture in their community for decades to come.
"We are inclusive with the Rams in all of our plans," Peacock said in an interview today, "and the Rams are our team, and that's the team that we want playing here for a long time. But we are also respectful of the role the league serves, and the fact that they may have other perspectives and things going on at the league level that may result in a different scenario."
Make no mistake, 2015 will be a watershed year for the NFL's movement to Los Angeles. Whatever ripples are created in St. Louis or San Diego or Oakland because of it, Peacock's ability to form coalitions between local business and political interests may well secure a future for St. Louis in this league. And that's regardless of whether or not Kroenke, who remains in the shadows during all of this (most likely retreating to his Malibu home) is a part of it. As the city of St. Louis and the state of Missouri positions itself through this transcendent year, they will continue to reach out the Rams each step of the way, though it remains to be seen how willing Kroenke will be to meet them anywhere near half way.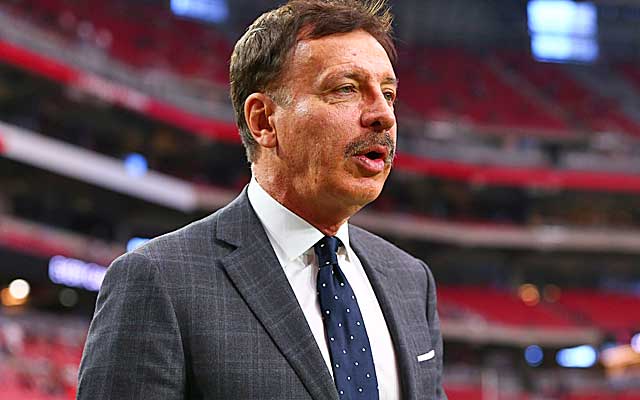 More meetings between the task force and the Rams are planned for this week, Peacock said, though Kroenke is not scheduled to attend. At this point, the stadium group is unsure exactly when Kroenke will directly take part, though they share a good relationship with team president Kevin Demoff, and know that the owner is being well-briefed on all developments.
"We developed our project really without too much support from the Rams, but we have met with them and we got a positive reaction," Peacock said, noting that Kroenke "was well aware of what our plan was even before we announced the details."
Peacock and his group have been working at the project, on and off, for several years, and St. Louis politicians had meetings with Roger Goodell and other league officials about a potential new riverfront stadium dating back to 2013. In the past year, Peacock's group began meeting with architects and designers and also began the arduous mission of trying to create a funding plan that would be feasible from both a public and private standpoint. The task force believes that compromise -- about $130M coming from seat licenses, roughly $400M coming in total public money and about $450M coming from the team's owner and the NFL (with the assumption of about $200M of that total coming from the league's G4 stadium funding plan) -- has merit, though nothing is in stone. "That's obviously fungible, as you know," Peacock said.
Peacock has already "moved mountains," as one person familiar with the project put it, to lay the foundation for a new stadium by spearheading the Arch Grounds project to revitalize the parkland around the Gateway Arch. He has raised hundreds of millions in state and federal money to orchestrate the biggest private/public partnership on park grounds since the Ellis Island project. That already transforms the environment around the waterfront, where this stadium would be constructed, allowing this facility to dovetail nicely with those plans.
"We're very excited about the present redevelopment of downtown already underway with the Arch Grounds," Peacock said, "and this basically continues that effort in an area that defines the word blight, but at the same time is right on our riverfront and gives us a really unique civic opportunity."
In addition to his upcoming meetings with the Rams, Peacock continues the daily chore of remaining on schedule to break ground on the stadium. He must continue assembling the land involved -- about a quarter of it is owned by the city and the rest is privately held -- and lining up funding to acquire that land. "We know there is a favorable environment to move on this," Peacock said. He remains in close contact with the Rams and the NFL to share all aspects of the concepts and gauging their support.
At the owner's meeting in March, Peacock knows the task force must be in position to make this project as tangible as possible, and he would relish the opportunity to formally present in front of the owners.
"We need to demonstrate our process there and being driven to get this done," Peacock said of the spring NFL meeting. "That, to me, is a marker if you will … And obviously the league is not accepting relocation applications until 2016, so conceivably we've got this year to really demonstrate where we are and to line up the funding and to move very quickly to accomplish our mission."
In the meantime, there are no real mysteries with the Rams. Kroenke's silence, as well as his activities, speak volumes. The team has made it clear it is going to move forward with a year-to-year lease in the Edward Jones Dome, and Peacock said Kroenke's recent announcement of partnering to acquire more land in Inglewood and develop a stadium there came as no shocker, either. "When he bought the land a year ago in LA we kind of knew, 'OK, he's going to do something with that land,'" Peacock said. "It was not surprising to us."
Peacock understands the allure of the Los Angeles market, and no one at this point remotely close to the NFL would try to tell you it's not merely a matter of time before teams are there. That is an eventuality. It's just a matter of when. And most are circling 2016. For this task force, its not about competing with LA, but rather stressing the positives of this market, even post-Ferguson, with the Rams.
The team had its highest attendance in six years despite its uncertain future in St. Louis with no lease for 2015, and with it having another losing season and doing so with the area gripped by the events in nearby Ferguson. Peacock will point out the 17 Fortune 1000 companies in the region as well.
He will try to position this stadium project and the city of St. Louis in the best light possible to appeal to the league office and other owners, knowing that the Rams, eventually, might not be the team in town. He will move forward with each incremental step, waiting for the "green light" as he put it from the Rams and the league.
And, is it possible, that green light comes from the NFL, but perhaps not the team currently playing in St. Louis?
"I think anything is possible," Peacock said, "and frankly at this point we recognize the league in their position is the decision-maker as to who plays where. And they have bylaws (on franchise relocations) that we take very seriously."
We'll find out in the coming year if those bylaws, too, are fungible, and if Kroenke is perhaps willing to take his case to federal court to attempt to supersede them if he believes those laws are restricting his rights to run his business as he sees fit. We'll find out whether or not all parties are up for that kind of potentially long and damaging fight. In the meantime, Peacock will continue to canvass his community to try to prepare for whatever the future holds, devoted to keeping the Rams, but with a calling to protect St. Louis' NFL turf, if you will, above all else, not wanting to be without football once again as it was when the Cardinals moved to Arizona.
"From the feedback we've received from the league and the other owners," Peacock said, "I think they like the storyline of an NFL stadium that also contributes to revitalizing one of America's great historic cities." If St. Louis builds it, will the Rams still stay? If they build it, will another owner come? In the next 12 months, we'll very likely find out the answer to at least one of those questions, if not both.
Pick Six Newsletter
Get the day's big stories + fun stuff you love like mock drafts, picks and power rankings.
Please check the opt-in box to acknowledge that you would like to subscribe.
Thanks for signing up!
Keep an eye on your inbox for the latest sports news.
Sorry!
There was an error processing your subscription.
L.A. is up against the cap but could use some depth on the edge and at guard

Breaking down the NFC East win totals and over/unders for the 2019 NFL season

Prescott has been a huge bargain for Dallas, but he's about to get a significant raise
The 2021 draft will be in Cleveland and the 2023 draft will be in Kansas City

Long says he used marijuana to deal with day-to-day stress as opposed to pain

The Seahawks' star defender can certainly land himself a good deal, but it's a balancing a...