If you hate Jay Cutler's attitude, you don't know the real Jay Cutler
Loathe Jay Cutler? Then you won't like this: Chicago's embattled QB could care less about the haters. He just wants to win -- and have fun -- in 2015.
INDIANAPOLIS -- There is a bounce in his step, a smile on his face, a calm about him.
Ripping Cutler and even his body language -- however absurd that can be -- has become a cottage industry of sorts, with parody accounts mocking Cutler's propensity to come off as surly and unlikeable, even if few know much about him, other than he's a quarterback that fans and media love to rip.
If most were true to themselves, you'd say you didn't like Cutler -- for a number of reasons, yet nobody really knows why for certain. Just this week, comedian Hannibal Buress, a Chicago native, said the reason he didn't like Cutler was because of his face.
As crazy as that sounds, that's the same thinking of many fans and media members.
So on a cloudy afternoon here Wednesday, as Cutler's Chicago Bears finished up a joint practice with the Indianapolis Colts, you expect a dark cloud to be following above him, based on the perceptions.
Instead, a loose, smiling and sometimes-laughing Cutler stopped to do a short interview that could have been longer if team officials hadn't pulled him away to the team bus. He seemed ready to talk.
Maybe it's because Cutler knows I am one of the few in the media who has actually taken up his cause, defending him as a player and trying to rationalize the stupidity of those body-language assessments. Or maybe it's because he's back in his home state where he won a state championship for his hometown of Santa Claus.
How can there not be happy from there?
"I don't think the people who see him on the sidelines see the real Jay," said Bob Clayton, his high school coach. "They see the guy who they think doesn't like playing, a guy who gets mad on the field. It's just that he's such a competitor."
When I asked Cutler about all the negative talk, and his status as the most-persecuted quarterback in the league, he laughed loudly.
"I think I used to (let it bother me)," he said. "Now I am at a point where I really like the coaches I am with. I like the players in the locker room. That's where my concentration is each and every day, just trying to get better with those guys. That's all I can worry about."
Cutler is once again learning a new system, now on his fifth coordinator in seven years in Adam Gase. The Cutler rippers will say he's the reason, that he's a coach killer.
The truth is that while he's been benched for Jimmy Clausen (last year) and had a city craving Josh McCown as a long-term solution when he replaced Cutler in 2013, Cutler is far from the only reason for the coaching turnstile.
The defense was woeful last season, which forced the Bears to play from behind a lot. Cutler threw 256 passes trailing and 106 when trailing by nine or more points. For reference, Russell Wilson of Seattle threw 54 passes while trailing by nine or more points -- counting the postseason. Then there's this notion that Cutler threw a lot of first-quarter picks to put the Bears in a hole. He threw three last season. Three.
That doesn't absolve Cutler from all the blame. Since coming to the Bears in a trade from Denver in 2009, Cutler has thrown 93 picks in 82 starts. That's way too many. He has also thrown 129 touchdown passes, including 28 last year in a season that saw him get benched.
So as he enters the 2015 season, Cutler is clearly in the crosshairs again. With a salary of $16.9 million, and an out for the team in March of next year, this could be Cutler's last year in Chicago. There was trade talk last spring, but that contract was a likely impediment.
For Cutler, who has endured Bears fans burning his jersey, you would think getting traded might have been a good thing. He says now he's glad it didn't happen.
"It's not my first time going through it (trade talk)," Cutler said. "Not saying you get used to it. I know it comes with the job at certain points. It was out of my control. I wait to see what happens. I wanted to stay in Chicago. You never know how it would shake out with all the draft-day rumors, and that didn't pan out. At the end of the day, I am in the same place I started out at the beginning of the year and happy to be here."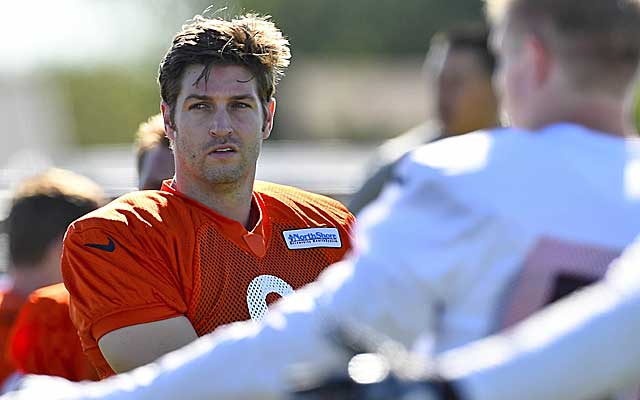 The Bears coaches are glad he's still around. Gase, who knew Cutler when he worked on the Broncos staff when Cutler was the quarterback, is thrilled he's his quarterback.
"It was kind of wiping the slate clean for him," Gase said. "I told him let's just start over. Go from here. He's been great. He's done everything we've asked him to do. He's putting his spin on the offense. He has the skill set for exactly what we need to do. His intelligence is off the charts."
Gase, who spent the last two years working with Peyton Manning as the coordinator in Denver, is from the Mike Martz tree of offense. It is a system that should fit Cutler since he's played in it before. But Gase has put his own stamp on the offense, which makes it different and challenging, Cutler said.
"There's a lot to it," Cutler said. "There are so many nuances to it. I liked it right away. It's very diverse. It's just a matter of taking some time and experiencing these things. When you go out and run them the first time, we might fail first, but it's trial and error. I like it."
When Gase was in Denver, he had a like mind in Manning, two football junkies who would work hours upon hours to get better. Those Friday night texts from Manning, long after that week's plan had been put to bed, would often come to Gase's phone. There was some more thinking and tweaking the offense after that.
So will the Friday night texts come from Cutler?
"He's heading in that direction," Gase said. "I can already tell. We have open communication. He's not afraid to come talk to me. That's what you want."
Gase gave Cutler an important message earlier this year during one of their first talks.
"Let's have some fun," Gase told him before the season. "Enjoy playing football again."
That seems to be the case. Cutler appeared to be having fun.
"I remember at Denver he was a third-year player when he was really enjoying the game," Gase said. "I don't know if he lost that somewhere, but that's one of our goals, to enjoy playing the game, to enjoy playing quarterback, enjoy playing with your teammates and enjoy the game-planning and playing games. It's fun. He should enjoy it more."
Even if Cutler played the entire season with a big, fat smile on his face, it wouldn't stop the Cutler bashing. When there was an interception on the practice field during work this week, the media immediately thought it was Cutler. It was Clausen, but it's hard to shake a perceived label.
You all hate Cutler's faces. You hate his antics. You hate his turnovers. You hate the idea he's a spoiled baby who you think was born with a silver spoon in his mouth. The reality is his dad was a police officer who also started a paving company. Guess who helped pave every summer?
It was Cutler and a bunch of his high school coaches.
"That wasn't easy work," said Clayton. "It was tough. And he was out there in the middle of it all the time. He's not some silver-spoon kid."
"This industry and public perception, they are so quick to label guys right away," Cutler said. "You get a label and it's going to stick. Your past doesn't matter now. I can't worry too much about it."
I am not going to sit here and say there won't be more game-day scowls or yelling at teammates for Cutler, but I get the idea he's more at ease with where he is now than he's been at any point in his Chicago career. Cutler and Gase could be ready to put up some big numbers. The big arm might be ready for big things -- even bigger than 28 touchdown passes in a season where you're benched.
The only thing now is for him to go out there, like Gase said, and have some fun and win some games. Then the stupidity of grading body language and assessing facial expressions won't matter a bit -- and the Jay Cutler bashing industry might actually cease to exist.
Pick Six Newsletter
Get the day's big stories + fun stuff you love like mock drafts, picks and power rankings.
Please check the opt-in box to acknowledge that you would like to subscribe.
Thanks for signing up!
Keep an eye on your inbox for the latest sports news.
Sorry!
There was an error processing your subscription.
Colts fans weren't happy about Andrew Luck's retirement

Andrew Luck explains his shocking retirement from the NFL

During his brief NFL career, Luck, 29, battled a number of brutal injuries
The Colts could seek options outside of Jacoby Brissett for their starting quarterback

Andrew Luck might have to write a huge check to the Colts

Luck has been battling injury issues for several years and will formally retire on Sunday