Ike Taylor is 'pissed off' he took $4.25M pay cut with Steelers
Steelers cornerback Ike Taylor wasn't happy that his team asked him to take a multi-million dollar pay cut.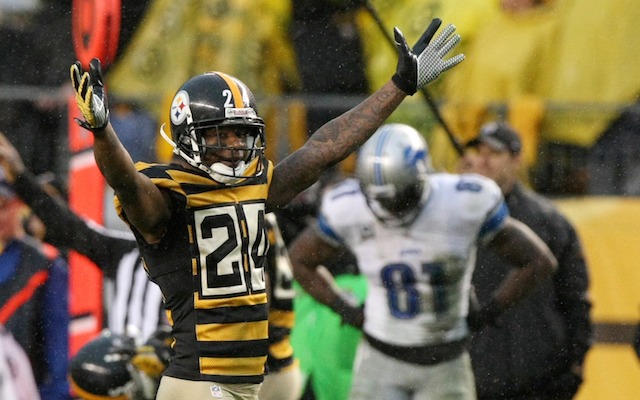 Back in March, Steelers cornerback Ike Taylor agreed to a $4.25 million pay cut to help the Steelers make some room under the salary cap. 
As you can imagine, Taylor wasn't too thrilled with taking the pay cut and he told Jim Rome all about it on Monday. Taylor was scheduled to make $7 million in 2014, but now will only pull in $2.75 million. 
"I'm pissed off about it, still am pissed off about it and I'm going to be pissed off until the end of the season about it," Taylor said of taking the pay cut. "Did it hurt me? Hell yeah. Does it still hurt? Yeah, it hurts, but hopefully I can go in and bounce back this year, do what I need to do on the field and we will see what happens after."
You might be wondering why Taylor would agree to a pay cut if it was going to 'piss' him off so much. The 34-year-old has an explanation for that. 
"I had seen a few guys who didn't take pay cuts and went to other teams and it didn't work out for them. So, at the end of the day, I didn't want to leave Pittsburgh, point blank, period," Taylor said. "Just hearing from other guys coming from other teams and being on the team with Pittsburgh, they say it's like no other; it's like day and night, so I'll listen."
Taylor has spent his entire 11-year career with the Steelers and he thought just maybe he should've been rewarded for his loyalty -- not asked to take a $4.25 million pay cut. 
"It's like you get to a point, why me? Like, I didn't show my loyalty? I've been a good guy," Taylor said. "You want to talk about a guy who's going to come in in-shape, not waiting to build up into shape when he gets to camp. Or you want to talk about a guy who's unselfish and puts his team before his family and friends, you want to talk about a guy who has loyalty, yeah it's me. It's me you're talking about. When you come to me and ask me for a pay cut, I'm like 'Damn, out of all these people, you want to ask Ike.'"
Taylor started in all 16 games for the Steelers last season and he'll be playing in 2014 on a one-year deal. If Pittsburgh asks him to come back in 2015, you can bet he'll be expecting a small raise. 
Welcome to the NFL's version of a dress rehearsal

It sure sounds like the players are planning for a work stoppage when the latest CBA expir...

One of the league's best players is still looking for a new long-term contract
'It's completely different,' Wentz says about entering his second season with the Eagles

Tavon Austin, Matt Kalil and Joe Flacco headline our list of the NFL's most player-friendly...

Richardson has played for four NFL teams, and hasn't appeared in an NFL game since 2014