Illinois officially hires Lovie Smith as football coach: Six things to know
Illinois announced on Monday that it has hired Lovie Smith to be its new head coach.
On Saturday, new Illinois athletic director Josh Whitman surprised a lot of people when, just hours after "clocking in" his first official day on the job, he dismissed coach Bill Cubit. You just don't see schools firing their football coach in March all that often.
A few hours later, a second surprise began to leak: Illinois already had Cubit's replacement lined up, and it was former Chicago Bears and Tampa Bay Buccaneers coach Lovie Smith who would be taking the job.
On Monday morning, Whitman turned the rumors and reports into reality when he sent out this tweet.
#ILLINI pic.twitter.com/OULEpiGgjS

— Josh Whitman (@IlliniAD) March 7, 2016
The school then sent out a press release on the matter.
"I am extremely excited to be named head coach of the Fighting Illini," said Lovie Smith in the a statement. "Josh approached me about this possibility, and I immediately seized on the opportunity to make a difference in the lives of the young men who are part of the program today and in the future. I take this responsibility very seriously and can't wait to get a staff in place to start our move to make Illinois a contender for Big Ten titles. We will play an exciting brand of football that will make our fans, alumni, student body and members of the University community extremely proud."
So now that Smith is officially the new coach at Illinois, what do you need to know about it? Let's learn together!
1. This is Lovie Smith's first time working as a head coach in college: Smith does have college coaching experience, even if it's been 21 years since he was last an assistant at Ohio State. It's just that his 13 years of coaching in the college game came two decades ago as either a linebackers coach or a defensive backs coach. He's never even been a coordinator on the college level, let alone a head coach, so there's going to be an adjustment period.
Even though he has 11 years of head coaching experience in the NFL, being in charge of an NFL team is a little different than a college team, as NFL coaches don't have to worry about recruiting or making sure their players are passing their economics classes and staying in touch with their family.
2. Former Illinois coach Ron Turner probably played a hand in Smith getting this job: Whitman spent parts of four seasons in the NFL with the San Diego Chargers, Miami Dolphins, Seattle Seahawks and Buffalo Bills, so he has NFL connections, but it wasn't those connections that likely led him to Smith.
You see, Whitman was a four-year starter at tight end for Illinois before that, and while at Illinois he played for Ron Turner. That's the same Ron Turner who is currently coaching FIU but was also offensive coordinator for the Chicago Bears from 2005-09 ... while Lovie Smith was head coach.
3. Smith could help Illinois be more successful when it comes to recruiting the Chicago area: While Chicago and its suburbs don't produce the same amount of top-end football talent that we see in the southeast, Texas or California, every year the region does send off some very good football players to college. It's just, for years, the best of that talent has typically left town to go play for Michigan, Notre Dame, Ohio State; in recent years, Michigan State and even some SEC schools have begun to kick down some doors.
For the most part, Illinois has been a second or even third option for the top talent in the area. Now, while it's not likely Smith is just going to show up and lock down the state -- Michigan and Notre Dame will always be Michigan and Notre Dame in Chicago -- he gives Illinois a much better chance of keeping at least some of that top talent home.
It's important to remember that while Chicago is a city divided when it comes to baseball, every kid in the city grows up loving the Chicago Bears. And the kids in high school right now grew up loving a Bears team coached by Lovie Smith. His hiring will make playing at Illinois a lot more attractive than it would have been under Cubit or just about anyone else.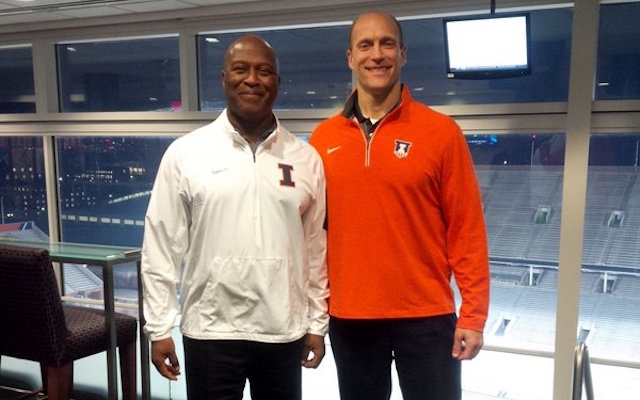 4. It won't take much for Smith to become beloved by Illinois fans: There haven't been a lot of successful Illinois football coaches. Yes, Ron Turner led the Illini to the Sugar Bowl in 2001, and then Ron Zook's Illini went to the Rose Bowl in 2007, but overall their tenures weren't successful. Turner finished with a record of 35-57 in eight seasons, while Zook went 34-51 in seven years. The last Illinois football coach to leave Champaign with a winning record was John Mackovic, and he left for Texas after the 1991 season.
So it's been a while, and Illinois fans are starved for any kind of consistent success. They won't need Big Ten titles or College Football Playoff berths to be satisfied. If Smith comes in and leads the Illini to bowl games on a regular basis, especially if he competes for Big Ten West titles along the way, they'll probably build a statue of him outside Memorial Stadium. Right next to Red Grange.
5. The Chicago Bears have always had ties to Illinois football: It's no accident that the Chicago Bears and Illinois both wear orange and blue. The founder of the Bears, George Halas, was from Chicago and played football at Illinois, where he helped the team win a Big Ten title in 1918. Less than a decade later, Halas was running the Chicago Bears and gave the team the same colors as his alma mater. Also, NFL Hall of Famer and legendary Bears linebacker Dick Butkus went to Illinois as well, so things have worked out well when Illinois and the Bears work together in the past. 
6. Smith will make more money than any coach in Illinois history: Illinois has never been the school to jump on the "pay your football coach a ton of money" train, at least not in comparison to salaries elsewhere. Tim Beckman's highest salary before losing his job was $1.8 million. Smith will make $2 million per year his first two seasons in Champaign, as he signed a six-year deal worth $21 million. He'll make $2 million in 2016 and 2017, $3 million in 2018, $4 million in 2019, and $5 million in 2020 and 2021.
Pick Six Newsletter
Get the day's big stories + fun stuff you love like mock drafts, picks and power rankings.
Please check the opt-in box to acknowledge that you would like to subscribe.
Thanks for signing up!
Keep an eye on your inbox for the latest sports news.
Sorry!
There was an error processing your subscription.
Running backs around the league have their eyes on Gordon's contract standoff with the Cha...

Looking at some under the radar games for early in the season and camp storylines on the Pick...
The retired QB has made it no secret that he's gotten interest from teams around the leagu...

The Texans need to keep their young franchise QB upright, but who's the right man to do it...

College football's best QBs have some work to do to bolster the reputation of the 2020 cla...