Independent baseball team makes jokes about Manti Te'o
The jokes keep on coming for Chargers linebacker Manti Te'o. This time, the Florence Freedom are hosting a fake bobblehead night.
• 2 min read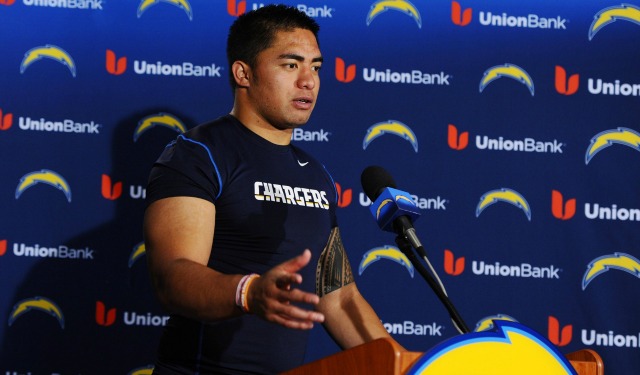 Just because the Chargers aren't making second-round pick Manti Te'o available to the media until June, that doesn't mean the jokes about Te'o's fake girlfriend have gotten old. Actually, let me rephrase. The jokes are old, but somehow, despite their staleness, they keep on coming.
Maxim magazine ranked the not-real Lennay Kekua as the No. 69 entry on its Hot 100 list (putting a bikini on her invisible body) -- Te'o, for some reason, attended the magazine's party that honored the 100 99 ladies -- and a San Diego newspaper cartoonist drew his vision of the joke soon after the Chargers drafted him.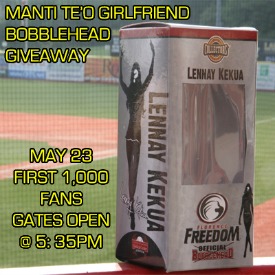 The joke? The box is empty. (Florencefreedom.com)
Now, though, even towns 2,200 miles northeast of San Diego are getting in on the joke. The Florence Freedom, an independent minor league baseball team that plays in the northern Kentucky suburbs of Cincinnati, are giving away a bobblehead doll of Kekua to the first 1,000 fans in attendance for Thursday night's game vs. the Schaumburg Boomers.
Here's the joke, via the team website:
"The collector's edition bobblehead box will of course be empty."
Get it? It'll be empty because she's not real. Ha. Ha. Ha.
Anyway, there's more to this Te'o celebration.
Writes the team: "Thursday night's promotions will also include an air guitar contest, a pretend kiss cam, an imaginary food fight, and fans with imaginary friends, girlfriends/boyfriends or spouses are encouraged to sit in section 115, the section furthest down the left field line."
Luckily, $1 beers also are available. Which probably won't soothe the headache Te'o's supporters probably keep receiving from gags such as this one.
Either way, I don't think Te'o or the Chargers are well served by the team's decision to shield him from the media. The Chargers' hiding of Te'o was met with plenty of criticism -- CBSSports.com's Gregg Doyel agreed with their decision, though -- but Bill Johnston, the team spokesman, tried to explain it this way this week.
"Right now, anything that he does ... makes news," Johnston said. "Right now, the news that people are talking about with him is really not the news that we want him to be talking about. Really, he's a rookie, he's a second-round draft pick, yet everybody wants to talk to him. Well, why? Well, it all goes back to that stuff that happened back in the winter and back when he was at Notre Dame.
"To us, that's not what we want him talking about. We want him focused on becoming a Charger, on becoming a better player. Learning our system. Getting comfortable here. We want him talking football, talking Chargers, and that's all we want him focused on right now. So we're doing what we think is in his best interests to stay focused and become the best player he can."
Until then, it'll be jokes, jokes, jokes for Te'o. No matter how stale they get.
Everything you need to know heading into Week 15 is right here

Haden has been out since Week 10 with a fractured fibula

There's also the possibility Goodell steps aside early if his potential successor is progressing...
The league could return to its pre-2009 policy after a year in which pregame protests took...

Arians hasn't said he's retiring, but the team has discussed contingencies for a coaching...

O'Brien would be a coveted coaching candidate if he were to hit the open market