Influx of rookie QBs makes veteran arms expendable -- and valuable
Baltimore wants to upgrade its backup QB and four passers is a crowd in Houston. Will the Ravens make a play for TJ Yates? Could Chase Daniel be on the move as well?
• 7 min read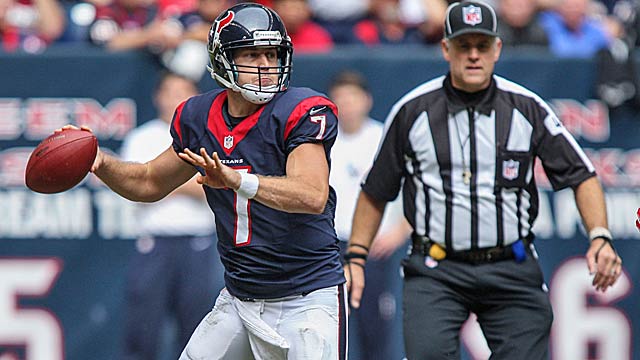 NFL offseason: 2014 Draft Tracker, grades | Free agents | Minicamp, OTA dates
Don't let the placidity of this post-draft period fool you. There is still plenty of roster juggling to come. And while for most teams the quarterback situation has more or less come into focus, even at that position there will be more maneuvering to come.
As teams assess this rookie crop of quarterbacks and compare them to what they already have, other younger veterans will become expendable -- if not now, then certainly by training camp, when injuries will invariably complicate roster issues. For every rookie who ascends the depth chart and displays an ability to play sooner than expected, well, another quarterback becomes expendable. One man's trash is another man's treasure. All of that good stuff.
So, I am keeping a particular eye on a few quarterback situations around the league. Not all of these scenarios will come to pass this offseason. But if not now, then within the next nine months I could see several of these quarterbacks on the move and making waves elsewhere. Because despite all of the signings and drafting of quarterbacks, there are still some teams out there that have new coaching staffs that lack a veteran with a built-in knowledge of the system, and of the coaches themselves.
Never discredit how vital that is as clubs look to install a new language and system. It's imperative. The coaches feel more comfortable if there is someone in that quarterback room who has already practiced and played in the system and can help impart it to others. Having that steady guy who can be the living embodiment of the techniques -- even if only during drills -- is key. And it's lacking in several places.
The Ravens, for instance, with Gary Kubiak as the new leader of the offense, have already brought in one veteran with ties to the staff -- tight end Owen Daniels who played for that group in Houston -- but the quarterback room is lacking. Incumbent backup Tyrod Taylor -- now several offensive coordinators removed from the regime that first wanted to develop him -- has fallen out of favor there.
While the Ravens took a late flier on a quarterback in the draft, they could use someone around there who already knew everything by rote. And they could use an upgrade at backup, overall.
It just so happens that two of Kubiak's former starting quarterbacks, Case Keenum and T.J. Yates, look set to be riding the bench in Houston. New Texans coach Bill O'Brien drafted Tom Savage, who could end up starting soon, and also signed veteran Ryan Fitzpatrick. There are only so many snaps to go around and three is a crowd, much less four. A few of these guys will be expendable and few teams will match up better as a potential trade partner than the Ravens.
Keenum has certainly flashed some things. He sailed past Yates on the depth chart when Kubiak was in charge. He has some playmaking ability. His skill set is different from Joe Flacco's and he wouldn't be a threat, but would be quality insurance in case of injury. He obviously wouldn't need a lot of time to pick up the system. He's already lived it. Factor in that the Ravens are headed to another draft, in 2015, where they will be loaded with comp picks again.
So, to a team with expectations of competing next season, the value of a young, developmental quarterback who already has a relationship with the new coordinator and has started games in the system, just might make it worthwhile to send a late-round pick to Houston to land Keenum, rather than wait for him to possibly be cut.
In fact, I think it would be smart. I'm admittedly a Keenum guy. I think he has a little something there and he could prove to be quite valuable as a backup to a team like Baltimore, which has been playing with fire in recent years by banking that Flacco wouldn't miss any time (and, well, he hasn't yet to this point in his career).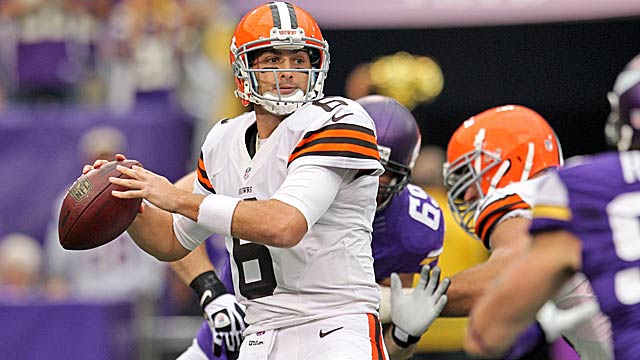 Let's just say the Texans do part with a holdover quarterback or two, but that Savage is still showing signs of being a kid who, well, missed two entire years of college football while transferring schools. And let's say that Fitzpatrick still looks like Fitzpatrick, as in, a guy who will make a play every other series to keep a drive moving but will ultimately succumb time and again to backbreaking turnovers. How long will O'Brien -- a quarterback sensei and taskmaster -- be OK with that?
Oh, and let's say the first-round quarterback O'Brien passed on, Mr. Johnny Football, ends up winning that Browns starting job as pretty much everyone I speak to believes he will. Would Brian Hoyer be the Texans' quarterback of the soon-to-be-present and the future? They haven't made a real financial investment in anyone else, and the Browns surely haven't made any attempts to secure Hoyer beyond the one year and $1M remaining on his contract.
O'Brien and Hoyer have a very strong relationship from their time together in New England, and there is a real mutual admiration and affinity there. If O'Brien is able to get quality play out of a bargain like Hoyer, that makes ownership very happy, considering at some point JJ Watt is going to be paid like a quarterback by the Texans, because that's the type of money the defensive lineman is going to command.
Could Hoyer be the answer in Houston? And, if Hoyer were able to cultivate the kind of quick chemistry with Andre Johnson that he developed with Josh Gordon in Cleveland, well, the Texans worries about Johnson wanting out of town get squashed in that process as well.
Hoyer, after his eye-opening work as the Browns starter before he got hurt last year, would certainly have a high value to Cleveland, but the fact is he doesn't fit new coordinator Kyle Shanahan's system the way the more athletic Johnny Manziel does. The Browns would want some veteran presence around who knows the system … but then again, longtime Shanahan favorite Rex Grossman knows the system inside out and he is only a cheap phone call away as a free agent. That could be the insurance policy right there.
With Hoyer so far ahead of schedule in his return from an ACL repair -- and the pressure to let Manziel play only going to grow -- this is a dynamic I will be paying plenty of attention to as we get through OTAs and into mandatory minicamps. At least on paper, there are too many dots to connect to rule it out entirely.
The Chiefs' backup quarterback situation intrigues me as well. I know backup Chase Daniel lacks ideal size and build and all of that, but I know a lot of quarterback coaches and coordinators who think very highly of him and believe he could be a starting quarterback in this league. I love the pairing of draft pick Aaron Murray and Kansas City coach Andy Reid, and I suspect Murray develops quite quickly under his tutelage. Some believe Murray could end up as a Russell Wilson type, and one thing Reid displayed during his long campaign in Philadelphia is that he was never afraid to keep drafting passers, helping them evolve and then trading his starter or his backup if he felt it would make his club better.
So does the house get crowded in Kansas City sooner than expected?
For all the Chiefs gave up for Alex Smith, he remains a Band-aid quarterback with the sides unable to find common ground on an extension. And I'm not sure that will change anytime soon (ditto for the Bengals and Andy Dalton for that matter). So Smith just might play out his contract worth $7.5M this season with the Chiefs and be gone. Daniel showed plenty of spunk playing in a big game against San Diego last season. They paid him handsomely to get him out of New Orleans as a free agent in 2013. Crazier things have happened than him taking over that job in 2015.
Or, if the Chiefs do end up committing to Smith and Daniel, who is signed through 2015 (unless that year of the contract voids through playing time or a buyback from Daniel), then the backup would possibly be a valuable trade chip, too. For instance, if Matthew Stafford went down for any reason in Detroit, new Lions coordinator Joe Lombardi is very high on Daniel (he coached the quarterback in New Orleans), and if Lombardi got a head coaching gig in the next few years, Daniel could very much be on his radar as well (the way that, say, Hoyer could be on O'Brien's right now).
All of this will play out, or not, over the coming weeks. But I'd make a friendly wager that at least one of these quarterbacks has changed teams by the time training camps open in late July, and their new team will be plenty excited about it, if so. Their pasts make them acutely attractive to certain teams, and in this league, it often takes a village to get you through the season at quarterback.
Quin now spends his free time reading books and hanging out with his family

Here are the 12 teams we are projecting to make the NFL playoffs heading into Week 15

Johnson has come forward to open a dialogue with other players about CTE
National sports writer Mike Tierney tells you who to pick in your Week 15 football office...

The Green Bay Packers quarterback seems to be a go for the Carolina Panthers game

Shazier's season might be over, but he still wants to help his team