Injured Chiefs LB Tamba Hali says he'll be 'ready to go' vs. Broncos
Chiefs linebacker Tamba Hali, who sprained his ankle against the Chargers on Sunday, said that he'll be 'ready to go' against the Broncos in Week 13.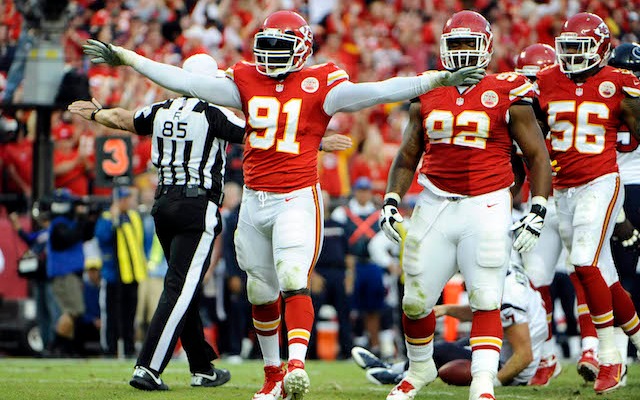 The Kansas City defense will likely be playing without linebacker Justin Houston on Sunday. That's the bad news. The good news for the Chiefs is that they should have at least one of their star linebackers against the Broncos. Tamba Hali said on Wednesday that he plans to play against Denver. 
"I'll be ready to go," Hali said, via ESPN.com. "I love the game."
Hali sprained his ankle in the second quarter against the Chargers, an injury that caused Hali to miss the second half of the Chiefs 41-38 loss.
"The training staff has done a great job of jumping on the injury and being proactive," Hali said. "I've been here early, in the pool and running. I'm feeling good. I know I can push off. I haven't cut yet. I know I can push off and run forward. I haven't run yet, but I believe I can do It because I've been doing it on the treadmill."
Chiefs coach Andy Reid didn't say it was a 100 percent certain that Hali would play against the Broncos, but he did say there was a "good chance." Hali was healthy enough to participate in a walkthrough practice on Wednesday. 
"Every day he has made progress," Reid said. "That he went through the walkthrough I think was a big step. We've got to make sure that he's safe to be out there. We're not going to put him in a position where he furthers the injury. But his desire is great to play in the game."
Having Hali in the lineup would be big for Kansas City, especially if Houston doesn't play. Hali has nine sacks on the season, a number that ranks second on the team and is tied for 10th in the NFL. Houston leads the Chiefs and is third in the league with 11 sacks. 
In Kansas City's loss to the Chargers, San Diego only had three points when Houston and Hali left the game, meaning the Chargers put up 38 of their 41 points with Houston and Hali on the sideline. 
Here's an up-to-date look at the 2018 Pro Bowl roster

Bettors are favoring the Eagles to keep Super Bowl LII close, but the Patriots remain clear...

Here's everything you need to know about Super Bowl LII
Here's a look at the NFL's entire postseason schedule for 2018

Here's all the details you need to know on watching Super Bowl LII between the Patriots and...

All of the information you need to know about the 2018 Super Bowl