Injuries pile up in Bills-Browns: Brian Hoyer, EJ Manuel among them
Cleveland quarterback Brian Hoyer and Buffalo quarterback EJ Manuel both left Thursday's game sooner than expected after suffering injuries to their right knees.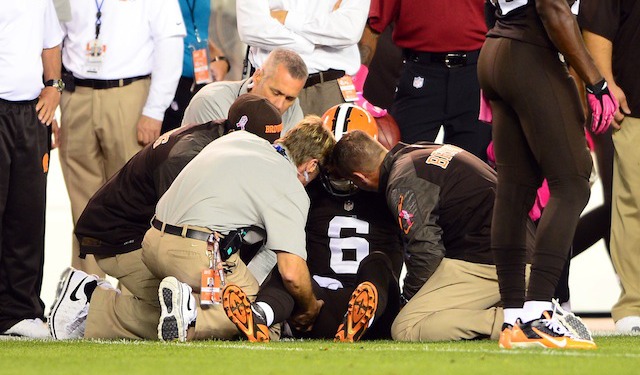 Staying healthy is a goal for any NFL team in any game, unfortunately for the Cleveland Browns and Buffalo Bills, neither team was able to do that on Thursday. Both the Browns and the Bills lost their starting quarterback in Cleveland's 37-24 victory against Buffalo at FirstEnergy Stadium in Cleveland. 
Here's a rundown of all the important injuries from Thursday. 
Cleveland Browns
Quarterback Brian Hoyer: For the past two weeks, Hoyer has had a hot hand, but he didn't get to show it off on Thursday. Hoyer left the game in the first quarter after injuring himself on an awkward slide. After the game, Hoyer was on crutches. Browns coach told the Cleveland Plain Dealer that Hoyer has at least a sprain and will have an MRI on Friday. It might get worse, though: During the game, Chudzinski told NFL Network that the team was fearful that Hoyer's injury was a torn ligament. 
Defensive end Desmond Bryant: Bryant was rushed to the hospital on Thursday because he was suffering from a shortness of breath. There weren't many other details about his condition, however Chudzinski did say after the game that this was the first time Bryant has had any shortness of breath problems.  
Fullback Chris Ogbonnaya: Ogbonnaya has been diagnosed with a concussion. Obviously, it's too soon to say if he'll be back for the Browns Week 6 game against Detroit, however, he'll have an extended recovery time because that game is 10 days away. Ogbonnaya is the only fullback on the Browns roster.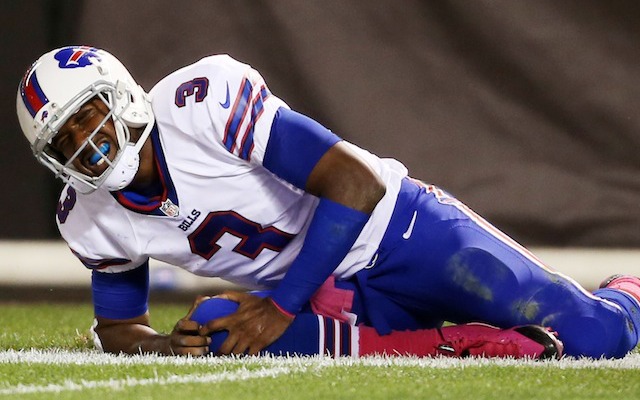 Buffalo Bills
Quarterback EJ Manuel: Manuel went down in the third quarter after taking a big hit from Browns defensive back Tashaun Gipson and didn't return to the game. The rookie quarterback grabbed his right knee as soon as he went down. Manuel left the stadium wearing a knee brace and has at least a sprained knee, coach Doug Marrone said, via the Buffalo News. 
Wide receiver Stevie Johnson: The Bills leading receiver left the game after the first quarter with a back injury. Johnson returned for one play in the second quarter, but then was out permanently after that. Johnson's X-rays game back negative and he'll be evaluated more on Friday, according to NBC-affiliate WGRZ in Buffalo. 
Safety Jairus Byrd: Byrd didn't play on Thursday, but he's being mentioned here because he wanted to play. Marrone said after the game it was his decision to sit Byrd and that the Bills starting safety had told him he wanted to play. The Bills gave Byrd the franchise tag during the offseason and he has yet to play a snap in 2013 thanks to a lingering foot injury. 
Plus the catch rule's still terrible, the Panthers quashing the Packers' hopes at playoffs...

Week 15 provided a lot of clarity to the NFL postseason

The Cowboys move to 8-6 and are still in the playoff race with two regular-season games to...
The Steelers lost to the Patriots in controversial fashion after the 'Calvin Johnson Rule'...

The Raiders lost on a bizarre final offensive play

Here are the Week 15 grades for every team that played Sunday