Time will tell how long the marriage between the Miami Dolphins and Adam Gase lasts. I sincerely hope that Gase is given sufficient time and breadth to find himself as a head coach and prosper. And I sincerely believe he can do as much … I just have reservations about the franchise he is aligned with, because, well, the Dolphins find a way to botch everything.
Owner Stephen Ross has the opposite of the Midas Touch -- whatever you want to call that -- and Mike Tannenbaum, the head of football operations, has a legion of skeptics to try to prove wrong. To plenty of people around the league, this looks like a Tannenbaum special: throw a ton of money at a problem.
I fear that the culture and weak infrastructure of the Dolphins is enough to engulf any coach, much less a 37-year-old first-time head coach. And yet I fully believe Gase is more than capable to overcome such, and I know at some point in this league he will thrive as an innovative head coach. But Ross's track record should give anyone pause. And the chronic dysfunction born of his absentee ownership threatens to swallow up anyone in its wake.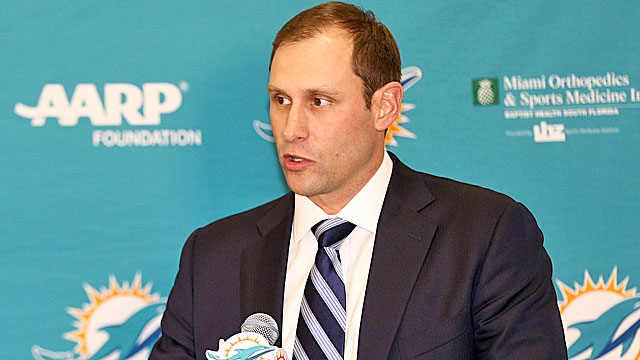 The reality here is that Ross was growing weary with the direction this search was taking, according to sources with knowledge of the situation, and after Tannenbaum identified Gase as a top target early on, pressure was mounting to land him. Had Tannenbaum not secured him, it may have been his job in jeopardy next, sources said, and the fact that Gase was the first coach hired speaks to that dynamic. Would Ross have parted with Tannenbaum had this situation lingered into the this week? Quite possibly, according to some who have talked to the owner.
The Browns and Eagles, teams that interviewed Gase and were quite impressed with him, weren't willing to curtail their ongoing searches to enter into a bidding war for him. One wonders who Tannenbaum was bidding against at this stage in the process, with the number of head-coaching vacancies growing through last week rather than shrinking. It would hardly be the first time that dynamic worked against him, and the label of being a rampant overspender is one that will be hard to shake -- whether it be Ndamukong Suh or Mark Sanchez or Santonio Holmes, to name just a few.
Bottom line is the spotlight on all things related to Miami Dolphins football are now squarely on the owner and his chief assistant. If anyone expects Gase to quickly overcome the bevy of hurdles he'll have to clear in this locker room, and in this team headquarters, and with this fan base, after all these years of mismanagement, you've got another thing coming. Vince Lombardi couldn't get this thing righted in short order. This is a long-term project, and frankly it just might lack the substantial foundation any team would need to succeed.
Lest anyone forget, Ryan Tannehill is also the starting quarterback. For all of Gase's considerable expert coaching jobs, turning the project that is Tannehill into a true winning starter in the NFL would be his Mona Lisa. Oh yeah, there's also the fact that Suh is the highest-paid player on the roster and that a serious leadership void exists and pretty much everyone has been coming to the Dolphins for the weather and the women and South Beach and the money for decades now, with expectations muted and performances always graded on a curve and football secondary. And, well, best of luck, Adam!
If Gase wins in Miami in the next few years, he deserves massive accolades. And if he doesn't, look at all the factors that have kept so many from coming close to achieving any real standard of winning with the Dolphins before writing off his acumen to do the job.
Will there be liftoff in Houston?
No one knows what to expect this week in Houston at the owner's meetings. This could be a real free-for-all.
Maybe the Chargers and Raiders go to Carson. Maybe just the Chargers go. Maybe the Chargers go in 2016 and the Raiders go in 2017, or later. Maybe no one goes, ever. Maybe a shovel never enters the ground there.
Maybe the Chargers and Rams go to Inglewood. Maybe just the Rams go. Maybe no one goes. Maybe shovels enter the ground, but it's just to start construction on a mall or whatever the hell else Stan Kroenke wants to build there.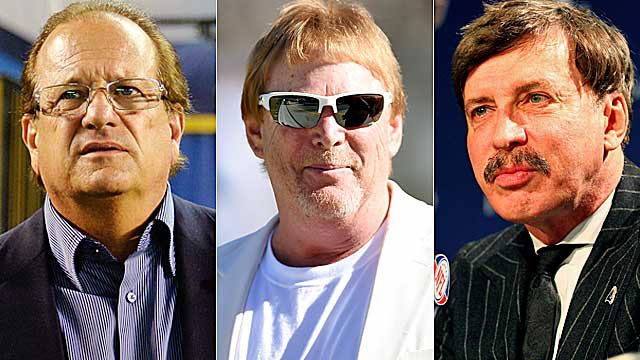 Maybe no team goes to Los Angeles at all in 2016, period (though I highly doubt that considering that these ownership meetings are still scheduled for this week).
No one knows. Not even Roger Goodell himself. But something is going down this week. There are too many powerful people, too much money and too much motivation to finally get back to this metropolis for it not to happen. Jerry Jones' proposal to get the Rams and Chargers to Inglewood -- which in theory is what most owners would like to see happen, sources have long said -- is just one entre to the array of backstage deals being brokered as these heavy hitters seek a resolution to a problem that has confounded the NFL for decades.
I'm not going to BS you and tell you I know what's going to go down. What I do know is that by Monday the Rams, Raiders and Chargers must sign the final term sheets that stipulate the exact financial specifics of what a potential relocation must entail -- fees, a 20 percent tax on any sale of a part of a team after a sale, etc. At that point, assuming all teams sign (and sources said a failure to sign would remove a team from having the potential to be a "second" team in the L.A. market for several years, much less leave in 2016) the LA Relocation Committee will have multiple options to mull upon their arrival in Houston on Monday night.
Those owners are then expected to provide the official NFL recommendation on which teams and which locations should get the 24 votes necessary required to move to relocate. That official recommendation is expected before Tuesday morning, when exclusive meetings begin with just one representative per club as discussions heat up on how to proceed. Sources said it is very likely several straw polls are taken before any formal vote is scheduled on L.A. relocation and that vote is expected by Wednesday afternoon.
Of all the possible scenarios, I do feel strongly about this: I doubt the Chargers are left to toil in San Diego beyond another year, at most, and probably not even that. Jones's proposal speaks to as much -- Jones is a powerful pro-Kroenke voter, but even he recognizes how many of his cohorts want to put beloved Chargers owner Dean Spanos in the best scenario to prosper financially -- and the endgame all along has been to get the Rams and Chargers together, whether it be in Carson or Inglewood. There are massive trust issues between those teams and big barriers that must be overcome, but deadlines spur action and there are so many billions at stake that strange bedfellows are born (heck, who ever thought the Davis and Spanos families would align in the first place?).
It's going to be an incredibly interesting week, to say the least.
More news and notes from around the NFL:
Marvin Lewis might well be safe, again, for 2016, but that horrific display by his team only further ratchets up the pressure and makes this a year-to-year proposition. I put my money on Paul Guenther as the next coach of the Bengals, whether it be a day from now or a week from now or a year from now.
I have a feeling Green Bay gets a dose of reality next week. Not sure how sustainable their heroics in Landover will prove to be.
Of all the bizarre and tough-to-stomach stuff we saw this weekend, J.J. Watt running the Wildcat is far and away the most ludicrous.
The Vikings, with that pay-as-you-go new contract structure with Adrian Peterson, will most likely bring him back for 2016 at a salary of $11M (frankly I wouldn't, but that's just me), but he's nearing the end. The days of paying backs at his age that kind of money are over (Marshawn Lynch is at the end with Seattle, for instance) and his fumble Sunday further signified the perils of his position. Especially with Peterson's off-field crimes taking him off the field for all of 2014, you have to wonder about the long-term prognosis of this situation, and even with him winning the rushing title this year, I'm going to be constantly looking to get younger and cheaper at running back. He took a lot of weight off Teddy Bridgewater this season, but there is going to be a point coming where the Vikings have to mature as a passing offense, and it would be folly to pretend all of the drama and ugliness between Peterson's camp and the Vikings from a year ago never happened. I give it one more year, tops. Ain't no way in hell he is making $18M in 2017.
Speaking of which, that's the end of Alfred Morris in Washington. No way I see a legit investment in that position there. Matt Jones had issues with health and fumbling as a rookie, but the Redskins have other options