Intrigued by NFL, Art Briles hasn't heard from Redskins
Art Briles says he hasn't heard from the Redskins but did admit he'd be intrigued by the NFL if someone came calling.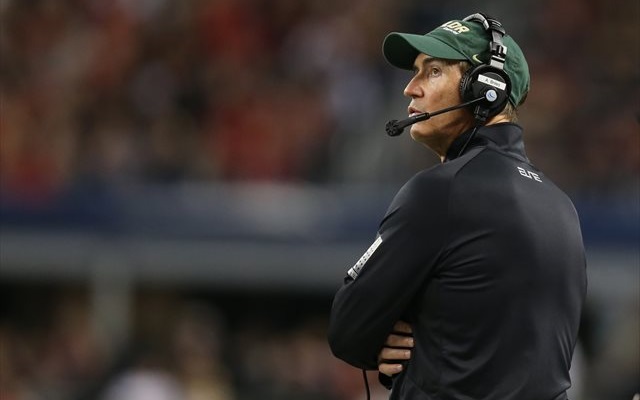 The notion of Art Briles leaving Baylor to coach the Redskins and his old quarterback Robert Griffin III is an interesting one to say the least. CBS Sports NFL Insider Jason La Canfora's repeatedly reported it would be easier to pull off than some think. But as of now, Briles hasn't heard from the Redskins, though he would be at least interested by the NFL.
Speaking in advance the Fiesta Bowl, Briles said he hasn't "had any contact" with anyone from the NFL. Also, someone else has his cell phone right now. 
"Kelly has my phone. I don't think I've got a missed call from Dan Snyder, do I? Okay. 
It's all rumors and speculation. I haven't had any contact with anyone collegiately or NFL," Briles said. "My focus is on winning this football game, being a Baylor Bear.  The six years I've been at Baylor, I've never interviewed while I've been there. I love the job. I love where I'm at."
But ...?
"As far as interest in the NFL, if we're just being honest, which I like to be, the thing that would interest me would be our style of play at that level," Briles said. "That's the only thing that would attract anybody I think in a position that I'm in, would be the style of play. I like how we play from a philosophical, schematic standpoint. I know the rules are different. The limitations on the number of people available in a game. To me that works to an advantage. If they have 46 guys available, there's going to be a few of them getting tired on one side of the ball. 
"That would be the only thing that would spark my interest a little bit on that end. But it's not something I would pursue."
So Briles hasn't heard from the Redskins (unless they called his phone and Kelly answered and didn't take a name and number gah Kelly is the worst about that) but he's not going to pursue anything although he would be interested in how his offense would look in the NFL?
Yeah. Don't exactly rule him out just yet. I do love the candid nature of the way he approached the subject though.
SportsLine's football insider is all over the Bears and another huge NFL underdog to win this...

Bowles declined to explain why Wilkerson won't make the trip to New Orleans

Donald is on a Hall of Fame track four years into his NFL career, Wilson says
The inaugural youth world championships kicked off on Dec. 14 with more than 100 teams

The first-year cornerback has not been active in four weeks and drew a suspension earlier this...

McCown will help the coaching staff work with Bryce Petty and Christian Hackenberg