Is trading Ndamukong Suh a good move for cap-challenged Lions?
Trade him now, or risk losing him later. That's the quandary for the Detroit Lions, who face cap issues if they keep Ndamukong Suh at his current salary. Plus, they risk losing him in free agency after this season.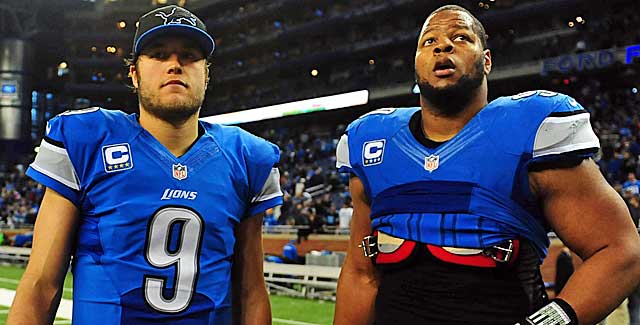 More on Suh: Suh joins Jay Z's agency | Suh's salary a challenge
It's not Ndamukong Suh's fault he is scheduled to make more than $12 million next season and has a $22.4 million cap charge. It's the deal the team offered him and he signed back in 2010.
Suh is going to be a free agent after this season, and if he doesn't sign a long-term deal this year the, franchise tag for him will be 120 percent of his 2014 salary, or $15 million for the 2015 season. That will destroy the Lions' salary cap and Suh knows it.
Right now, Suh, Matthew Stafford and Calvin Johnson eat up $51.3 million of the 2014 club's salary cap or close to 40 percent of the team's space. The top three contracts on the world champion Seahawks will consume 27 percent of their salary cap (though their QB still is on his rookie contract).
Can the Lions really afford to keep Suh? Wouldn't the Lions be better off trading Suh and getting a few quality draft picks to help rebuild a team coming off a 7-9 season?
A team interested in Suh would need permission to negotiate with his agent first and reach a long-term deal, then go back and arrive at compensation for the Lions. If the Lions felt signability for the long-term was a problem, and they are projected to be about $5 million over the cap this year, then a trade could make long-term sense.
Sure, the Lions can find enough space by cutting Nate Burleson, and maybe Louis Delmas, to get under the cap without dealing with Suh. But would the team be better off with a rookie DT like Aaron Donald (Pitt) next to Nick Fairley than no Suh in 2015?
Remember when the Panthers couldn't get Julius Peppers signed after using the franchise tag on him and got nothing for him when he left for Chicago in free agency?
The Lions could avoid that by getting something for Suh now, rather than risk him leaving later.
Week 15 provided a lot of clarity to the NFL postseason

The Cowboys move to 8-6 and are still in the playoff race with two regular-season games to...

The Steelers lost to the Patriots in controversial fashion after the 'Calvin Johnson Rule'...
The Raiders lost on a bizarre final offensive play

Here are the Week 15 grades for every team that played Sunday

The Cowboys' game-winning drive was extended by the craziest first-down measurement we've...