Isaac Redman says he had concussion Week 2; Steelers say no
Did Steelers running back Isaac Redman suffer a concussion in Week 2? And if so, why's he saying so now?
• 1 min read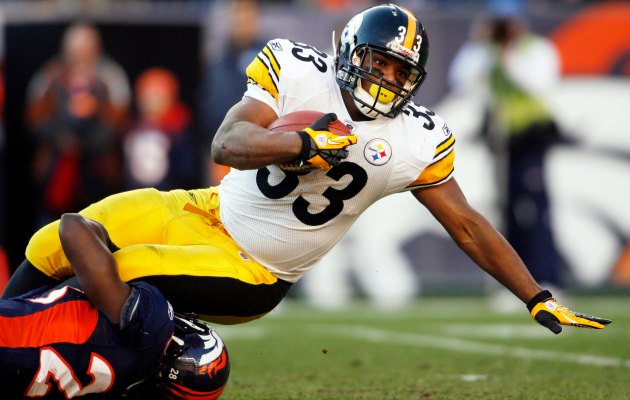 In the middle of the Steelers loss to the Bengals in Week 2, running back Isaac Redman walked to the locker room to be evaluated for a concussion. He returned to the sideline shortly thereafter, put on his helmet and returned to the game.
Now, he's saying that he actually suffered a concussion that day and continued to play anyway.
"I had a concussion," Redman said Wednesday, via the Pittsburgh Post Gazette. "I was pretty much out of it the rest of the game. I just tried to go back in."
Wait, what? How did Redman, who practiced all last week and then played in Week 3 after his supposed head injury, convince the Steelers medical staff that he actually hadn't suffered a concussion?
"I said I was all right," Redman said.
Not surprisingly, the Steelers disagree with Redman's self-diagnosis.
"Isaac was taken out of the game, and we announced that he was being evaluated for a concussion," the team said in a statement released to PFT.  "He was then taken through the proper protocol by our medical staff and it was deemed he was cleared to return to action after multiple examinations. He then re-entered the game and saw action shortly thereafter and throughout the rest of the game."
A couple questions to which I don't know the answer: if Redman was hiding his concussion so he could play, why he would come out a couple weeks later and say he had the concussion? Is it to make his team look bad? To make himself look tough?
Or to tell the NFL that the concussion protocol isn't completely effective?
Follow Josh Katzowitz on Google+
Gilbert will miss games against the Packers, Bengals, Ravens, and Patriots

Thompson fractured his fibula while Pryor has been dealing with an ankle injury for weeks

The Cowboys have dropped two straight in embarrassing fashion but are not ready to make a change...
The Bills coach still hasn't decided whether Tyrod Taylor or Nathan Peterman will start against...

Josh Nagel is a whiz at picking Seahawks games and makes a strong pick for 'Monday Night F...

Matt Moore would start if Cutler isn't able to pass through the protocol