Jadeveon Clowney: Have to make Texans 'miserable' if they pass
Jadeveon Clowney says he'll have to make the Texans 'miserable' if they pass on him with the No. 1 pick.
More NFL offseason: Mock Drafts | Prospect Rankings | Pro Days | Top free agents
Jadeveon Clowney's pro day at South Carolina on Wednesday was impressive, though it shouldn't change the way you think about him.
Now the Texans have a hard decision with the No. 1 pick. And if they pass on Clowney and he lands with the Jaguars, he has vowed to make Houston "miserable." 
"I have to make them miserable," a smiling Clowney said.
It has been difficult to peg Clowney to the Texans at No. 1 mainly because of Houston's dire need for a quarterback. I finally caved and moved him back to the No. 1 slot on Wednesday. Not because of his pro day, but because he's just that much better than every other player in this draft.
The Texans can't pass on him, especially if they think he's capable of playing a Willie McGinest-type role in Romeo Crennel's defense.
"I can play any position on the field," Clowney said. "I'm an athlete. ... I have no problem strapping and moving."
Houston tested out Clowney as a linebacker in the hot Columbia sun Wednesday and while dropping back against air isn't the same as covering another human being, he still looked fluid and impressive while doing the drills. Especially given his size.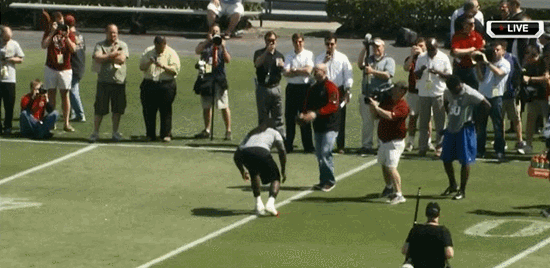 Clowney's not going to match up against wideouts in coverage or anything (I don't think ...) but he definitely looks fast and fluid enough to cover a tight end if he has to in a linebacker role.
Sending him after quarterbacks with destruction in mind would still be the ultimate goal. But when you watch the way he runs and the type of athlete he is, it's hard not to get excited about the possibility of pairing him with J.J. Watt in Houston.
It's probably hard not to get scared at the idea of facing him twice a year too.
Breaking down why the underdogs are very dangerous against the Patriots

All of the information you need to know about the 2018 Super Bowl

Here's all the details you need to know on watching Super Bowl LII between the Patriots and...
No one wants to give the Eagles any respect

Here's a look at the NFL's entire postseason schedule for 2018

Here's everything you need to know about Super Bowl LII