Jadeveon Clowney South Carolina pro day live updates
Live updates from Jadeveon Clowney's pro day at South Carolina on Wednesday.
More NFL offseason: Mock Drafts | Prospect Rankings | Pro Days | Top free agents
Jadeveon Clowney's Pro Day in Columbia, SC, is happening on Wednesday. Clowney, the freakiest of the freaks, destroyed the combine for the most part back in February. 
Working out on his home turf, he's expected to do some damage as well.
12:23 p.m.: Can you imagine going through life every day, working at your job (while not getting paid for it!) and having everyone wonder if you care about what you do? That would stink.
Jadeveon Clowney on if he's tired of answering work ethic questions: "I've been tired of it," He said it smiling, says part of the process.

— John Oehser (@JohnOehser) April 2, 2014
12:15 p.m.: In an interview with NFL Network's Mike Mayock, Clowney said he thinks his work ethic is "pretty good."
"I think my work ethic's pretty good," Clowney said. "You're getting a hard worker and a guy who's great in the locker room. Someone who wants to win. It's about winning. Football — the fun is in winning. So I hope everyone around me wants to win also. That's what I bring."
But he also said he wants to be "the best" player of all time, referencing Lawrence Taylor.
"Just like him. Best guy on the planet. I want to be the best," Clowney said. "I say that to myself every morning when I wake up: let's go out here and be great today. I always get better in my game every day at something. I want to be the best and be talked about forever."
11:59 a.m.: Clowney can rush the passer, sure. But can he drop into coverage? Oh, right. Yes he can.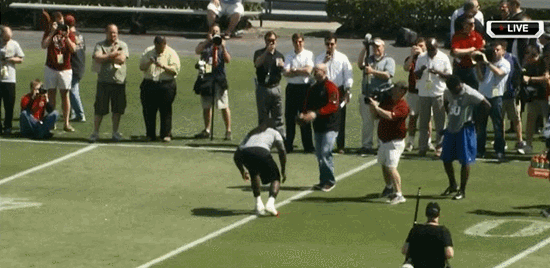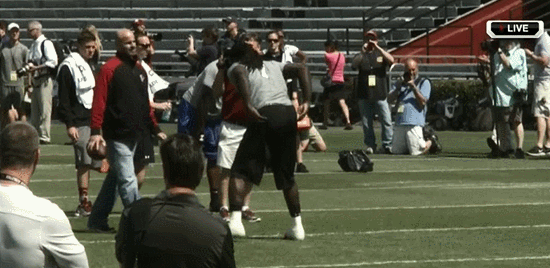 11:52 a.m.: If this NFL thing doesn't pan out, there's always a future as a US Open ball man. 
11:42 a.m. Clowney just jumped over SEVEN bags and then picked up some tennis balls on the run. As Mrs. Brinson said, it's "part amazing, part insulting." She's 100 percent right -- picking up tennis balls doesn't tell us much about Clowney's athleticism. OR DOES IT?
11:29 a.m. Mike Mayock notes on NFL Network that the Browns aren't at Clowney's pro day. Hope they don't think Kevin Costner is supposed to be at these things.
11:20 a.m. Clowney didn't gain or lose any weight from the combine. That's good because otherwise we'd have to question his character. Fat is evil after all. 
Clowney checked in at 266 lbs today...Same weight at the NFL Combine.

— Daniel Jeremiah (@MoveTheSticks) April 2, 2014
11:04 a.m. People say that pro days don't matter. And they're right. But Clowney's a big enough freak that he's worth watching. LOTS of people are watching too. "70 yards" worth of media are at Williams-Brice Stadium to see what Clowney does.
10:35 a.m. This is how you show up for work.
The Chargers, after starting 0-4, can take first in the AFC West with a win Sunday

The Lions cruised to a victory but will need to win out to have any chance of reaching the...

Here's every official injury designation for each NFL team for Week 15
This might go down as the best catch of Week 15

Our computer model simulated every Week 15 NFL game 10,000 times with very surprising resu...

Ryan Shazier and the Steelers were the big winners in Pro Bowl voting that was unveiled on...