Jaguars GM leaving all doors open -- in the office and on the draft board
Dave Caldwell is not the repressive type. The Jaguars GM lets us sit in on some draft preparation, and wants input from all sides of the organization.
Agent's Take: Franchise tag projections | La Canfora: Salary cap cuts coming
JACKSONVILLE, Fla. -- As I sat in the waiting area of the Jacksonville Jaguars' football operations offices, the things that stood out to me were the doors. They were all open, not just cracked, either, but wide open -- and from what I've been told it's always that way.
Down one hall, the door to head coach Gus Bradley's office was wide open. The doors to the other coach's offices were also open, some sitting in there doing their evaluations. And the one closest to me, the one I would soon step through to enter the office of general manger Dave Caldwell, was open as well.
In a league full of paranoia, where CIA-like mentality exists for most teams, the Jaguars might be on the cutting edge of something new, and it isn't their innovative analytics department.
"We are very transparent," Caldwell said.
It's not like they're going to give out their player information to anybody who shows up, but their open ways are far different than what you would get from most teams. It starts from the top. Owner Shad Khan put fish-bowl windows in some business-side offices after buying the team and even took down walls for many others to open up that side of the building.
There are no security guards in the halls of their facility, which is in the bowels of the publicly owned stadium. Don't laugh. There used to be. I know. They used to stop me in my tracks when I covered the team during the Tom Coughlin era.
Then again, what are you closing off when few are paying attention? The Jaguars might be the most non-descript franchise in the NFL. Take away running back Maurice Jones-Drew, who is a free agent and likely won't be back, and I dare anyone outside of Jacksonville to name a player of note. Naming five is so tough it could be a Final Jeopardy question.
Khan's mustache is as big a star as any player on the roster.
Even when the franchise was winning under Coughlin, coming twice within a game of the Super Bowl, the attention didn't come like it should have. Stars were overlooked, the city was mocked and the players spurned at Pro Bowl time. But now, coming off 2-14 and 4-12 seasons, Caldwell is trying to lead a franchise back from a perceived abyss.
This is a franchise known more for turning down Tim Tebow -- he actually turned them down -- and for the tarps in the stadium more than anything that happens on the field, which has been, quite honestly, a mess. Years and years of failed draft picks, including first-round bust after first-round bust, have left Caldwell with one of the biggest challenges in the league.
"Everybody says this is a rebuild," Caldwell said. "I say it's simply a build."
From the ground up
I came here to spend time with Caldwell as he readies for his second offseason of leading the process to turn the Jaguars into a contender. He has given me access to a morning with him as he works through his normal day -- aside from my pesky interruptions.
It is an inside glimpse into what and how the process works for the Jaguars as they ready for what could be Caldwell's biggest offseason yet. Last year, his first, was a honeymoon of sorts.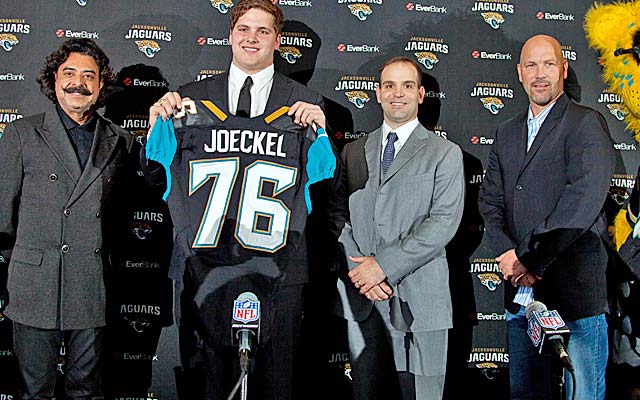 There was excitement. There was change. And Caldwell responded by a having a good draft, one that will be the foundation for any turnaround. But the dearth of veteran talent showed up weekly, and the Jaguars finished with just the four victories.
That is impressive when you consider the talent base. I recently posed this question to a league personnel man: How many Jaguars players would start for the Super Bowl-champion Seattle Seahawks?
Two was the reply, and that counts 2013 first-round pick Luke Joeckel, who missed much of his first season with a broken ankle.
That's the challenge ahead for Caldwell. But there are pluses. The Jaguars have roughly $50 million in cap room, and could have even more if they re-do some deals like that of tight end Marcedes Lewis (cap figure of $8.25 million) and release a player or two.
Caldwell sat at a desk facing a huge projection screen in his dark office. The desk is in the middle of the office, with another smaller screen on the other side of the room in front of two black, comfortable-looking chairs. Caldwell said he watches tape on both screens, but when he's writing detailed reports it's at his desk, even if the black, leather chairs look much more inviting.
As Caldwell worked, music played from his iPad. On this day, it's country music. But his taste varies.
"Sometimes it's '80s rock," he said. "Van Halen. Quiet Riot. Iron Maiden."
Bradley also loves the music piping from his office, and plays it loudly on the team's practice field, something he learned from Pete Carroll when he was with Seattle.
"We like the lively culture," Caldwell said.
Yeah, but it's dark and dreary in his office, I told him.
"No windows," Caldwell said. "That doesn't help."
An open-minded perspective
Caldwell came to the Jaguars after stints with the Indianapolis Colts and Atlanta Falcons. He credits Bill Polian and Thomas Dimitroff, the two general managers he worked under, for much of his thinking.
Polian is considered one of the brightest football minds ever. And Dimitroff turned the Falcons from an also-ran into a contender in a short time. They are two different personalities -- opposites, in fact -- but both are considered top-level talent evaluators.
The openness clearly comes from Dimitroff since Polian was so paranoid that he actually prevented reporters from bringing notepads to training-camp practices.
"Thomas is where I get a lot of my influences," Caldwell said.
It was while working for Dimitroff that Caldwell first interviewed for the Jacksonville job. At the time, Khan asked him a handful of personnel questions. One of those questions was who Caldwell thought would be the first pick of the 2013 NFL Draft.
"I remember telling him it would be Luke Joeckel," Caldwell said. "I was wrong, but we got him with the second pick."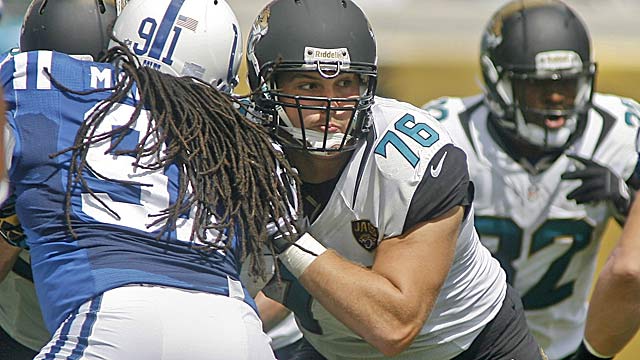 Caldwell said he first saw Joeckel when he spent a day at Texas A&M for the Falcons in 2012. After watching the tape, watching the team practice, talking to coaches and others working at the school, he called Rams general manager Les Snead, who previously worked with the Falcons and Caldwell.
"I think I just saw the first pick in the draft," Caldwell said he told Snead. "It's Joeckel."
Snead: "You might be right."
"I was in Atlanta then and we weren't going to be picking that high, so we really didn't have a shot," Caldwell said. "But then things changed."
The Jaguars hired him last January. Now he had a chance. But instead of insisting he would be the guy, Caldwell let the process play out. He let his scouts and personnel people and coaches offer their input. In the end, Joeckel was the Jaguars' highest-rated player.
They took him with the second pick of Caldwell's first draft, a cornerstone to build around, their left tackle of the future. Joeckel started the season at right tackle, but was moved to the left side when the team traded veteran Eugene Monroe to the Ravens for draft picks. In his first game on the left side, Joeckel went down with the injury, but he is expected back at 100 percent for the open of the 2014 season.
The interesting thing about the leadup to the Joeckel pick, like all of his picks and signings, is that Caldwell doesn't tell his staff which way he's leaning on players until late in the process.
"I don't want to influence coaches and scouts," Caldwell said. "I want to take in as much information as I can. That's why Gus is so good for me. We can be in a meeting and he can draw a lot out of guys. I get to take it all in. Nobody here takes anything personal -- as long as we agree to disagree. I want the feedback from the coaches. I am not going to go rogue. If I can't make a case for somebody, then maybe it's not the right decision. If I had everyone against it, it's going to be tougher to make that decision. But if I felt strongly about it, and say to them 'give me this one,' hopefully it's not a major mistake."
The Jaguars will pick third in this year's draft. But before then, there's the free-agent process to play out. Like all teams, the preparation for both is in full swing. The Jaguars got a boost in the college process when their coaches were picked to coach one of the teams at the Senior Bowl, with the Falcons coaching the other.
"We put them through a typical Jaguars week," Caldwell said. "We spent a lot of time with the players from both teams. That's a big plus. We get to interview 60 guys at the combine. We already had 110 at the Senior Bowl. So we won't need to interview those guys. One of our coaches asked if we were going to work out a player from that week later. I told him we already did. So it will allow us time for other guys.
"We spent a lot of time with the players from the other team, too, swapping some time with Thomas (Dimitroff). That's a ton of value. We got to see how the players respond to a Jaguars week. Some players came in with a ton of energy and it lasted the entire week. Some faded as the week went on. If they faded during a Senior Bowl week, what will happen for a 16-game season?"
After the Senior Bowl, Caldwell spent a lot of time on pro personnel. That process actually started in the preseason and works through the season. The advance scouts break down the UFAs and RFAs for every Jaguars opponent. And Caldwell does the same.
They then divide up the rest of the teams and come to a rating for each as to how they will fit in with the Jaguars and fill a need. Caldwell has his own ratings. They then come to a final rating on the free agents. That might not come until Wednesday of combine week when Caldwell will get a chance to crosscheck what the pro personnel department has decided.
Then it's combine week, followed by the free-agent signing period, pro days and then the draft. Plus, there's taking care of your own roster. Take Jones-Drew. Caldwell wouldn't talk specifics on Jones-Drew, but it's clear the team would like to have him back. But the price would have to right.
My thinking: If he agrees to a team-friendly deal, including a reduced role, he would be back. Knowing Jones-Drew, I doubt that happens, which means the only face of the franchise is likely moving on.
Then there's the quarterback situation. They've been searching for a franchise top-level passer since Mark Brunell left. They have used premium first-round picks on Byron Leftwich and Blaine Gabbert, and both failed to develop. So the thinking now is that Caldwell has to take a quarterback with the third pick. Chad Henne, who started most of last season, is also an unrestricted free agent.
In Indianapolis, Caldwell saw what Peyton Manning meant to the Colts. In Atlanta, he saw what Matt Ryan did for the Falcons. But he also saw Seattle win a Super Bowl less than a month ago with a third-round quarterback and a great defense.
"In today's day and age, if you can't get Peyton Manning or Matt Ryan, and they might not be available for the next 10 or 15 years, then you have to adapt and build the roster and do what's best for the organization," Caldwell said. "And if a quarterback presents itself later in the draft, you take and develop him. Having a franchise guy makes the world a lot easier, though. It can erase a lot of mistakes you make. But if you force it, you can screw it up. I don't know if we're going to find that guy, but I hope we do."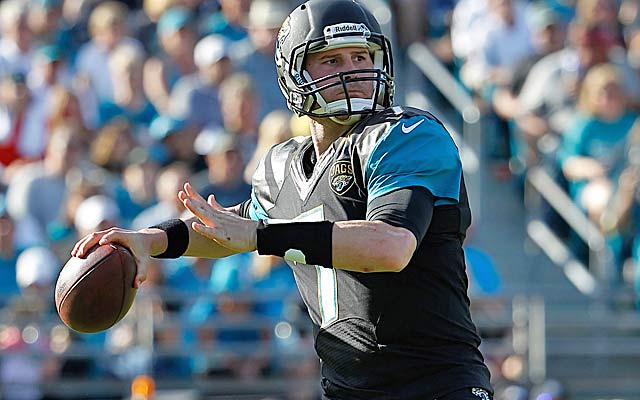 Before thinking this means the Jaguars won't pick a passer with the third pick, Caldwell still hasn't sat down and talked with any of the top quarterback prospects yet. There is a long way to go in the process. Passing on a quarterback could lead to backlash in a city that is starved for one.
"I'd rather get backlash from that than backlash from picking the wrong guy," Caldwell said.
Henne sounds like a real possibility -- if they can sign him.
"We have a lot of issues," Caldwell said. "We have a lot of places we need to get better. Chad did a pretty admirable job for us. He was .500 in his last eight games. It was his first year in the system. Just because he's a veteran doesn't mean you know the system. He has good leadership skills. Guys rallied around him. Our feeling is if we can upgrade the offensive line, get some playmakers, improve the running game, I think he can sustain us and be our starter until somebody presents himself."
A scout's eye
That somebody could be sitting at his fingertips. All Caldwell has to do is hit a few buttons on his laptop and up comes a quarterback to evaluate on the big screen. While we sat in his office, we watched one passer and several other players on the big screen. I told him I would not identify the players. As we watched the videos, Caldwell oozed scout, tracing back to his roots coming up through the ranks.
Among the things he said as we watched:
"He's a hard charger."
"He plays his ass off."
"He has a ruggedness about him."
"Watch those feet."
Watching tape with a tried-and-true personnel man was a treat for me. I soaked it all in, the running of the tape back and forth as Caldwell pointed out little details, the clear highlight of our morning for me.
Even though the Jaguars have an analytics department -- and Tony Khan, the son's owner, is a big part of it -- Caldwell, like so many scouts, remains a tape guy mostly for evaluation.
"The analytics are good for comparatives," Caldwell said. "Ideally we have to like a player. And then use the analytics. It can bring something to light because our eyes are wrong some of the time. It's good for checks and balances."
So can analytics tell you if a player can play?
"No," Caldwell said.
A short while later, Bradley popped his head into the office. As usual, he came with a ton of energy, part of what has made him such an attractive option for the Jaguars.
"What's going on?" Bradley said.
"Just trying to figure who you are signing and who you are drafting," I said.
Bradley, like Caldwell said, is a big part of the evaluation process. He is a big-time tape watcher and his input is something Caldwell wants and needs.
"We look for marriages when we draft a player," Caldwell said. "We want the coaches, the staff and myself to all be on board."
Caldwell's openness does have some limitations, and his covered-up draft board that fills one wall of his office is proof of that. It shows his rankings of the draft class. Bradley has seen it. Some others have as well. But the reason he keeps it covered is because he doesn't want the team's draft board, which is in the draft room, to be impacted by his rankings.
"Again, I don't want to influence anybody," he said. "I am not overly paranoid. Guys have seen it. It's just that I want guys to make their own evaluations. It's like when you go to a movie. And somebody gives it a great recommendation. You go in expecting it to be a certain level. When it isn't, you are disappointed. You don't have a tendency to give it its due. So I want guys making their own assessments and then we will come to an agreement."
There are stories around the league of some general managers who have balked at the input from their staffs. I've heard where one scout was fired because he got up and challenged the general manager. That is much different than what's going on in Jacksonville.
With a ton of cap room, and the third pick in the first round, Caldwell has a chance to add some key pieces this season -- even if one doesn't turn out to be a quarterback. But there's this idea out there that the Jaguars will be following the Seattle plan of building a roster, then finding a quarterback, in large part because Bradley came from Seattle. Caldwell would love it to be the other way if possible, but he is open to the Seattle way.
Expect Jacksonville to be more active in free agency this time around than it was in his first season. Like so many teams, the Jaguars need a premier pass rusher. But don't expect a big-money deal right off the bat.
"Just because you have it doesn't mean you spend it," Caldwell said. "It's not the wise thing to do. Historically, teams that spend the most don't win the Super Bowls. You build through the draft and supplement through free agency the best you can. When you get close, then you can go out and bring in the missing pieces in free agency."
The Jaguars, as you know, are not close. That's why this is a huge year for Caldwell. He has to make his mark on building the roster, which is the worst in the league right now.
"There is so much to do," Caldwell said as we walked to lunch, again leaving the door open behind us. "Last year, we had no margin for error. The guys we drafted had to start. Ideally we can get some guys in free agency to help and then the draft picks won't have to come in and start right away. That's where we were last year. We had no choice. Now we have some, but we're far from where we need to be."
It sure looks like the former top pick will be benched heading into the regular season for...

Someone asked him to start the press conference of course

Derrick Johnson wants to discuss players' First Amendment rights amidst the protests
High praise from one of the most athletically gifted quarterbacks ever to step on a football...

Nobody will mistake Joe Looney for his star teammates

Osweiler is being benched in favor of DeShone Kizer