Jaguars QB Blaine Gabbert expected to start in Week 4 against Colts
Jacksonville coach Gus Bradley announced on Monday that he expects Blaine Gabbert to be the Jaguars starting quarterback against the Colts on Sunday.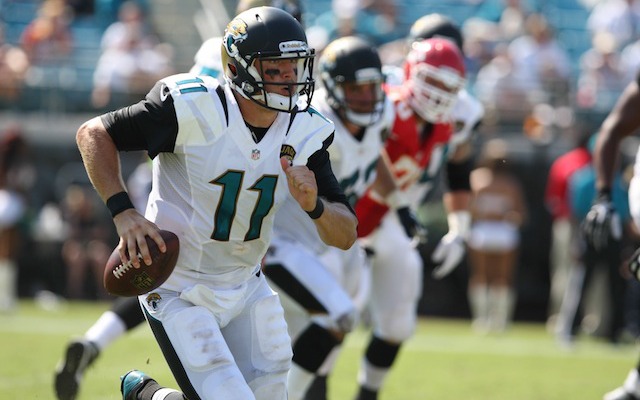 Jacksonville coach Gus Bradley has apparently seen enough of quarterback Chad Henne. Bradley announced on Monday that Blaine Gabbert will return to his role of starting quarterback in Week 4 when the Jaguars host the Colts.
Gabbert suffered a laceration on his right hand in Week 1 in the fourth quarter of Jacksonville's 28-2 loss to Kansas City. The deep cut required Gabbert to get 15 stitches on his hand. The injury kept Gabbert from playing in Jacksonville's Week 2 and Week 3 games against the Raiders and Seahawks. 
Henne served as the Jaguars starting quarterback while Gabbert was out, but apparently did nothing to prove that he should keep the job. In the two games he started, both Jacksonville losses, Henne averaged 238 yards passing and threw one touchdown along with two interceptions. 
Gabbert hasn't been much better for the Jaguars though. Gabbert finished 16 of 35 for 121 yards in his only start this season against the Chiefs and also threw two interceptions. Gabbert's Week 1 performance marked the 13th time Gabbert has started a game and failed to reach 150 passing yards, the Jaguars are 3-10 in those games.
Could Janet Jackson make an appearance with Justin Timberlake at Super Bowl LII?

In case you weren't positive that the president has a fixation with the NFL, here's the statistical...

Payton emphasized screw-on cleats -- and the Saints rewarded him with a win
The Texans starting left tackle lost out on millions during his lengthy holdout

It's Matt Moore time in Miami for the time being after tests confirm Cutler's cracked ribs

The fog was clearly part of Bill Belichick's diabolical plan to beat the Falcons