Jaguars QB Blaine Gabbert likely out for Week 3, Jones-Drew might play
Jacksonville Jaguars coach Gus Bradley said on Monday that it's unlikely quarterback Blaine Gabbert will be available for Sunday's Week 3 game in Seattle.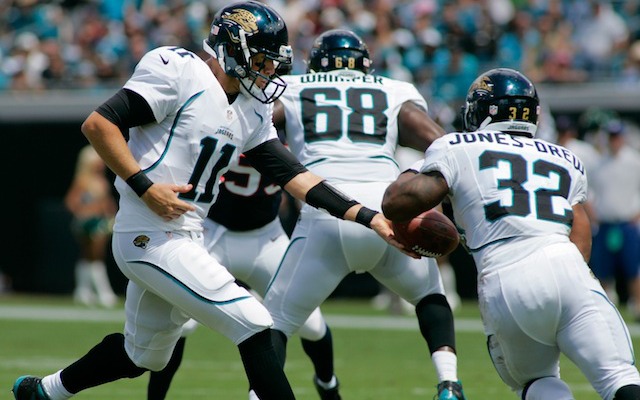 For the second week in a row, it looks like quarterback Blaine Gabbert won't be under center for the Jacksonville Jaguars. Gabbert missed the Jaguars 19-9 loss to Oakland on Sunday thanks to a laceration on his hand that required 15 stitches and now it looks like that laceration will keep him out at least one more week. 
Jacksonville coach Gus Bradley said on Monday that the team doesn't anticipate having Gabbert available for Sunday's Week 3 game in Seattle. Las Vegas doesn't seem to care who the quarterback is for the Jaguars though, the team was installed as a 19.5 point underdog to the Seahawks before Bradley made the announcement. 
With Gabbert on the sideline, that means Chad Henne will make his second start of the season. Henne threw for 241 yards and a touchdown in Jacksonville's loss to Oakland. 
Although the Jaguars probably won't have Gabbert, Bradley seems optimistic that running back Maurice Jones-Drew will play. "We feel like we have a chance to have him on Sunday," Bradley said. Against the Raiders, MJD suffered what the team is calling a 'tendon strain' in his left ankle.
Jacksonville will need all the offense it can get on Sunday against Seattle: The Jaguars are averaging 5.5 points per game so far this season, while the Seahawks are averaging 5.1 points per quarter. 
Plus the Eagles' formula for winning late, the AFC playoff mish mash and a budding young Vikings...

Here are the Week 11 grades for every team that played Sunday

The Eagles move to 9-1 after beating the Cowboys by four touchdowns
Peterman threw five interceptions in the first half before getting yanked

The Vikings' coach addresses the team's cloudy quarterback situation after their eighth win...

Green Bay could have brought in a veteran quarterback but decided to stick with Hundley