Jaguars trade QB Blaine Gabbert to 49ers for sixth-round draft pick
The Jaguars and 49ers have agreed to a trade that will send Blaine Gabbert to San Francisco for a sixth-round draft pick.
More NFL offseason: Mock Drafts | Prospect Rankings | Pro Days | Top free agents
After only three seasons, the Blaine Gabbert experiment is over in Jacksonville. The Jaguars announced on Tuesday that they've traded Gabbert, the 10th overall pick in the 2011 NFL Draft, to the 49ers.
In exchange for Gabbert, Jacksonville will get a sixth-round draft pick from San Francisco, according to ESPN.com.
"We thought highly of Blaine as an early entry into the 2011 NFL Draft," 49ers general manager Trent Baalke said in a statement. "He is a high-character individual that will be given every opportunity to develop within our system and we are looking forward to working with him."
Gabbert will presumably battle it out with Colt McCoy for the right to backup Colin Kaepernick in San Francisco.  
The 49ers tried to trade McCoy in August and when that didn't happen, it looked like the team was going to release him. McCoy ended up sticking around in San Francisco though after he agreed to take a pay cut.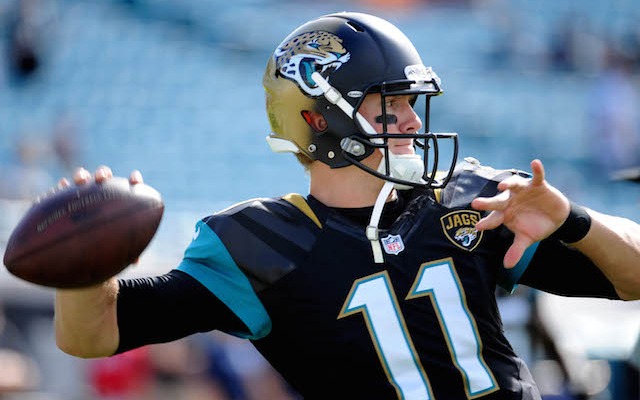 As for Gabbert, it might be fair to officially label him as a bust. After being selected 10th overall in the 2011 draft, Gabbert started 14 games in his rookie year and went 4-10 in the span. In 27 career starts with Jacksonville, Gabbert has put together a 5-22 record.
Gabbert actually won the Jags starting quarterback job in August, despite the fact that he had an injured thumb for most of the preseason. Gabbert came back from the thumb injury to start in Week 1, but he ended up on the bench after suffering a hand laceration in the fourth quarter of the Jaguars season opener. 
The 24-year-old came back to start in Weeks 4 and 5, but a hamstring injury led to Gabbert missing more time and Chad Henne ended up starting the rest of the season. 
Henne signed a two-year deal with the Jaguars on March 7 and shortly after the deal, coach Gus Bradley said he hoped that Henne would be the opening day starter in 2014. After that, it was only a matter of time before the Jaguars got rid of Gabbert.  
The Steelers beat the Falcons while the Saints topped the Chargers

Boldin, 36, who ranks ninth in career receptions, is calling it quits after 14 NFL seasons

Reed's toe is healed but can the oft-injured tight end stay healthy?
The Cardinals rookie safety might have a career in break dancing when he's done with the N...

All signs point to Lynch, the former first-round pick, not beating out Siemian in Denver

The NFLPA executive director comes out out firing in a 'Real Sports' segment