Jaguars training camp: Henne, Bortles (that order) know QB score, for now
The Jags have stuck to their guns -- Chad Henne is the starter and No. 3 overall pick Blake Bortles is the backup -- all along. But everyone knows it's only a matter of time till that changes.
• 9 min read
JACKSONVILLE, Fla. -- There is a genuine kinship between Jaguars quarterbacks Blake Bortles and Chad Henne. It isn't fake or forced. Whether further fostered by the team's stance on its QB situation since the spring -- the Jaguars never wavered in their unified proclamation Henne, the veteran, would start Week 1 and Bortles, the No. 3 overall pick, would learn as his understudy -- the relationship between these two passers is overtly positive, the kind of vibe at this crucial position that can't help but carry over across the entire roster.
This is a plucky, spirited, energetic, tight bunch of players -- almost all young -- who seem to have adopted the best traits of their kinetic and thoughtful young coach, Gus Bradley. I arrived on the practice field adjacent to EverBank Field on a hot and muggy Sunday morning, expecting to see a fairly tortured session, with this being the dog days of summer following the third preseason game. Instead I was treated to a display of enthusiasm, from the quarterbacks down, with a well-paced practice punctuated by large-scale celebrations, quarterbacks and tight ends chest bumping in midair, players occasionally running over to the side field to congratulate one another for nice plays.
There isn't any hint of a quarterback controversy, as Bortles' flashes of brilliance were not enough to unseat Henne's superior knowledge of the offense and solid preseason play. This team seems inspired by Bradley's straight-shooting sermons on the need for daily improvement and their strong 4-4 finish to 2013 after starting 0-8. Whatever, exactly, that translates to in the 2014 standings, no one knows. I expect this to be an increasingly competitive outfit, continuing on an upward arc, which wins its share of games within the tepid AFC South.
"We've got a lot of guys who passionate, and we're young," Bradley said. "We have guys who are enthusiastic and are excited about ball. That was one of the things I appreciated in Seattle [where Bradley was defensive coordinator] -- we had a team of guys who loved ball -- and I love football and I want to be around guys who love football, and we're getting closer to that. ... It's kind of happening before our eyes and it's pretty cool."
The Bortles-Henne interplay speaks to a strong locker room. They genuinely like one another, Bortles' respect for Henne's ability to think and execute the offense is obvious, and they understand why the organization handled the situation they way it did. They know Bortles has great upside with his athleticism and ability to make plays on the move -- otherwise they're not drafting him where they did -- and fully expected him to show some of that off. But they understand his limitations as well, the fact he was rarely facing opposing starting defenses and certainly not any truly game-planning to attack him. They respect the way the team finished last season with Henne and there isn't a reason to go with the developmental quarterback off the bat.
"He's been great since he got here," Henne said. "He's a humble kid and I'm humble. We put egos aside and the thing is how can we make this team better and help us win. And, yeah, we're competing but we're competing against ourselves and not each other. He's helping me out, and I'm helping him out. Chad Pennington, when I was in Miami, did it for me and that's the way it should be. And now he doesn't have all this pressure on him, he can develop and learn the system first and I know the system for two years now so let's see what I can do with the team."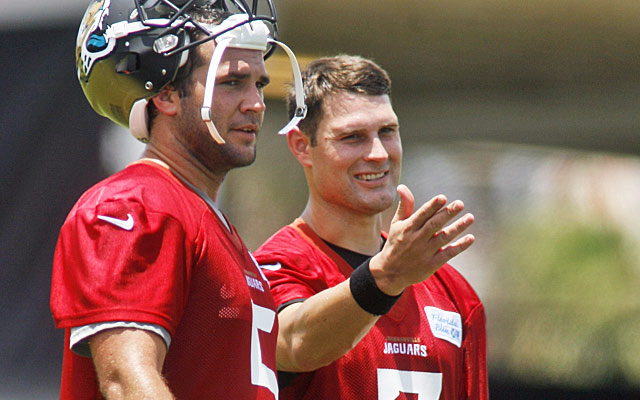 Bortles said: "They said from Day One what the plan was, and that was for Chad to be the starter and for me to be the backup, and throughout the preseason that hasn't really changed, and it's not gonna. I know my role and I'm the backup, and come out and try to get better each day and try to learn from Chad and ask as many questions as I can and watch and observe and be ready when I get that opportunity. And it's been great getting to know Chad. We're all friends. Ben great hanging out with him off the field, playing golf, going out to get something to eat, things like that. He's been unbelievable and a good mentor and a great guy to learn from."
Make no mistake, at some point Bortles is going to play. No one here is naïve enough to think the rookie has to be redshirted for all of 2014. Barring Henne having a Pro Bowl season and keeping the team in playoff contention all season, there is going to be an opportunity for Bortles to see the field. No one knows when that day is yet, but they didn't draft Bortles just to hold a clipboard. With this preseason essentially navigated, the results on Sundays will dictate when any shift occurs, and things will procede organically, with the expectation that Bortles has made necessary strides in the offense as Henne's understudy.
But don't mistake the Jags' collective adherence to this preseason plan as pig-headedness. That's not the case, and by operating in this fashion, whenever that inevitable quarterback transition takes place, it will be met by enthusiasm. For now, time remains very firmly on the kid's side.
"When we signed Chad, we prepared him for what could potentially happen," general manager Dave Caldwell said, "and he was great with it. And the coaching staff did great job of managing it and managing the reps, and Blake and Chad have done a great job, too, across the board. There's no division in the locker room, they're each other's biggest fan, and I guess that's what a team is all about."
TE Lewis back on his game: Tight end Marcedes Lewis, whose productive was waned significantly since being tagged as a franchise player in 2011 (under the former regime), continues to build on what could be a transformation offseason. He was showing up all over the pace at this practice, has had a quality pre-season and has earned Henne's confidence.
For a team without many proven commodities at receiver, Lewis is primed to have a significant role and says he is committed to maintaining the level of fitness and conditioning he has attained this year.
"Physically, I am at my best," Lewis said. "And I know my teammates and coaches believe in me. It's at a different level between me and Chad now, and he's such a leader and such a good dude. We know we play a big role in leading this offense. ...
"For me, I'm 30 now and I feel better than I did when I was 25, and it's about being mature and knowing how to take care of your body and being smarter. I'm just in a good spot."
That should translate into plenty of opportunities on the field.
"He's making explosive plays for us," Bradley said. "We always want guys to come back in the best shape they've ever been in, and in his situation I think he really is."
Caldwell called Lewis' resurgence. "a really positive sign for us," and there is every expectation that continues in the regular season.
Receivers coming into own, too: The Jaguars believe they are getting close to having a full compliment of the receivers they are counting upon. Ace Sanders, who will miss the first four weeks because of a suspension, returned to practice Sunday from the Active/NFI list. Rookie Marquise Lee, who has enduring his share of nagging issues, "is coming along fairly well," Caldwell said, and the Jaguars hope that by this time next week Allen Robinson is back from injury.
Former first-round pick Justin Blackmon is suspended for the season, which initially created a hole (his future remains very much in doubt), and outside of Cecil Shorts there isn't much you can bank on with this group. So with all of that going on, undrafted free agent Allen Hurns has stepped to the fore. Hurns, out of Miami, has been a capable target at 6-foot-3, and even with the Jaguars seemingly getting healthier I don't anticipate him getting tossed aside. He'd be in line for plenty of work in the preseason finale. And if he maintains his production, he could be something of a revelation.
"The surprise of camp really has been Hurns," Caldwell said. "The coaching staff did a great job with him and he's playing like a veteran right now. That's been a pleasant surprise for us, and he's taking advantage of the opportunity."
More observations: There have been some suspect quarterback/center exchanges and the Jaguars' youth on the offensive line will have to be monitored closely. There is a good chance they open with a rookie guard and a rookie center, and when you consider left tackle Luke Joeckel is basically a rookie (missing most of last season because of injury), that's a lot to sort through. The Jags tried like heck to sign veteran center Alex Mack -- the Browns matched the offer sheet. So I can't help but wonder if there are issues in the interior of the line early on, if someone like San Francisco's holdout guard Alex Boone gets Caldwell's attention. The 49ers would have to be realistic with their trade demands and Boone with his contract demands, but this was a team willing to make Mack the highest-paid center in the league.
• The Jags like free-agent running back Toby Gerhart a lot, but look for Denard Robinson to cut into his workload some as an x-factor out of the backfield.
• One of the biggest differences between last year's team and this season's should be speed. It's something Bradley and Caldwell craved as they sought to upgrade the roster. "That's what we felt like we needed to have -- speed," Bradley said.
• Bradley, who had the best tandem of safeties in the league at his disposal at Seattle, is going to have fun with this group in Jacksonville, too. Johnathan Cyprien could be a star in the making.
• The schedule is tough early for this team -- last season, it was absolutely brutal -- but Caldwell made a great point about how that gauntlet in 2013 -- playing San Francisco and Oakland in back-to-back weeks, staying out west, going to London, etc. -- fortified the team and helped it rally after that 0-8 start, rather than collapse. "We got through the second half like we did because of the first half," Caldwell said. "Even though it was difficult to spend two week out west, it was a good opportunity for our team to bond and gel and come together as a team. And the week in London was another week when we spent a lot of time with each other. And after the first eight games we played a lot of young players. With that being said, those guys got some experience and figured some things out, and we had a bye week to regroup and come along. We knew it would be a process."
Wentz suffered a knee injury while diving for the end zone

Lewis among several coaches on hot seat, Cam's amazing run, and more from Week 14 in the N...

Here are the Week 14 grades for every team that played Sunday
All of the best highlights from Week 14 are right here

The legendary kicker added to his incredible career with a rare curveball XP

The Browns remain terrible, and fall to 0-13 on the season after going 1-15 in 2016